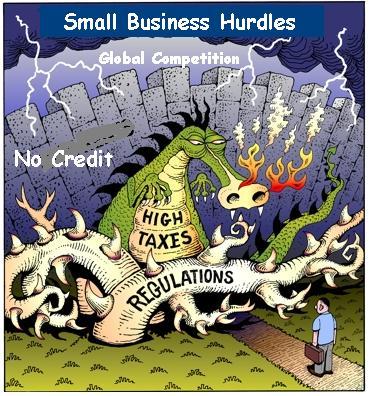 Outlook: Not a lot of "happy" out there for investors. The week started out as a reprieve from the drone of global political uncertainty. It ended with a "that a boy" EU solution for Greece's debt crisis. China raised reserves, dollar rose, euro sank and commodities fell. Barbed wire has been added atop the "Wall of Worry." Be careful out there.
CEF Weekly Review: The 13 closed end fund (CEF) types on average posted a 1.3% increase for the week ending 2/12/10. On an aggregate, unweighted basis, the weekly average price change for the 500 CEFs was up 1.0%.
The weighted 49 CEFs comprising the Claymore CEF Index registered a jump of 2.4% for the week and pared YTD loss to 6.0%. The S&P 500 increased 0.9% for the week; down 3.6% YTD.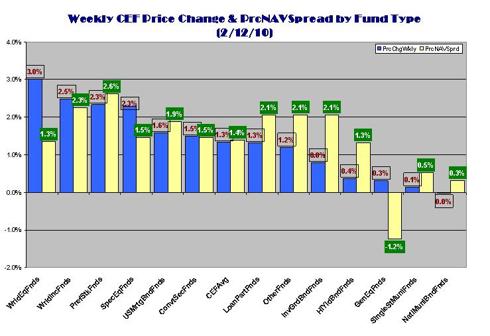 (Click here for YTD CEF performance. The table is based on a 275 CEF sample size as all the data fields are not available for the CEF universe.)
The Eqcome CEF Fear Index eased as share prices increased 1.0% and NAVs remained essentially flat. The CBOE Volatility Index (VIX), which typically moves inversely with the stock market, drifted 12.9% lower for the week. It did this on a succession of daily "lower-highs" and "lower-lows". This was on the heels of having surged 22% the previous week. Volatility will likely be a mainstay of the market for the foreseeable future as its issues, mostly political, defy ready, easy solutions.
There were a lot of market bystanders this week as the S&P 500 average daily trading volume was off 13.3% from the previous week. Average daily share volume was of 4.4 billion—off this year's average pace.
CEF Weekly Fund Type Performance: The performance of CEF fund types for the week was essentially the opposite of the previous week: equity types advanced and muni types retreated. Global investments, after being hammered the three previous weeks, buoyed. GenEqFnds performance seemed out of place being cloistered near the bottom of the performance rung along with debt-oriented funds. This was a result of two of the Cornerstone Funds (CFP and CLM) experiencing double digit declines and weighting down the average.
The PrcNAVSprds[1], which typically move in the direction of the stock prices, played out pretty much as expected—the exception being GenEqFnds as previously addressed above. World-oriented funds saw prices rise greater than NAVs. Investors may have over-bought the group in their enthusiasm for a brokered EU deal for Greece. Several of the debt-oriented funds saw prices not keeping pace with their respective NAVs. This feels like a soft spot.
CEF Winners and Losers: One of the CEFs with the greatest positive PrcNAVSprd for the week was last week's loser. Cushing MLP Total Return (NYSE:SRV) generated a positive PrcNAVSprd of 12.1%; its share price advanced 5.4%, while its NAV declined 6.7%. Energy CEFs generally did well as oil rose 3.1% as reflected by United State Oil (NYSEARCA:USO) ETF. If energy doesn't regain momentum next week, SRV may be easing down the performance curve.
This week's CEF with the greatest negative PrcNAVSprd was Cornerstone Progressive Return Fund (NYSEMKT:CFP), highlighted last week in our "CEF Focus Stock of the Week" as having no "long story". Its negative PrcNAVSprd was 15.1% as its stock price declined 17.0% and its NAV drifted 1.9%. The stock went ex-dividend this week and the stock took a pounding on very heavy volume both Thursday and Friday.
While it's likely that CFP will get a "dead cat" bounce early next week, the stock now feels like a "busted play". This is the second consecutive month that the "dividend-roll" failed. Investors who are currently buying the stock with hopes that other investors will bid-up the stock price to capture next month's dividend may be less confident those investors will post.
Additionally, Cornerstone should be getting ready to announce their next 3 month distributions for April, May and June. The last November announcement saw its sister funds CRF and CLM have their monthly payouts reduced. Investors may want to wait to see if CFP will reduce its distributions.
Economic & Earnings Outlook: (Click here for next week's economic calendar; click here for earnings announcements and estimates.)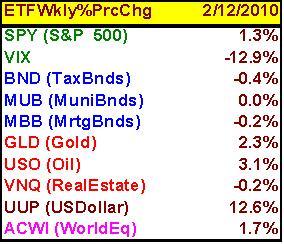 ETFs: (Click here for ETF YTD sector performance.)
Insider Trading: Insider transactions for the second week of February were led by those of the Horejsi Group (Horejsi) continuing to acquire interest in its two favor target CEFs.
Horejsi was an aggressive buyer of shares of Boulder Growth & Income Fund (NYSE:BIF). Horejsi added an additional 214,949 shares of BIF for an expenditure of $1.25 million. Its average price was $5.79 per share. This was atop the 5,000 shares the previous week. Its holdings now represent 7.9 million shares or approximately 30.2% of the company according to SEC filings.
Horejsi also continued its insider buying of Denali Fund (DNY) where its stake is now at 76% (3,156,450 shares) of the outstanding shares. Horejsi acquired an additional 10,503 at $14.13 per share for a capital outlay of $148,382 for the month.
Stephen A. Walsh, CIO of the sub-advisor to Western Assets Global High Income Fund (NYSE:EHI) added 2,000 shares in two separate transactions to bring his total holdings to 18,000 shares in EHI. There was also some institutional selling in EHI by Claymore Securities.
Several of the directors of MFS Multi-Market Find (NYSE:MMT) added a total of 5,800 shares. There was other deminimous insider buying. (Click here for a hyperlink to the Joe Eqcome CEF Weekly Insider Report.)
CEF Distribution Announcements This Week: The following is a link to a table of CEF distribution announcements this week as well as the previous week's with yet expired ex-dividend dates. The list is not intended to be inclusive. (Click here for Weekly CEF Distribution Announcements.)
Significant CEF Corporate Events: MBIA Capital/Claymore Managed Duration Investment Grade Municipal Fund (NYSE:MZF) announced that it is offering to purchase up to 1,190,339 shares or approximately 15% of the Fund's outstanding common shares at a price equal to 98% of the Fund's net asset value ("NAV") per share. Shares are currently selling at a 3.3% discount.
Energy Income and Growth Fund (NYSEMKT:FEN) priced a follow-on public offering of 700,000 common shares of beneficial interest with a 105,000 shares over-allotment. One of the co-underwriters, Wunderlich Securities—sub-regional investment bank, decided to up-grade the stock from a "Hold" to a "Buy" on the day of the pricing.
Query: Does this mean that the FEN wasn't good enough for Wunderlich's clients prior to the offering to be a proactively "Buy"? But, now, after the offering, it is? Most mezzanine investment banks have a "quiet period" with regards to research in and around an offering period. This is so not to appear the firm to be "hyping the stock". This doesn't seem to apply to Wunderlich. Can this research be independent?
Montgomery Street Income Securities (MTS) announced effective March 15, 2010, Pacific Investment Management Company LLC ("PIMCO") will become the investment adviser of the Fund. PIMCO will succeed Hartford Investment Management Company as the Fund's investment adviser.
Nuveen Investments announced a number of their sponsored funds called for redemption at par their outstanding auction-rate preferred securities. These redemptions will be funded by proceeds received from the issuance of MuniFund Term Preferred Shares (MTP). (Click above for details)
CEFs Focus for the Week: The focus stock for the week is The Adams Express Company (NYSE:ADX). This week's two articles have been authored on ADX (Part I and Part II) which together make a strong case for change in ADX's distribution policy and/or it's Board. Such changes will likely lead to an increase in the value of ADX's stock price.
The case for these recommended changes is based on the following points.
ADX

investment management has done a relatively good job of beating its benchmark returns.

Based on my own analysis of "Value-Added Management Rankings", ADX generated the greatest "value-add" based upon total NAV return versus cost of management.

When the annual income and capital gains distributions are combined ADX generated on average a very attractive 6.5% distribution yield.

Yet, ADX trades at a persistently large discount—one that is greater than its CEF peers (GenEqFnds). Since inception, ADX has traded at an average year-end discount of 12.1% versus a peer group discount of 8.1%. That's 400 basis points greater than its peer group! Why?

And, it's gotten worse. At the end of 2009, ADX's discount was 15.5% and its peer group was 9.2%. That is 630 basis points greater than its peer group! Why?

Through the Board's relentless inaction, ADX's persistent and growing discount is the equivalent of an untreated cancer. It's been left to fester and eat away at the corpus—our money!
A Reasonable Solution: ADX shareholders demand the immediate creation of a Special Committee at the Board level, made up of an independent director with no social ties to its chairman or it management, to review options to enhance shareholders' value. That Committee should engage an independent, reputable investment firm to conduct a detailed study on that topic and report back to the Committee with recommendations for the Board's action.
Those Questioning My Motives: I am not a corporate raider—cloaked under a "do-gooder" banner, a natural antagonist of the company, or one who is willing to "throw the baby out with the bathwater." Essentially, I'm an investment empiricist compelled by a set of facts leading me to conclude that this stock is undervalued and there are viable alternatives to unlocking value with little downside risk.
Actually, I think ADX is a fairly good product for what it is. I just think the Board is doing a particularly ineffective job of rigorously trying to maximize our shareholders' value.
What the Board may fail to realize is an untreated cancer will eventually kill its host.
---
[1] A positive PrcNAVSprd can be interpreted as negative because it typically signals a share price movement less favorable than the NAV. All things being equal, price and NAV should move in tandem. A price movement greater than the NAV may indicate the stock is overvalued relative to its NAV which in theory is the stock's intrinsic value. The opposite would be true for a negative PrcNAVSprd.

Disclosure: The author owns a diversified portfolio of CEFs including a long position in BIF and ADX. He is currently buying more of ADX as he believes with a couple of "tweaks" ADX share price could be more effectively valued.