Vapor Corp. (NASDAQ:VPCO) is a micro cap pure play electronic cigarette company that operates in the rapidly expanding e-cig market. This article will serve to update potential and current investors on recent developments that may encourage additional investment in the company. I will also make the case for nearly 85% upside in the stock based on a comparable buyout in the industry.
It's been roughly one month since my last article on Vapor Corp. was published and there have been multiple exciting developments in this short time.
First and foremost, the price of the stock jumped significantly from $.94 on November 5th to a recent intraday high of $2.00 per share on December 4th. That's a gain of over 100% in less than 1 month. This move has been accompanied by significant volume and the stock appears to have found support in the 1.60-1.70 range.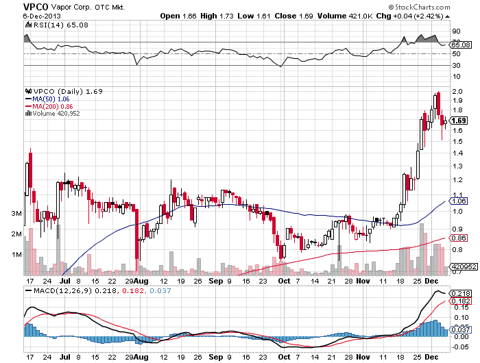 Secondly investors have also received two detailed updates from management via the Wells Fargo Inaugural E-cig Forum that took place on November 21st 2013 and the LD Micro conference on December 3rd 2013. Management has not always been very forthcoming with developments outside of regulatory filings, so these conferences have given investors a better look at the specifics of Vapor Corp.'s business strategy, products, and areas of future growth.
Wells Fargo E-cig forum
On November 21st, Wells Fargo (NYSE:WFC) held its Inaugural E-cig forum likely at the persuasion of analyst and event moderator Bonnie Herzog. Herzog has been in the forefront of analyst coverage on the rapidly growing e-cig market. Other notable companies present for discussion were Lorillard (NYSE:LO) with their blu brands, NJOY, Fin, and Victory.
As part of the general discussion of the e-cig industry, Bonnie Herzog had 5 notable points that she presented at the conference that I find to be most interesting. All point to tremendous growth for the industry.
1. "E-cigs are to tobacco what energy drinks are to the beverage category-profitable, growing in shelf space and gaining consumer acceptance."
2. "The annual growth rate for e-cigs is estimated to be 30%. The e-cig market itself is estimated to be over $1 billion, and could reach $1.8 billion by the end of 2013."
3. "More than 50% of e-cig buyers are repeat users, not just trial users, marking a favorable trend."
4. "Trial and consumption are driven by perceived lower health risk, lower price points, and novelty."
5. "Only Minnesota currently taxes e-cigarettes. This is likely to change as e-cigarettes become regulated, but it is unlikely that taxes will ever be as onerous as for conventional cigarettes."
Vapor Corp. Specific Highlights
CEO Kevin Frija presented at the conference highlighting many aspects of the company as well as future business strategies. He also had a great deal to say about the future of the industry which was greatly received by those in attendance. After reviewing the conference audio key points most important to Vapor Corp. investors include;
1. The company has multiple year relationships with retail partners and national level 2nd and 3rd generation tobacco distributors resulting in repeat purchases, product line expansion, and increasing demand for Vapor Corp.'s products. This relationship will help leverage future expansion into more retail locations.
2. Vapor Corp.'s competitive advantages include a multiple brand strategy, a multiple product strategy (disposable, rechargeable, vaporizer) as well as e-juice manufacturing. No other company including big tobacco has all of these offerings.
3. Current re-branding of flagship product Krave including new look and packaging after extensive consumer research. (more below)
4. Vapor Corp. recently completed a 10 million dollar offering including NASDAQ listing. This gives the company the ability to fulfill increasing order demand and expand their footprint at the retail level. It was also revealed that Vapor Corp. has a private level manufacturing and group approach that gives the ability to sell products through other partners' labels. This currently makes up 15-20% of current revenue.
5. The company is exploring a possible vapor lounge concept store and franchising. This is in response to the growing emergence of vapor lounges and increased vaporizer usage by customers. This would allow a store within store concept selling Vapor Corp.'s products through authorized dealers throughout the country.
6. The flavored e-cig business makes up a small portion of business but is growing. The users tend to be tobacco flavor users who explore other offerings the company has. Management does not believe the company will be affected much by a flavor ban as users would likely revert back to tobacco flavor.
7. The future price of an e-cig will likely trend towards $5 and with current profit margins, management would be happy to allow this trend to occur. Krave King currently retails for $5.99 with a 39% profit margin.
8. The consensus at the conference sees e-cig users migrating to vaporizer in the future. Vaporizers make up a small percentage of sales currently but is one of the highest growing product segments. In the future, this is likely to be the dominant preference of "vapers." As a result, the industry may even see big tobacco changing their product offerings down the road.
9. New provisional patents have been filed for fingerprint scan technology and a key chain like fob to prevent unauthorized vaporizer usage. This forward thinking also includes the soft tip filter patent that was previously filed. No other e-cig company has comparable technology at this time.
LD Microconference
President of Vapor Corp. Jeffery Holman presented at the annual LD Microconference on December 3rd 2013. This is a meeting where micro-cap companies present their business models to prospective investors and analysts. Here, Vapor Corp.'s investors were given even more details on the makeup of the company and product offerings. Vapor Corp.'s specific highlights and slides include;
1. Vapur (vape-pure) is the most popular private label e-cig brand in Canada with a 70% market share. It currently is a nicotine free offering, but if and when nicotine is allowed in Canada they will command significant market share.
2. Multiple "white label" brands include branding and sales to locals by Indian reservations using Vapor Corp. products. This is a great avenue to get into additional markets and create new partners through other established brands.
3. Re-branding of signature brand Krave with new design debuting in 2014.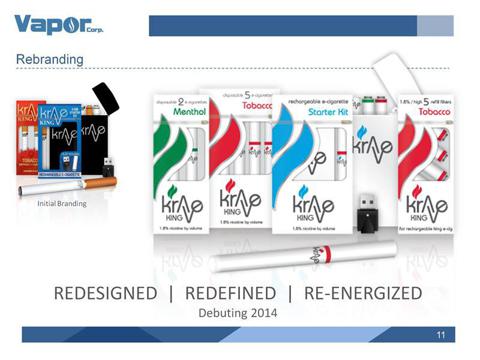 4. The company has achieved 10% market penetration with products at 60,000 locations nationwide. 90% of retail market still available for expansion.
5. It was announced that products are now offered at Family Dollar (NYSE:FDO) in addition to other national chains.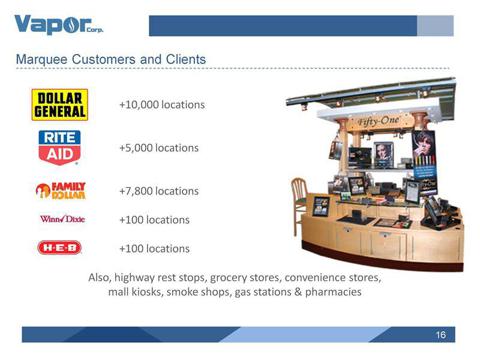 6. The recent capital raise has completely changed the company financially and its potential for growth in the future. Vapor Corp. now has over 9 million dollars in cash on balance sheet to support growth. Management commented that this capital is already being deployed.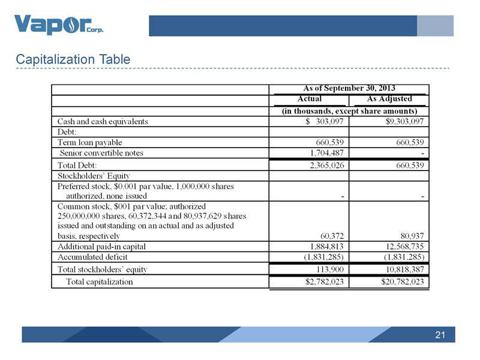 7. The capital raise has created significant insider ownership. As a result, management's interests are aligned with shareholders because of significant "skin in the game." This is great to see from a shareholders' perspective especially because of the speculative nature of the investment.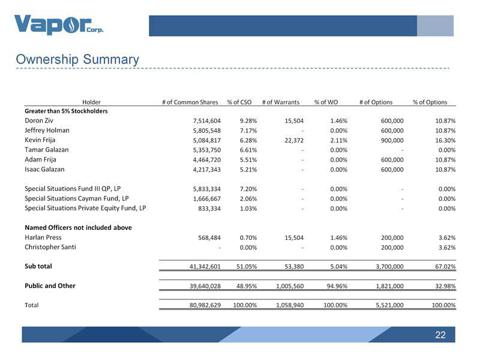 Valuation And Fair Value Estimate
With the recent run up in stock price, potential investors need to make sure valuations are still appropriate for investment. With roughly $19 million in sales through 3Q'13, it's not unreasonable to believe Vapor Corp. could end the year with 26 million in sales. 27-28 million for FY'13 may even be possible if some of the recent cash raise was immediately put to work to fill order demand described by management. As the only apples-to-apples comparison blu sold to LO at 4.5x sales in April of 2012. At this valuation using 28 million for FY'13 sales and a 4.5 multiple Vapor Corp. would be worth $1.56 after the recent dilution. I think Vapor Corp. is worth significantly more than this for 2 reasons.
1. It appears that Lorillard got a very good deal paying only 135 million as blu contributed sales of 63 million in Q3'13 alone. As the industry grows and revenues accelerate a buyout could conceivably command a much higher multiple, say 6-7 times sales. Big tobacco companies with declining volumes such as Altria (NYSE:MO) currently sell at 4.3 times sales with only 6% revenue growth.
2. For a growth stock in a rapidly growing industry, I prefer to look at future revenues to better represent a company's value. That being said, if Vapor Corp. can grow revenues 30% for FY'14 (40-50% may even be possible with recent cash raise to fill demand) that would put sales at 36-42 million using a 28 million dollar FY'13 estimate.
Taking into account a modestly higher multiple and 36-42 million in possible FY'14 sales and we get the following valuations listed from least to most optimistic;
| | | |
| --- | --- | --- |
| FY'14 sales in millions | Sales Multiple | Price per share |
| 36 | 6 | $2.67 |
| 36 | 7 | $3.11 |
| 42 | 6 | $3.11 |
| 42 | 7 | $3.63 |
As a result, I think it's fair to currently value Vapor Corp. at $3.11. This is the product of a modestly higher sales multiple compared to a previous buyout in the industry and a FY'14 revenue figure projected using an already achieved growth rate. At the current price of $1.69, Vapor Corp. looks to be significantly undervalued in a comparable buyout scenario with nearly 85% upside. Looking out to FY'15 using similar multiples and growth rates projected valuations are in the $4.50 to $5.00 range.
Risks to Valuation
The key to this investment story is continued significant top line growth. Although these growth assessments are lofty, they have been calculated using previously achieved growth rates. If the company is not able to maintain these rates, then price targets would obviously come down and the buyout multiple would have to be reduced. This is unlikely in my opinion because of the explosiveness growth in the industry. If a significant decrease in sales growth were to occur, then I would encourage investors to reconsider their investment.
Conclusion
As a result of these two presentations, investors have a much deeper understanding of Vapor Corp.'s offerings and business strategy going forward. The market as a whole has seemed to take a liking to the developments and potential growth of the company with a transient 100% plus recent increase in Vapor Corp.'s stock price. This company seems to be operating in a sweet spot with a broad portfolio of products, a head start on the growing vaporizer trend, and the secular shift from regular cigarettes to electronic options.
The combination of these factors should support significant forward revenue and earnings growth in line with or in excess of the 20-40% YOY growth that has been achieved already. That being said, shares still look to be considerably undervalued with nearly 85% upside in a buyout scenario using FY'14 revenue projections.
Disclaimer: Vapor Corp. and all micro-cap stocks contain significant risk and require extensive research before investment. At times, Vapor Corp. can be relatively illiquid and this should be considered in regard to position size. Micro-cap stocks can at times come under significant financial stress and can be more susceptible to swings in the economy than larger companies. This article is to be used as a part of the due diligence process and not a pure recommendation to buy the stock.
Disclosure: I am long VPCO. I wrote this article myself, and it expresses my own opinions. I am not receiving compensation for it (other than from Seeking Alpha). I have no business relationship with any company whose stock is mentioned in this article.