Cheniere Energy (NYSEMKT:LNG) continued its uphill run over the last two months even though the company has been richly valued all along. The stock is now trading at $44.90 and marks a new 52-week High after another. LNG has returned 153% over the trailing twelve-month period and has hugely outperformed other oil- and gas pipeline companies.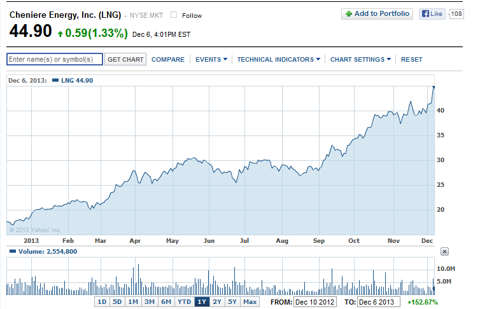 The two-year chart below depicts the extent of Cheniere Energy's outperformance. Kinder Morgan, Inc. (NYSE:KMI), Enbridge (NYSE:ENB) and Spectra Energy (NYSE:SE) have materially lagged Cheniere Energy's skyrocketing performance. Or put differently: Their share price has more accurately reflected their underlying performance.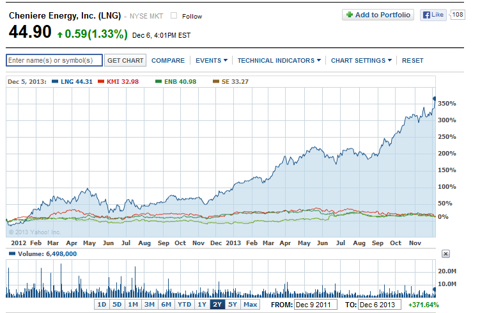 Background
Cheniere Energy is a Texas-based energy company primarily engaged in LNG-related businesses and owns and operates the Sabine Pass LNG terminal as well as the Creole Trail Pipeline in Louisiana. The company is a heavy bet on future natural gas demand in the US and abroad. So far, liquids-rich shale oil plays in the US are the more attractive bet as commodity margins are higher. Nonetheless, Cheniere Energy's Sabine Pass LNG operation gives the company access to high-impact shale plays such as Eagle Ford, Haynesville and Barnett.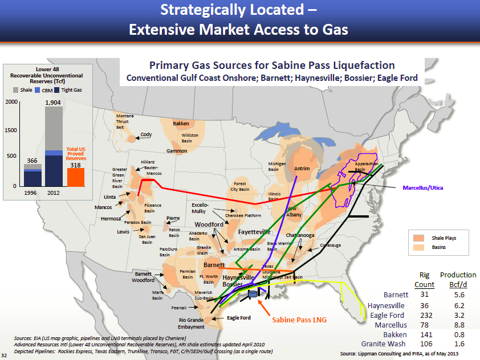 Continued losses
While I think that almost any energy player in the US is looking at attractive growth- and distribution prospects, I am skeptical when it comes to Cheniere Energy. The company has a heavy natural gas/LNG footprint which I believe to be inferior to a pure liquids operation.
More importantly, Cheniere Energy is producing substantial losses and the third quarter ending in September was no exception. The company presented a net loss of $100.8 million or $0.46 per share which compares to a net loss of $109.0 million or $0.52 per share in Q3 2012. For the first nine month of 2013, total losses accumulated to a whopping $372.7 million or $1.71 per share. In fact, losses widened on a y-o-y basis: The net loss for the first nine months of 2012 stood 'only' at $238.5 million or $1.40 per share. Cheniere Energy also posted higher losses from operations during 2013: Losses from operations came in at $45.9 million for the third quarter 2013 vs. $54.5 million in Q3 2012 while 2013 YTD losses hit $249.6 million vs. $59.9 million in 2012. Higher general administrative expenses and LNG terminal operating expenses were responsible for driving the disappointing performance in 2013.
Cheniere is highly loss-making and its financial performance is hard to reconcile to the above depicted share price development. Moreover, shares of Cheniere Energy have continued to soar since I last wrote about Cheniere Energy's negative free cash flows back in September.
While I was clearly wrong with respect to the anticipated correction, the underlying thesis holds true: Cheniere Energy's valuation is out of touch with its fundamentals. Cheniere Energy is also expected to deliver losses for shareholders in 2014 as indicated by an estimated analyst average loss per share of $1.93 in 2014.
Valuation and Yields
LNG ranks unfavorably when it comes to yield comparisons. Kinder Morgan, Inc. and others produce at least yields in the range of 3-5% and the peer group average stands at 3.79%.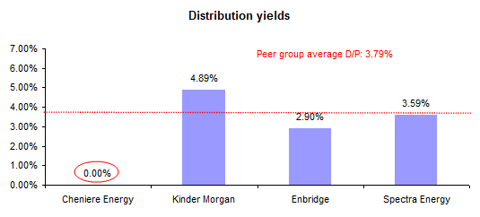 Cheniere Energy's premium to book value also is massive and way beyond what could be expected as reasonable. Because of negative earnings projections for 2014, Cheniere Energy's 2014 P/E ratio is rendered meaningless and LNG's non-existing payout (at least for the moment) can hardly be a reason to purchase this natural gas player. A summary valuation table comparing Cheniere Energy to Kinder Morgan, Enbridge and Spectra Energy can be seen below:

Conclusion
Cheniere Energy is trading based on lofty expectations with regard to cash flow generation and LNG demand and Cheniere's share price has run way ahead of its fundamentals. While other large-cap oil- and gas companies in the sector have consolidated over the last two years, Cheniere Energy has continually edged higher even though YTD losses have increased on a y-o-y comparison.
Cheniere Energy's P/S ratio currently stands at 35 while Kinder Morgan fetches a ratio of 2.6 and Enbridge of 1.2. Given the extreme overvaluation as well as continued losses, I am reiterating my opinion that investors should pass Cheniere Energy over for more promising and cheaper companies in the sector.
Disclosure: I have no positions in any stocks mentioned, and no plans to initiate any positions within the next 72 hours. I wrote this article myself, and it expresses my own opinions. I am not receiving compensation for it (other than from Seeking Alpha). I have no business relationship with any company whose stock is mentioned in this article.