Remember a couple of weeks ago when chip giant Intel (NASDAQ:INTC) at its Investor Day sandbagged its forecast for 2014? The poor guidance for next year sent Intel shares down by more than a dollar. But wait, can we re-write history? It appears in the market that Intel's poor forecast never happened. On Friday, two analyst upgrades sent Intel higher. At Intel's high for the day, shares were actually higher than the point at which the company essentially warned for 2014. Does that make sense? Today, I'm here to take another look at Intel, and explain why someone has to be wrong in 2014.
The latest series of analyst comments:
Friday morning, Intel was upgraded by two analysts. Citigroup and Drexel Hamilton both upped the name to buy, with price targets being raised as well. Citi's Glen Yeung is encouraged by stabilizing corporate PC demand, and also believes Intel's forecast for a 5% drop in PC units in 2014 is extremely conservative. Research firm IDC believes that a 3.8% drop is coming in 2014.
The double upgrade of Intel on Friday continues a pattern of interesting analyst moves. Over the last couple of weeks, there's been a constant battle between analysts. It seems that every time a positive note comes out, we get a negative one as well. This time, we got the negative note first (the RBC note I discussed in a past article), followed by Friday's double upgrade.
Wait, Intel is up how much?
So here is where the disconnect starts. Intel is now up 7.12% since October 15th, the day that the company reported fiscal third quarter results. A rally of that size seems almost incomprehensible given the fact that Intel has handed in two weak forecasts - one for Q4 of this year and one for 2014. If this was Apple (NASDAQ:AAPL), the stock would be dropping like a rock and the bears would tell you Apple would be going out of business shortly. I guess Intel is just held to a different standard, which is kind of funny given how 2014 is slated to be the third straight disappointing year.
Let me explain this forecast shift, because it is a bit larger than some may expect. When Intel reported Q3 results, analysts were looking for revenues of $54.56 billion in 2014. That would be 3.2% growth over the then-expected $52.88 billion in 2013. However, with the weak forecast that Intel handed in for Q4, analysts started taking down their expectations. By the time Intel got to its Investor Day, the 2014 revenue estimate was down to $53.73 billion, or 2.1% growth over the 2013 estimate at that point. So in about 5 weeks, the average revenue number came down by $830 million. If you don't think revenues are really a problem, see my explanation of how this problem can snowball into many larger problems.
But even the 2.1% growth forecast seemed to be too optimistic, as Intel guided to flat revenue growth in 2014. Assuming that the fourth quarter of 2013 doesn't completely surprise, Intel will have back to back years of declining revenues. So for Intel to guide to flat revenues in 2014 could mean a third straight year of declines if things don't go right. Current estimates now call for $53.21 billion, or 1.2% growth. So even though analyst estimates for 2014 revenues have come down by $1.35 billion since the Q3 report, analysts are still expecting more than 1% growth. Remember, Intel guided to flat revenues.
But apparently, a quarterly warning and a yearly warning are no big deal, or so Mr. Market is telling us. As you can see from the chart below, Intel has rallied since the Q3 report.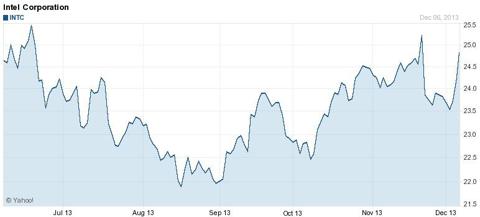 (Source: Yahoo! Finance)
Even after warning for 2014, Intel has rebounded, down just 1.63% since the warning. This is extremely surprising, and just look what happened to Cisco Systems (NASDAQ:CSCO) when it handed in a terrible forecast. Cisco is down 11.33% since its warning, more than twice the 5.39% Intel fell on its disappointing 2014 guidance. Intel has recovered almost all of that fall, while Cisco has lost another 9 cents since its original fall.
Does the valuation make sense?
Let's face it, Intel is rallying for all the wrong reasons, but that happens in a market being pumped up by the Federal Reserve. The company continues to lower its forecasts, has not raised its dividend this year, and the buyback has slowed down tremendously. Analyst estimates for 2013 and 2014 are at their lowest points, but the stock is getting close to its 52-week high. Does that make sense? Well, my tone would be much different if this was a $21 stock yielding about 4.30% annually than a $25 stock yielding 3.60%. In fact, Intel's yield is now about 30 basis points below that of a 30-year US Treasury Bond. I'm not saying you should run out and buy treasuries, but you would get more income.
So how does Intel stack up against some other names? Well, the following table shows Intel against some other top tier tech and chip names. I've also included Microsoft (NASDAQ:MSFT) and Qualcomm (NASDAQ:QCOM).

*EPS Growth and P/E values are non-GAAP.
Thanks to the latest rally, Intel again trades at a valuation higher than Apple, and this doesn't even taken into account each name's respective cash balance. Take out cash, and Apple trades at an even bigger discount to Intel. Cisco and Qualcomm use non-GAAP numbers. Converting Cisco's numbers to GAAP give Cisco a P/E a little less than 12. Is that discount appropriate for a company that will struggle this year? I say yes. But Intel isn't exactly doing much better at the moment, so the fact that Intel trades at a 10% or so premium to Cisco may be questioned a bit. Converting Qualcomm's numbers to GAAP could get you a P/E of around 16.5. So you have a tale of two chip giants, and Qualcomm must be considered a chip giant since it has a larger market cap than Intel as of Friday. So what do you want in your chip company? Low or no growth, with a high dividend, at a lower valuation, or a bit of growth with a lower dividend and a higher valuation. There's a case to be made for each, but if you are looking for growth, Intel is not the name you are looking for now.
Someone has to be wrong - twice?
Obviously, someone will be wrong in 2014 when it comes to Intel. First though, we have to get to 2014. Here's a table of Intel's 2014 estimates since April this year.

*Growth number based on the 2013 estimate at that time, which also has changed throughout the year.
Intel's growth story for 2014 has been sliced away, the death of a 1000 paper cuts. The average revenue estimate has come down by nearly $3 billion since April. I could go even further back and make the picture look even worse, but you get the idea here.
So in the next five or six weeks, analysts need to get their story straight. Intel guided to flat revenues for 2014, but analysts are still projecting 1.2% growth. Basically, analysts think that Intel sandbagged its guidance for 2014 to set up some beats, so analysts don't think 2014 will be as bad as Intel guided to. Intel bulls do need to be careful here. If Intel reiterates its guidance for flat revenues in 2014, those thoughts that Intel was sandbagging may fade away. With expectations for 1.2% growth and a stock near $25, Intel is nearly priced for perfection. If this stock was at $23, we wouldn't be having the same discussion, but Intel is not at $23, so expectations will be elevated.
On the other hand, most investors I've spoken to think Intel will be wrong, and they say that is a good thing. Many believe that Intel's forecast for PC shipments is extremely conservative, and thus the company's revenue forecast is a bit light. The bulls believe Intel is set up for a decent 2014, so even a percent or two of revenue growth would mean a forecast raise at some point. We will certainly see, because it has been a long time since Intel raised its revenue forecast.
So how do you look at expectations versus stock price? Well, I'm using $23 as my pivot point, and by that I mean at $23 I believe Intel is priced for zero revenue growth. For each dollar in either direction, use a percent of revenues. So at $25 a share, I believe the market would actually be pricing in 2% revenue growth in 2014. At $27 a share, should Intel get that high, the street would be looking for 4% revenue growth. Intel does have a bit to prove, especially with analysts still fairly positive, and that's more important for a stock near $25 than one that is at $23.
Meeting resistance again?
Intel is starting to get a bit frothy again, as I've discussed throughout this article. Despite estimates continuing to come down, Intel's stock has recovered most of its 2014 guidance fall. Technically speaking, the recent rise has pushed Intel back up towards a level of resistance, as seen in the bollinger band chart below.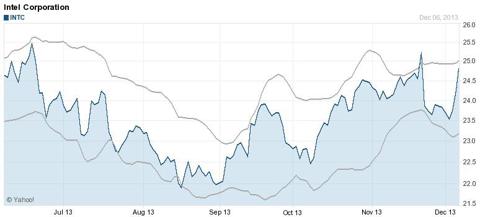 (Source: Yahoo! Finance)
As you can see in the chart, Intel has had a lot of trouble at the upper end of the bollinger band range. It is in that general area again at the moment, so investors looking to buy might want to wait for a pullback. I wouldn't be surprised if Intel gets over $25 again, but I do think a pullback is coming.
Final thoughts:
Someone has to be wrong in 2014 when it comes to Intel. First, analysts need to figure out the revenue picture, because current estimates are a bit above Intel's 2014 guidance. Second, Intel could be wrong if its guidance was purely a move to set up many beats. Either way, Intel's stock around $25 is priced for a bit of optimism, and the company has not been able to deliver in the past two years. Intel could be facing more estimate cuts in the next few weeks, and the stock is close to a key level of resistance. I wouldn't be surprised if this stock gets over $25 again, but if it gets into the $25.25-$25.75 range, I think the short case becomes extremely relevant again.
Disclosure: I have no positions in any stocks mentioned, but may initiate a short position in INTC over the next 72 hours. I wrote this article myself, and it expresses my own opinions. I am not receiving compensation for it (other than from Seeking Alpha). I have no business relationship with any company whose stock is mentioned in this article.
Additional disclosure: Investors are always reminded that before making any investment, you should do your own proper due diligence on any name directly or indirectly mentioned in this article. Investors should also consider seeking advice from a broker or financial adviser before making any investment decisions. Any material in this article should be considered general information, and not relied on as a formal investment recommendation.