Options offer an investor an excellent way to leverage a small stake of money into control of a much larger asset. Option contracts are an excellent tool that can be wielded for a variety of reasons ranging from hedging a position to outright speculation. A sudden spike in the open interest on a company can very well indicate some type of market moving event. That is indeed the case with Campbell's Soup Company (NYSE:CPB). The article below will detail the investment case for CPB along with a discussion concerning the sudden spike in call contracts.
CPB operates in the food processing industry, an industry known for slow and steady growth. CPB produces a variety of products ranging from its famous soups to pasta sauces such as Prego and cookies such as the Pepperidge Farm brand. The company is looking to aggressively grow top line growth and has recently acquired Bolthouse farms line of beverages, Plum Organics, a purveyor of organic baby food and the Kelsen group a Denmark based producer of cookies and biscuits.
CPB reported earnings on November 19th that came in weaker than expected. Denise Morrison CEO of CPB offered the following guidelines for 2014; "Based on our first quarter sales and profit performance versus our expectations, we're lowering our full year guidance for fiscal 2014 by 1 point at each line. From continuing operations, we now expect growth of 4% to 5% in net sales, 4% to 6% in adjusted EBIT and 2% to 4% in adjusted EPS with a range of $2.53 to $2.58 per share." Transcript courtesy of Seeking Alpha. To say the least, Wall Street was less than enthused sending the shares down more than 7%.
Sudden, sharp sell-offs in well run stable companies such as CPB always peak my interest. I find that Wall Street, in their rather myopic focus on quarterly earnings, routinely creates excellent buying opportunities for the patient long term investor. I initiated a position in CPB on 11/21 at $38.67, figuring the sell-off was overdone, offering me a low risk entry point. I based my decision to enter into the position on the following reasons which I will detail below.
The primary reason revolves around the predictability of CPB business. The rather unglamorous food industry does offer something that I value very highly which is predictability. The end product that is produced will never suffer from lack of demand which makes the underlying business rather simple to predict. In CPB's case, you are paying a less than market multiple for a steady, predictable business that currently yields roughly 3%.
A secondary reason for the investment revolved around CPB's recent moves to jump start growth. CPB has introduced a wave of new product innovations such as ready to go skillet sauces, along with higher end soups. CPB is also looking to broaden its product line with its recent acquisitions, which should help grow revenue. As the new divisions are incorporated into the parent company coupled with customer acceptance of its new products should help spur future revenue and profit growth.
The final reason revolved around risk and the companies appeal as a takeover candidate. Heinz Corp (HNZ) was taken private this year at a 19% premium to its previous all time trading high. CPB's predictable business model coupled with very low interest rates makes it an appealing candidate. It is my belief that the company would like to remain public and will pull out all the stops to generate growth, hence the leveraging of its balance sheet to make acquisitions. If the growth fails to materialize, the company will put itself for sale. In either scenario, I judged the risk to be minimal hence my investment.
"Options action heats up in Campbell Soup Friday. The stock was up $2.33, or 5.8 percent, to $42.44 on increasing volume of nearly 8 million shares, but no immediate headlines to explain the relative strength or increased activity. Meanwhile, about 46,000 calls and 6,200 puts traded on the stock, which are 18X the daily average for the consumer products company. December 43 calls, which are now 1.3 percent out-of-the-money and expiring in two weeks, were the most actives in the name. 20,130 contracts traded. Jan 42, 43, and 44 calls on CPB were also busy today and 30-day implied volatility in the options on the stock rose 69 percent to 28.5 - and new 52-week highs."
Blog courtesy of Options Xpress. Posted on December 6th, 2013.
The above paragraph detailing the option activity on CPB recently caught my attention. It seems there is significant speculation as evidenced by the sudden surge in call buying. As we can see from the chart below, CPB has more than regained all the ground lost before its earnings announcement. CPB sports a beta (a measurement of the shares volatility as compared to the overall market) of .36, indicative of its slow and steady nature. In my opinion, the most logical explanation for the call volume is the expectation of a buyout.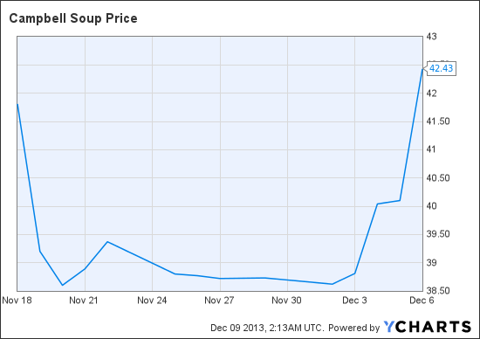 I decided to review the offer HNZ accepted to go private for some clues as to what could be expected by CPB. HNZ was expecting earnings of $3.52-$3.62 per shares for fiscal year 2013. The buyout offer of $72.5 per share equated to roughly 20 times earnings. Applying the same multiple to CPB's current profit outlook of $2.53 per share would net out a price north of $50 per share.
I would prefer if the company would be given the time to see if its acquisitions perform as planned bolstering the top and bottom line. I realize that the option market is indicating that may not happen. I will be anxiously awaiting to see how the story unfolds between now and December 21st the expiration date of the option contracts. Thank you very much for reading and I look forward to your comments.
Disclosure: I am long CPB. I wrote this article myself, and it expresses my own opinions. I am not receiving compensation for it (other than from Seeking Alpha). I have no business relationship with any company whose stock is mentioned in this article.
Additional disclosure: Thank you for reading the article. Investors are always reminded that before making any investment, you should do your own proper due diligence on any name directly or indirectly mentioned in this article. Investors should also consider seeking advice from a broker or financial adviser before making any investment decisions. Any material in this article should be considered general information, and not relied on as a formal investment recommendation.