Three months ago we looked at the then available set of 34 Leveraged Long ETFs, to see which ones the Market-Makers had the most favorable outlooks for.
Here's what we said then:
Market-Makers [MMs] hate risk, but have to expose their firm's capital to it to get their bread & butter (caviar & croissants?) trades done for the big-money fund clients. So they hedge their exposures against unwanted price moves. On thousands of trades every day, on hundreds of stocks, ETFs, REITs, indexes.
What they will spend, and how they structure each hedge, tells just how far they think prices may go. Go in both up and down directions, but usually not by symmetrical odds or by equal amounts. Spending what could be profits to put in their pockets, they are extremely parsimonious, buying enough protection, but never extravagantly.
Here is their implied price forecasts at Friday's market close, along with the histories of how well similarly balanced (upside vs. downside) prior forecasts have performed in the 3 months after the start of each set of expectations.

To explain the table's column heads: Sell targets are the % rise from price now to top of the forecast range. Drawdowns average the worst end-of-day price comparison with forecast day price during each position holding among all similar Range Index experiences in the sample. The Range Index measures that % of the forecast range lying below the current price. Win Odds are the % of forecasts reaching targets, plus those that don't but, 3 months later, are at a higher price than at time of forecast. Payoffs are the average % price changes from all similar prior forecasts. Market days held reflect early closeouts of achieved sell targets. Annual rates recognize 252-market-day years. Sample size counts number of all forecast days available in the past 5 years, and the number of days therein with similar Range Indexes.
These ten have been screened out of more than three times as many leveraged long ETFs followed on a daily basis. Requirements are that we have a sufficient number of histories of forecasts similar to today's, where a standard time-efficient strategy has produced profits in at least 6 out of 8 commitments. The intent is to identify those securities where MMs have demonstrated productive insights into likely future price behavior.
There is no guarantee that future prices will be similar to the past, but humans often formulate habits that are repetitive where surroundings seem familiar, and humans move market prices.
For perspective two summary lines indicate parallel dimensions on the day, a) for the best of several issues out of over 2,000 stocks, ETFs, REITs, and indexes with forecasts every day, and b) similar metrics are displayed for the whole measurable population. Over 3,000 issues examined on this particular day exclude many where sufficient information to generate forecasts may be lacking.
This Ends the Previous Article's Introduction
First, let's review how the selections did. Since you expect that we wouldn't bring it up if they hadn't done well, let me provide some perspective. We are in the midst of a review of every mentioned forecast in the more than 100 SA articles written in the past year or so. Not all of those articles were buy-oriented, many included stocks and ETFs that were not recommended, but were included to provide a contrast to the chosen ones.
But when we included every one, and we are not done yet, over 575 price range forecasts have been displayed. They have all been put to the test described above, with sell target prices clocked at the first end-of-day appearance in 3 months, or failing that, at the close of the 63rd market day after the forecast. Gains resulted in 85% of all forecasts thus closed out, with an average of +5.5% in 51 days of capital commitment per holding, a +30% annual rate. Since the S&P500 rose during the year to date at a 29% rate, our sample roughly corresponds to the market.
The selected ETFs did a good bit better:

Double-digit percent gains were achieved in 9 out of the ten ETFs, and a double-digit loss in the remaining one. Average capital commitment periods were 28 calendar days, less than a month, ranging from less than two weeks to the full three months in the case of the losing position. The average annual rate for all ten was above +200%, taken from their geometric average daily compounding expressed in full-year calendar-day terms.
Why was it so good? Was it keen insights and precise targets by MMs? Was it the leverage structure of the ETFs? Was it a time discipline that efficiently managed the capital commitments? Or was it all three?
Leverage cuts both ways. Without the insights of the MMs, as much damage as good might have been done; in one case, it was. A major contributor was the time-efficient discipline. Simple buy & hold of each ETF to the closeout date of the loser reduces the annual rate to below +125% by denying the reuse of the same capital.
So a compound effect acts to magnify the original benefit of being able to identify the target judgments of the market-making community. Leverage we have no claim as to how it got to the party, but we're delighted to have its company and aid, properly used.
Our completed study of the year's recommendations will make clear that a bountiful stream of fairly continuous productive recommendations makes the compounding of returns more than just a mathematical trick. To get started on the next leg of the journey started at the end of August, here is the current set of best 10 leveraged long ETFs, along with the set they were drawn from: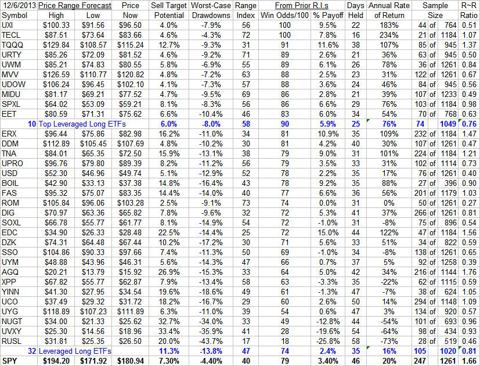 Please note the summary lines in this table, compared to those of the August data.
The current ETF prospects are smaller in upside size, and their accompanying worst-case price drawdowns are typically larger in negative amount. The August forecasts were usually larger on the upside than their drawdown counterparts. On the whole, the market outlook is less inviting now than in the late summer.
Disclosure: I have no positions in any stocks mentioned, and no plans to initiate any positions within the next 72 hours. I wrote this article myself, and it expresses my own opinions. I am not receiving compensation for it (other than from Seeking Alpha). I have no business relationship with any company whose stock is mentioned in this article.