Introduction
Nielsen Holdings (NYSE:NLSN) is an information and measurement company providing clients with media and marketing information and analytics about what consumers watch (consumer interaction with television, online and mobile) and what consumers buy on a global and local basis. Most investors probably have heard of them via their TV ratings reports, which are generated by Nielsen.
NLSN operates through two reportable business segments:
What Consumers Watch (media audience measurement and analytics). The "Watch" segment provides viewership data and analytics primarily to the media and advertising industries across television, online and mobile screens.
What Consumers Buy (consumer purchasing measurement analytics). The "Buy" segment provides retail transactional measurement data, consumer behavior information and analytics primarily to businesses in the consumer packaged goods industry.
Recent Insider Activity
Shares of NLSN have led the S&P 500 in terms of insider selling by far over the past 90 days. (source: FactSet) In fact, NLSN insiders have sold over twice as much stock than #2 on the list, Seagate Technology (NASDAQ:STX).
So far in 2013, insider sales have totaled just under 221 million shares, over 1/2 of the company's outstanding share total - as of their latest quarterly report. To boot, there have been zero shares purchased by insiders this year. Here's a look at the insider trading activity for NLSN for all of the past year:
(click to enlarge) (source: E*Trade)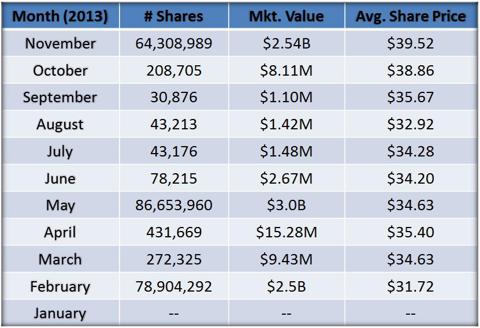 This year, total insider ownership of NLSN is down over 50%. Normally, that would be a pretty clear indication for investors to pass on a stock. However, insider selling is not always a bad sign, and this year, the market has not seemed to mind. In fact, despite the consistent insider selling, shares of NLSN are actually doing quite well this year, up over 40%:
(click to enlarge) (source: Google Finance)
Why Do Insiders Sell?
The SEC considers "insiders" to be company directors, officials, or any individual with a stake of 10% or more in the company. Company insiders buy and sell stock all the time, for many different reasons. This should not be the sole basis for making an investment decision regarding a specific company. Some reasons can be a bad sign, but not all indicate an impending decline. Let's take a look at a select few of the common reasons that insiders sell stock - first some negative ones and then some to ignore.
Possible negative reasons for insiders selling company stock include:
They believe the company is overvalued
They know the company is not going to be performing well - i.e. losing business, burning cash, etc. (illegal if public is not informed)
Other reasons insiders sell:
Tax purposes
To raise capital (it's common these days for companies to pay smaller salaries and instead compensate insiders with stock shares and options, thus, they may sell these shares to get some spending money)
To take profits (just like investors, insiders buy stock in their company for one reason - to make money. Eventually they reach the point that all of us do and want to capture some of the profits from a good investment decision)
So how does one tell the difference? How can one determine if the selling should incite worry and fear in the investor, or simply be ignored? I like to follow some general rules of thumb and ignore insider selling that falls into one of the following categories:
Automatic/planned sales - insignificant because they're scheduled far in advance
Option sales - governed by expiration dates
Consistent selling over a long period of time
Selling small positions of a relatively larger one
Selling when a stock has been on a decent run and is breaking into yearly highs
If you look closely at the reporting of insider sales of NLSN this year, you'll notice that many of them do fall into one of these "ignore" categories, with the exception of a select few. Many of the sales have been from the same insiders for the exact same number of shares on a monthly or quarterly basis.
Should Investors Be Discouraged Going Forward?
Yes and No. Despite most insider sales being planned or repeats, it's difficult to ignore the amount of sell transactions occurring over such a long period of time. Sure, some are probably taking profits, as the stock is at its all-time high. But I refuse to believe that's the case with all of them.
Some reasons to be bearish on NLSN:
Insiders have bought zero shares this year.
NLSN is currently at its 52-week high. As a non-shareholder, this to me is to be taken as a sign of caution, as I try to look for stocks that are undervalued and will hopefully outperform the market in the future as investors come to appreciate them. For some investors, this may be a positive, however.
RSI is currently at about 80, and has been over 70 for two weeks. This may indicate NLSN is overbought currently.
Shares are trading at an 8% premium to their average target price of $40.20, based on 9 analysts who cover the stock. (source = Zacks)
However, owners of NLSN have been rewarded this year with over 40% return, not including the yield on the dividend just started this year. NLSN has outperformed the S&P as well as their industry peers, as shown in the chart below including two main competitors ADT Corp. (NYSE:ADT) and FactSet Research Systems (NYSE:FDS):
(click to enlarge) (source: Google Finance)

Some reasons to be bullish on NLSN:
Dividend. Since starting their dividend program in February 2013, NLSN has already raised its dividend once by 25%. At current market price, shares are yielding 1.85% - paltry to some investors, but with room to grow.
Growth. Outlook for NLSN's industry is positive. YoY sales growth is currently projected at a healthy 17.8% as the TV ratings business and computer analytic services are seeing increased demand. Most recent quarter reports showed revenues up 2.7% over last year. Also on the horizon is a deal with Google (NASDAQ:GOOG) where NLSN will be able to collect research data from their YouTube department, and in turn, sell this data to advertisers. This may help to bring in more ad revenues to Google as advertisers prefer data from independent sources like Nielsen over Google's own numbers.
Recent M&A: Nielsen Holdings recently announced it had entered into a merger agreement to acquire Harris Interactive, a polling company and market research firm. NLSN expects this to add to future growth and help them branch into new markets and industries. *Note - this is by no means a done deal yet, and has encountered some resistance, as noted here and here.
Valuations: NLSN trades at a lower valuation than its peers in the industry. Price/earnings(forward) = 22.59 vs. 24.51; Price/book = 2.82 vs. 5.07; Price/sales = 2.88 vs. 3.07
Improving Fundamentals: Operating margin, profit margin, and current/quick ratios are all up YoY. EPS is up 5% over last quarter.
Conclusion
In his book Investment Intelligence from Insider Trading, Nejat Seyhun, a University of Michigan professor/researcher in the field of insider trading, found that when insiders bought shares of their own companies, those stocks tended to outperform the total market by 8.9% the next year. Conversely, when they sold shares, the stock underperformed the market by 5.4%. Basically what this means is that insider selling should be weighted with less importance than insider buying when considered as an indicator of future stock performance. As one of investing's notable greats, Fidelity's Peter Lynch, put it :
Insiders might sell their shares for any number of reasons, but they buy them for only one: they think the price will rise.
Investing in any company should be based on thorough research and evaluation of many things: performance over time, future projections, comparison to industry peers, recent news and earnings reports, analyst recommendations, etc. They should never be based solely on what the company's insiders are doing - whether buying or selling. I see articles written every day simply about the recent insider trades in ABC or XYZ company, but to make an educated investment decision, you must ignore those headlines and really look at the reasons for the activity. I look at those articles, and at any stock like NLSN with heavy insider activity, as an invitation to evaluate a company, not buy or sell it.
All that being said - I wouldn't recommend buying NLSN at the current share price. When looking at the amount of recent insider selling in combination with some of my bearish points noted above, I think interested investors would be wise to wait for a dip of 5-10% before starting a position, as well as possibly waiting for the insider sentiment of the company to change - i.e. look for an insider purchase. At these all-time highs, that would be a fantastic sign to go long NLSN. For current shareholders, I recommend taking some profits here and selling a portion of your shares. If anything you can always get back in later on a pullback in the stock.
I guess in my eyes that makes NLSN what most analysts would term a "hold" recommendation. This doesn't always mean that shareholders won't be rewarded in the long-term for maintaining or even increasing their current positions. Nielsen Holdings' fundamentals look good compared to their competition, they are growing well, and the share price has been hot as of late. In the near future, however, I believe NLSN is due to cool off a bit, and I think some of the insider selling shows that they agree with me.
Disclosure: I have no positions in any stocks mentioned, and no plans to initiate any positions within the next 72 hours. I wrote this article myself, and it expresses my own opinions. I am not receiving compensation for it (other than from Seeking Alpha). I have no business relationship with any company whose stock is mentioned in this article.