My last article, Are Energy Investors Rotating Out of Shale Producers And Into Big Oil, addressed the relative outperformance of big oil companies like Exxon (NYSE:XOM) and Chevron (NYSE:CVX) over that of shale oil producers like EOG Resources (NYSE:EOG), Continental Resources (NYSE:CLR), and Whiting Petroleum (NYSE:WLL) over the past month or so. During that time period, Chevron and Exxon are up while shares of EOG, CLR, and WLL are all down around -9.5%. The article provoked a lively comment section in which readers discussed everything from frigid weather in North Dakota, to production growth expectations, realized prices and simple profit taking.
However, at the end of the day I believe the selling in shale producers is because realized prices for mid-continent shale oil, barring a Presidential decree allowing crude oil exports, have significant downside from here. The ramifications will be huge. Going forward, the trend will favor the downstream operators over the shale producers. It will be a feedstock buyer's market in 2014, which bodes well for a mid and downstream company like Phillips 66 (NYSE:PSX).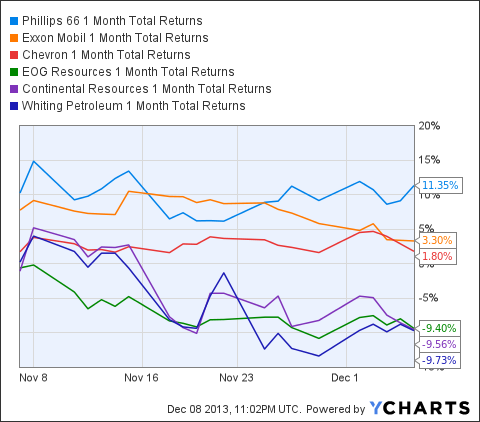 PSX 1 Month Total Returns data by YCharts
The reasons I believe mid-continent prices will weaken considerably in 2014 and favor downstream operators are as follows:
Shale oil producers will be victims of their own success: the new plug-n-perf completion technique combined with downspacing and array fracking will lead to an unexpected near step function increase in light-sweet crude production.
This increase in domestic light sweet crude production will out strip domestic light sweet refining capacity: a "wall" will be hit.
The US government will be slow to lift the ban on crude oil exports.
US Light-Sweet Refining Capacity: Hitting a Wall
Although the US is still importing huge amounts of foreign oil (300 million barrels in October), the combination of the three factors listed above means there will be a glut of mid-continent light sweet oil and prices are headed down. Since exporting crude oil is not allowed by the US government, the capacity utilization of domestic light-sweet crude oil supply is primarily determined by the domestic refining capacity able to absorb it. I was a bit early in my article back in July: Bakken Producers and Light-Sweet Refining Capacity: Time To Take Profits?, but it is timely to revisit the issue. In fact, I think that the "light-sweet refining wall" has already been hit, and this is why the shale oil producing stocks have sold off so sharply over the past month. It's simple profit taking based on expectations for sharply lower realized prices for mid-con shale oil.
John Powell's June presentation to the US Energy Information Agency contained this slide: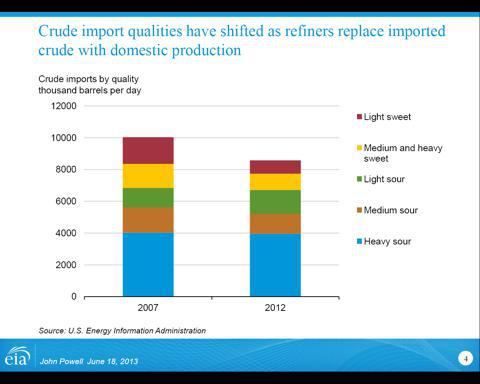 Note the dark red bar representing light sweet imports. In 2012, the average daily imports of light sweet were already down over 50% since 2007 and amounted to less than 1 million bpd. Considering the excellent production results shown by nearly every producer in the Eagle Ford and Bakken in Q3 earnings reports, and guidance going forward (almost all producers cited the implementation of the new cemented liner plug-n-perf completion technique), production of light-sweet tight oil has soared and is expected to ramp up at an even faster pace. In general, these results were seen across the plays and by nearly all the shale companies: EOG, CLR, WLL, Kodiak Oil and Gas (NYSE:KOG), and Oasis Petroleum (NYSE:OAS) as well as many others. As a result, the recent surge in production means the domestic light sweet refining capacity wall will be hit sooner rather than later.
Case In Point: Nigerian Imports
The best example of this trend can be seen by examining Nigerian exports to the US. Long a prized source of light sweet crude imports for US refiners, Nigerian exports to the US have, quite simply, plummeted to near zero. As recent as 2010, Nigerian exports to the US routinely averaged in the neighborhood of 1 million bpd. In the latest week, imports were down to just 136,000 bpd. Wow. The point is, there isn't much light sweet import capacity left to cut out. Once refineries stop importing light sweet, and they are just about there now for all practical purposes, where are all the new barrels of light sweet shale crude production going to go?
Refinery Configuration
Before the shale revolution, US refineries spent huge sums to expand capacity to handle heavy crude from Canada, Venezuela, and Saudi Arabia. Even recently, BP (NYSE:BP) upgraded its Whiting refinery to run up to 350,000 bpd of Canadian heavy, up from about 80,000 bpd. That is a 270,000 bpd increase. But the real question appears to be: can US refineries absorb even more domestic light-sweet crude?
The ability to utilize more light-sweet crude varies by refinery. Light sweet processing capability can be prioritized, but many refineries would require large capital expenditures in hardware to substantially expand light-sweet capacity. That must be a tough pill for refiners to swallow after spending years devoting cap-ex toward capacity for imported heavy sour. Also, since the production growth of light sweet crude from shale has taken another jump forward as a result of plug-n-perf completions, downspacing, and array fracking, it would be a leap to think refinery executives have had time to adjust cap-ex planning.
Depending on price, refiners may choose to blend different grades of crude prior to refining. Meantime, heavy crude processing units could be under ultilized and total crude processing could actually decline as more light sweet feedstock means product yields will shift: more gasoline and less diesel. This actually dovetails nicely with the recent long haul trucking shift away from diesel and toward natural gas.
Buyer's Market Shifts Profits To Downstream Operations
But why should refiners reconfigure their operations? Right now, it's a buyer's market for downstream operators and downstream operators are going to profit handsomely from market conditions. It is no surprise that a downstream company like Phillips 66 is hitting new highs while the shale oil producers have suffered a sharp selloff. And that is why I believe Exxon and Chevron have lately been outperforming shale producers as well: like PSX, the downstream chemical and refining operations of XOM and CVX will likely do very well in 2014. Meanwhile, unlike the shale producers, both these companies are nicely exposed to higher international oil and natural gas prices.
Oil Price Sensitivities
Note the significant effect higher oil price spreads can have on the net income of Phillips 66's refining margins. From the Q3 conference call presentation, a $1 increase in refining margins equates to a $440 million increase in net income. Now let's take a look at the recent Howard Weil refining report (week ending 11/22/13). Note the sharp uptick in mid-west (Chicago) and Gulf Coast crack spreads recently. I think this is due to the light-sweet refining capacity "wall" enabling refiners to submit lower bids for mid-con oil. It's a recipe for profits.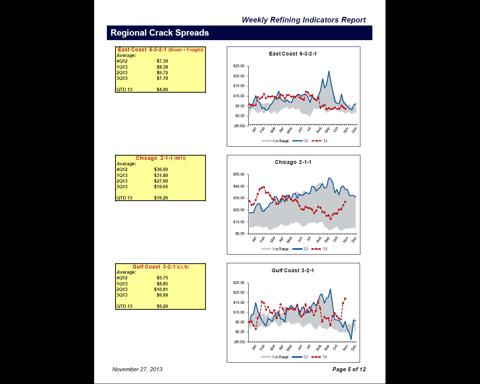 Click to enlarge
In other words, the shale producers' pain will be the refiners' gain.
Will The US Export Crude Oil?
Another reason why refiners are likely to resist reconfiguring refineries to efficiently process light-sweet is because of the possibility the US government could change its mind and allow crude oil exports. Can you imagine if the refiners spent hundreds of millions (billions?) to reconfigure their refineries (again) only to have a Presidential decree allowing exports of light sweet crude oil raise the price of the targeted feedstock? Nooo... I don't think the refiners will do it. Reason #2: why reconfigure heavy refining capacity for light-sweet when Canadian oil sands heavy is selling at a discount to WTI and production is booming there as well? Nope, the refiners are likely to stand pat. If anything, they might be inclined to increase WCS since the Canadians haven't got a clue yet (Hey Loonies....pssst! You don't need Keystone-XL, you need a pipeline to a west cost terminal for exports to Asia!).
But I digress - back to the export topic. A Wall Street Journal article back in March reported that Conoco Phillips' (NYSE:COP) CEO Ryan Lance urged the federal government not to stand in the way of crude oil exports. Lance said U.S. shale formations have produced a glut of light sweet crude and the infrastructure needed to transport and process it has had difficulty keeping up. He suggests the US should export light sweet crude oil to regions with refining capacity built to process that kind of crude - Mexico, South America and Europe.
Summary & Conclusion
The domestic supply/demand dynamics of light-sweet crude oil, in combination with a US crude oil export ban, means the balance of power will shift dramatically from shale oil producers to downstream chemical and refining operators. Fully integrated and dividend paying companies like Exxon and Chevron will continue to outperform the shale producers. My readers probably tire of me saying it, but I continue to think downstream company Phillips 66 could be the best play on shale oil. Not long after that article was published, the company announced a new $2 billion share buyback plan, bringing total buybacks announced since the COP spin-off to $5 billion.
While most of you are familiar with my disdain for Exxon's over-the-top priority on share buybacks, the difference here is that PSX has also been significantly boosting dividends paid directly to shareholders. PSX started post spin-off (May of 2012) with a dividend of $0.20/share. Since that time shareholders have been rewarded with three dividend increases:
Oct 2012: $0.25
Feb 2013: $0.3125
Oct 2013: $0.39
So that is almost a doubling of the quarterly dividend in a year and a half. Sweet.
If oil exports are not allowed, and that is a big caveat, shale oil USA could head into a consolidation phase. Smaller shale companies like Kodiak Oil & Gas and Oasis Petroleum are likely to be gobbled up by companies like EOG, CLR, and WLL. Of course, that assumes that these bigger companies can maintain their balance sheets in a low realized price scenario...not a given. If not, they could find themselves feedstock for a XOM or CVX. Of course this is not going to happen over night as most of the shale companies are nicely hedged going into 2014. However, if the government does not allow crude exports early in 2014, the price of hedging will certainly go up as the glut grows and realized prices go down. Energy investors should be watching their holdings very closely. Unfortunately, the biggest wildcard is something no once can predict: a Presidential decree allowing crude exports.
I will leave you with some metrics on Phillips 66, a mid and downstream company in excellent position to profit from low domestic natural gas, NLGs, and advantaged crude feedstock:
Mkt Cap: $42.7 billion
P/E ("ttm") = 12.39
EPS ("ttm") = $5.75
Div (Yield) = $1.56 (2.3%)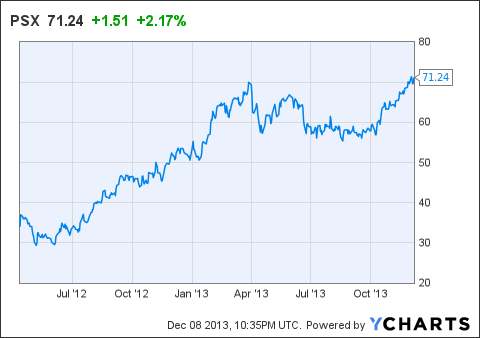 Disclosure: I am long COP, CVX, PSX, WLL, XOM. I wrote this article myself, and it expresses my own opinions. I am not receiving compensation for it (other than from Seeking Alpha). I have no business relationship with any company whose stock is mentioned in this article.
Additional disclosure: I am an engineer, not a CFA. The information and data presented in this article was obtained from company documents and/or sources believed to be reliable, but has not been independently verified. Therefore, the author cannot guarantee its accuracy. Please do your own research and contact a qualified investment advisor. I am not responsible for investment decisions you make. Thanks for reading and good luck!