"One way to create an attractive risk/reward situation is to limit downside risk severely by investing in situations that have a large margin of safety. The upside, while still difficult to quantify, will usually take care of itself. In other words, look down, not up, when making your initial investment decision." - Joel Greenblatt
Background
Last Monday, I published a second bullish piece about Tesla (NASDAQ:TSLA) -- one year (and 290%) after I pointed out that there would be No Money To Be Made Shorting Tesla But Lots To Lose. In this follow-on article, I bit off a lot -- trying to do a current, unbiased and all-encompassing valuation: incorporating the company's potential to fundamentally disrupt not only the auto industry, but also several others. Based on the response I received, I realized I did not put quite enough emphasis on perhaps the most important reality of the Tesla story as it pertains to valuation: downside protection.
Disclaimer: If you're a self-described quant; never having spent any time quantifying qualitatives, you haven't stimulated the creative side of your brain in a while, and/or you have a bruised ego from short-selling Tesla a year ago -- disregard this; you'll end up holding your short position regardless.
The Tesla Brand
Tesla's brand is like nothing else. It's not even comparable to Apple (NASDAQ:AAPL). There's a popular TED Talk where Simon Sinek authoritatively proclaims that the most successful companies have products, cultures, and marketing strategies that all stem from their raison d'être. These companies continuously answer the question "why" instead of the usual "what", and "how" -- he states that, "people don't buy what you do, they buy why you do it". This speaks to a deep-seated human craving for authenticity, purpose and meaning -- even seeking it in the products we buy. Sinek asserts that the reason Apple is so unbelievably successful isn't because they sell products that are beautifully designed, simple to use and user-friendly -- but because -- since they believe in thinking differently and challenging the status quo in everything they do, they sell beautifully designed, simple to use, and user-friendly products; and people buy into this. In other words, they have a purpose and a mission apart from just profit, and their customers and employees sense the authenticity that results. I believe he's very right in this. [If you doubt what I'm saying, make sure you watch the video; Sinek is a very insightful and persuasive guy ... kind of like Jobs, and Musk]
Tesla isn't just a car, or even a brand in the sense that nearly every other for-profit company is a brand ... It's actually the ultimate mission -- the mother of all missions -- and that is, to wean our planet off its addiction to fossil fuels, helping to create a long-term sustainable society; one that our grandchildren can enjoy and be proud of.
No automaker that chooses to concurrently produce internal combustion engine vehicles, can ever be authenticated as having a 'mission' that is as purposeful and meaningful as Tesla's is. This mission -- in combination with a brilliant product -- is the reason everyone wants to own a Tesla and the reason everyone wants to work for Tesla. It is creating an unfathomably powerful brand that makes us say "meh" to BMWs, Aston Martins and even Ferraris. We subliminally ask owners of these vehicles: "what good are you doing for the world?", and then smugly laugh to ourselves, because a 10 year old company is making cleaner, more high-tech, and better performing cars than companies that have had generations to perfect their products.
This mission is so powerful that there are legions of supporters and advocates defending the company when "product issues" arise. On that point -- I'm not sure anybody has really taken the time to explicitly state in the context of electric vehicle safety, that: the collision, fire and consequent explosion of a gasoline powered Porsche, killing Paul Walker and Roger Rodas, is utterly frightening. Getting behind the wheel of any vehicle is dangerous; electric or ICE. We should all realize this, daily. Tesla's long-term, fundamental trajectory has not changed. Any tarnished perceptions that have formed in the eyes of some, will be cleared with this recognition over time.
I love the concept of a positive feedback loop; I believe there is significant alpha hidden in the unappreciated, uncontrollable appreciation of variables (i.e. finding situations where outputs loop back to increase inputs). This is a natural phenomenon with Tesla. Not only does every sale and delivery generate more sales, through continuous endorsements and "green-bragging" -- every unit sold also adds recruitment power to attract the best and brightest engineers, designers and business developers to join the cause (yes, cause - not company).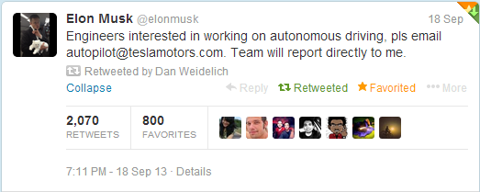 (Click to enlarge)
This is incredibly beneficial for Tesla's future. Additionally still, the company receives synergistic consumer brand appeal and talent recruitment allure, through its association with two other powerfully missional companies: SpaceX and SolarCity (NASDAQ:SCTY) -- living legend, Elon Musk, is heavily involved with all three of these causes … (this man gets it). The truth is, these unusual qualitative benefits and atypical positive associations are remarkable intangible assets - and certainly not listed on Tesla's balance sheet.
Outside-Industry Comparisons
Michael Kors (NYSE:KORS) and Coach (NYSE:COH):
The highest conviction investment idea I have ever had (with virtually no chance of significant loss) was to pair trade a very new brand, Michael Kors, and a 70 year old incumbent, Coach, over the past year (buy KORS and short COH). Speaking with my fashionista sister-in-law and many other women -- it was unmistakable that Michael Kors products were, and are, far more desirable to key customer segments. The stronger brand was trading in and around a 50% discount to the brand whose lunch it was eating.
So although Coach had, and even still has, greater sales and net income than KORS -- because of this increasingly obvious brand strength -- the market is now also convinced that it is only a matter of time before KORS ramps up distribution to become more profitable than Coach. (KORS now has a higher market cap with a much higher multiple). This is rational, forward-looking behaviour -- finally.
Though, there are distinct differences between ramping up handbag production and automobile production, I do believe the Tesla brand is, in a very similar way, already stronger than BMW, Audi, Mercedes, etc. At least for the consumers that currently matter -- the affluent. Side by side with the excitement of the Model S, all of these brands seem dull and tired. Like owning a BlackBerry (NASDAQ:BBRY) and a Coach bag in 2011 (what will happen 2-3 years later?). Thus, a very large and growing portion of wealthy people -- who are into their cars -- are jonesing after the Model S. The question now is production and distribution -- something that perhaps a few other companies might have a capacity for...
Tesla is to Daimler (OTCPK:DDAIF) and Toyota (NYSE:TM) what Snapchat and Instagram are to Facebook (NASDAQ:FB) (only there are far more synergies):
I've established that the Tesla brand is quite valuable -- even apart from the transfer of intellectual property, engineering expertise, and the supercharger network. For an acquirer, synergies would arise from added resources and production capacity for a Tesla arm, and in the other direction, corporate cultural-reinvigoration and innovative-drive for existing operations. These benefits, plus the brand association. So Tesla would be an extremely strategic asset, to one of the major automakers. Daimler and Toyota do already have positions in the company, of which they have not sold (apart from Daimler, unfortunately for them, divesting 40% of their stake well before the short squeeze in mid-2012) even as Tesla ascended to a $24 billion valuation two months ago. This is significant.
I want to draw a very relevant comparison to the online social network industry. This industry can be described as a war for eyeballs, content publication and content curation (even Seeking Alpha is involved). Many people thought Zuckerberg was crazy when he paid $1 billion for a pre-revenue application, Instagram. Aside from Zuckerberg and the Facebook team, most didn't perceive the potential Instagram, now, clearly had to become a stand alone social network -- one that currently robs much screen time away from Facebook's main site. Instagram is likely now worth more than $10 billion (if Snapchat is $3 billion+ and Twitter is ~$25 billion). So it was a very perceptive decision by Zuckerberg. More important than isolated growth opportunities, his purpose in each of his offerings to Instagram and more recently, Snapchat (another offer, many have not understood), was to protect and hedge his core business -- presently worth $117 billion. I don't think anyone can deny the importance of this.
My point now, is that somebody at each one of the major automakers is going recognize a very obvious parallel to this common strategy within the social network industry [Yahoo (NASDAQ:YHOO) buying Tumblr and Google (NASDAQ:GOOG) buying Youtube are other examples].
For a qualitative sense of Tesla's reputation among other automakers:
GM in July this year:
Musk having fun with news that GM assigned a team to study what makes Tesla so special: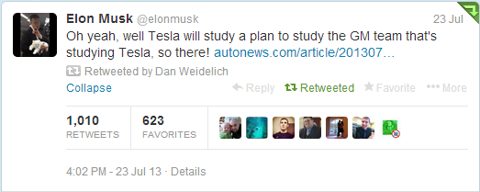 (Click to enlarge)
"I sensed the great potential of Tesla's technology and was impressed by its dedication to monozukuri (Toyota's approach to manufacturing)," said TMC President Akio Toyoda. "Through this partnership, by working together with a venture business such as Tesla, Toyota would like to learn from the challenging spirit, quick decision-making, and flexibility that Tesla has. Decades ago, Toyota was also born as a venture business. By partnering with Tesla, my hope is that all Toyota employees will recall that 'venture business spirit,' and take on the challenges of the future."
Daimler last month:
From a Digital Trends article in November:
Daimler chief financial officer Bodo Uebber is looking for more ways for the two companies to work together.
"I told my guys, go back to Tesla and look for other opportunities," Uebber told Reuters at a press briefing Thursday.
Uebber didn't provide any specifics, but he did say that Daimler "could use more" from Tesla.
These statements from big Toyota and Daimler bosses, along with a sloth-like, reactive action plan from General Motors - have great significance. Tesla simply, is, impressive, unsettling and valuable to the big automakers.
GM (NYSE:GM) is worth $56 billion
Daimler is worth $87 billion
Toyota is worth $195 billion
Tesla's market cap is $16.8 billion
So, with all of this noted, a very important question independent-thinking short-sellers wanting to do their due diligence, must ask is: what is a reasonable (or even unreasonable) price a major automaker would be willing to pay in order to hedge their core business from major disruption -- while at the same time, associating more intimately with the Tesla brand/mission?
"Expected" Capital At Risk
Upside:
I believe there is as much as 100% plausible upside in Tesla stock within the next two years -- and much more than that longer term (check back to my previous article for scenarios that could begin to play out).
Downside:
And only between 20% and 40% downside as the EV market stands. I think (and I do have a track-record for grasping Tesla's value before the market does) an automaker would be willing to pay, at minimum, $10 billion for the Tesla brand and appreciable extras -- and as much as $25 billion to guarantee its shareholders that it will not miss out on the future of transportation. This would be a profound benefit for one, while all other automakers tremor with uncertainty.
There is a risk to this downside protection, and that is the possibility of a near-term black swan occurrence: wiping out the entire EV market forever. This seems unlikely based on what I've pointed out about the dangerous nature of all vehicles, as well as the factual reality that all major automakers and many governments are investing in the development of electric vehicles in some way.
To be extremely cautious, let's assume a 15% chance that the EV market could be wiped out completely within the next two years.
I said that I think Tesla's floor value is between: $10 and $25 billion, however to remain ultra-conservative, let's pretend that there is no $25 billion dollar buyout scenario, or anything in between.
Our "expected floor value" (very useful in a diversified portfolio) will include an 85% chance of a $10 billion floor and a 15% chance of $0 floor.
$10 billion x .85= $8.5 billion
$0 x .15 = 0
Expected floor = $8.5 billion
This effectively decreases our capital at risk from what, a bear told me in the comments of my last article, was 100% (he believes Tesla is going to zero), to less than 50% of market value.
So in my most short-forgiving estimations, short-sellers are chasing after a best-'expected'-case scenario of 50% -- in a herd again -- while risking theoretical unlimited losses (unless they're eating into their potential profits with an expensive hedge).
On the other hand, when you buy Tesla shares in a diversified portfolio, you are effectively putting less than half of your allocated capital at risk, while buying into the extraordinary plausibility for Tesla to build a brand and ecosystem that allow it to dominate the future of personal transportation.
Conclusion
The downside protection I've described in the form of a powerful and valuable brand, is upward pressure on Tesla shares. It's my opinion that the Tesla trade won't balance out until we approach previous highs again.
Disclosure: I am long TSLA. I wrote this article myself, and it expresses my own opinions. I am not receiving compensation for it. I have no business relationship with any company whose stock is mentioned in this article. Much of the content of this article was worked out in discussions with Seeking Alpha members in the comments of my previous articles. I appreciate all of your thoughts.