Taubman Centers, Inc. (NYSE:TCO) reported weak 4Q09 results with sagging core revenues and operating results. The rental income (minimum rents and percentage rents) declined 5.8% (y-o-y) to $92.5 million from $98.2 mn in 4Q08. However, the decline in non-cash expenses like depreciation helped reduce the impact on the bottom line from an accounting perspective with net income (excluding impairment charges and a litigation charge) declining lower 1.8% (y-o-y). Adjusted FFO which excludes the impact of non-cash items like deprecation declined 5.1% (y-o-y) to $76.6 mn from $80.8 mn in 4Q08.
Minimum rents declined 5.0% (y-o-y) to $87.1 mn from $91.6 mn in 4Q08. Average occupancy dipped to 89.5% from 90.5% in 4Q08 and average base rent declined 3.2% (y-o-y) to $42.56 PSF (per sq ft) from $43.96 PSF in 4Q08. While the tenant sales per square feet were reported to improve 3.8% (y-o-y), the percentage rents declined 17.1% (y-o-y) to $5.5 mn from $6.6 mn in 4Q08 largely owing to reduced occupancy and reduced percentage rents as % of mall tenant sales. Other revenues which include shopping center related revenues and lease cancellation revenues dropped nearly 50% (y-o-y) to $8.4 mn from $16.8 mn in 4Q08. This was largely owing to negligible lease cancellation revenues of 0.5 mn against $7.5 mn in 4Q08. The decline in core revenues were offset by an increase in management fees from Macao Studio City development fees as well as higher expense recoveries. Total revenues were down 1.9% (y-o-y) to $186.3 mn from $189.9 mn in 4Q08.
The company recorded $126.3 mn of impairment charges in 4Q08. Excluding the one time impairment charges, total expenses declined 4.0% (y-o-y) or $6.4 mn largely coming from lower depreciation and amortization, reduction in shopping center expenses, reversal of provisions for doubtful debts and lower interest expense. Some of the declines in these expenses were offset by an increase in general and administrative expenses. The company benefited from improved expense recovery rate (recoveries as percentage of property expenses) of 114.3% in 4Q09 from 106.8% in 4Q08 adding nearly $4.8 mn to the bottom line. But the same was largely offset by decline in gains from land sales by $0.8 mn and as well a decline in equity income from unconsolidated JVs (excluding impairment charge and litigation charge) of $1.8 mn.
In aggregate, net income (excluding impairment charge and litigation charge) declined 1.8% (y-o-y). The company has changed the accounting for minority interest from Jan 2009 owing to which the distributions in excess of net income are no longer deducted from the net income and the adjustment for the same is done through minority interest in the balance sheet. Consequently, the reported allocation of net income between the company and the minority interest is not comparable with previous years.
Adjusted FFO declined 5.1% (y-o-y) to $76.6 mn from $80.8 mn in 4Q08 while adjusted FFO available to common shareholders declined 4.7% (y-o-y) to $51.4 mn from $53.9 mn in 4Q08 owing to a slight increase in ownership of TCO in TRG from 66.7% to 67.0%. Adjusted FFO per diluted share declined 7.0% to $0.93 from $1.0 in 4Q08. The company maintained a dividend of $0.415 which led to a payout ratio increasing to 45% from 42% in 4Q08.
The company's guidance for FFO per share within the range of $2.55 to $2.75 is in line with Boombustblog's estimates of $2.60 per share.
Reggie Middleton's view
TCO's results are a reflection of continued weakness in operating performance of retail REITs. While the company is citing the positive year-on-year sales growth in tenant sales per square feet in 4Q09 as a sign of recovery, the year-on-year declines in occupancy and average rents shows continued weakness in demand for retail space. Also, if we look at absolute level of TCO's TTM tenant sales per square feet in 4Q09, the tenant sales per sq feet continues to remain at low levels with only a marginal uptick of 0.2% from TTM tenant sales in 3Q09. Reference pages 3 through 5 of the professional and retail versions of the TCO Forensic Analysis for our forecast of the same: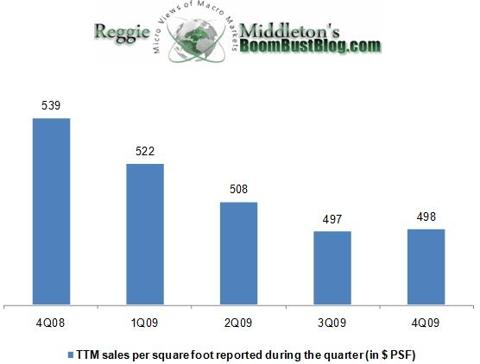 The occupancy and average rent continues the downward momentum in 4Q09 as accurately anticipated in page 4 of our subscriber forensic analysis TCO Report - Professional 2009-11-27. In 4Q09, occupancy rates further declined to 89.6% from 90.5% in 4Q08 and 91.1% in 4Q07. Average base rents in 4Q09 recorded a year-on-year decline of 3.2%. The decline in occupancy and average rents are contributing to the decline in minimum rents which declined 5.0% (y-o-y). However, the percentage rents are hit even harder owing to declining tenant sales and lower percentage rents as % of tenant sales owing to increased competition from excess supply in the market. The percentage rents declined 17.1% (y-o-y)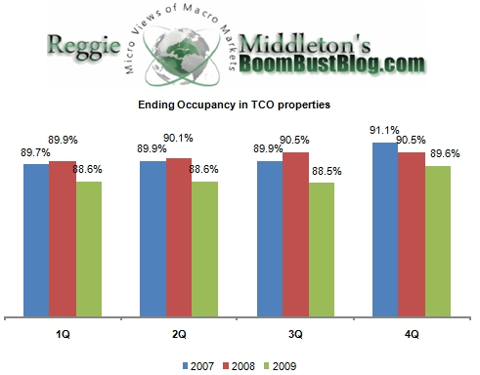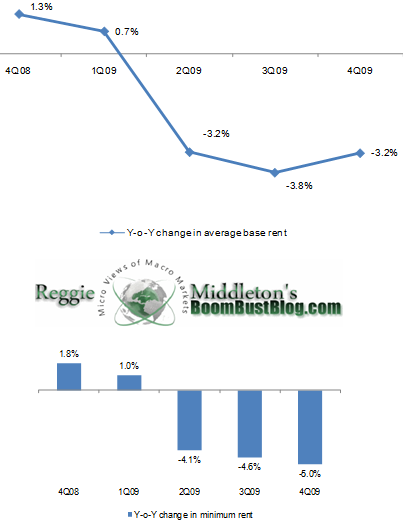 The company did not report the opening rents for new leases signed in 4Q09. However, the previous data reveals a sharp decline in opening rents, reflecting substantial weakness in demand.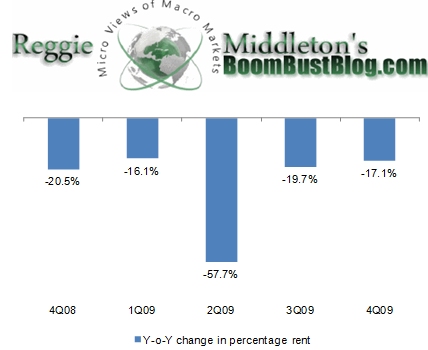 With regard to impairment charges, I reference the post in which the TCO Forensic Analysis was initially released (seeThe Taubman Properties Research is Now Available):
The following table summarizes the valuation of each property through NOI-based and CFAT-based approaches. Individual property valuations will be discussed in detail separately, and released to professional subscribers.
Click to enlarge: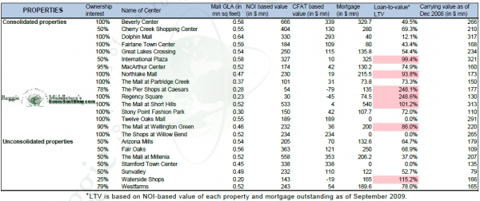 The two deep underwater properties - The Piers Shops at Caesars and Regency Square were written down to the fair value by recording impairment charge in 3Q09. While the former is being handed over to the lenders for auction proceedings, the latter still remains with the company and the company continues to service its debt obligations. Additionally, there are 5 more properties with LTV of more than 80%, making them highly susceptible to reach the negative equity territory in case of further declines in rentals or increase in cap rates.
It is noteworthy that properties with high LTVs include a) the new developments during 2005- 2008 phase and b) the existing properties against which additional debt was raised during 2005-2008. Among the properties with LTV of more than 80%, Northlake Mall was the new development in 2005, The Piers Shops was acquired in 2007, while additional debt was raised against International Plaza, The Mall at Short Hills, The Mall at Wellington Green and Waterside Shops during 2005-2008.
Additionally, there are four properties - MacArthur Center, The Mall at Partridge Creek, Stony Point and Westfarms - with LTVs in the "immediately at risk" zone.
Rising cap rates
So, I am sure many are wondering if these properties are destined to be written off, or what??? Well, let's look at the trend...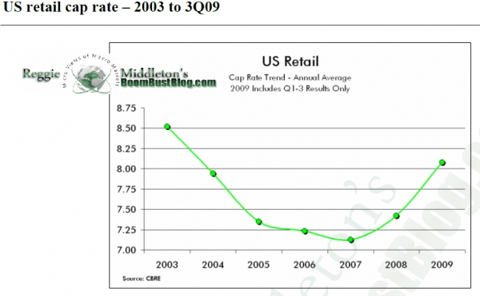 Sharply rising cap rates combined with...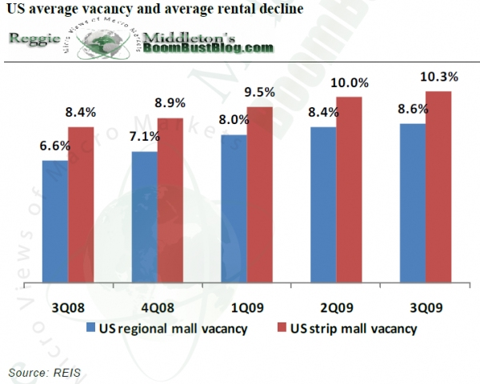 Institutional and high net worth CRE investors and consumers of Wall Street asset management services may find my analysis of the returns of private real estate funds of extreme interest. See "Wall Street is Back to Paying Big Bonuses. Are You Sharing in this New Found Prosperity?".
Anyone who has an interest in the CRE space should download my free 47 page outlook for the sector in 2010: see Reggie Middleton's CRE 2010 Outlook (42 pages).
I also have a long and rich history analyzing General Growth Properties (GGWPQ.PK), the largest real estate bankruptcy in the history of the industry, after announcing their problems and profitably shorting them a year in advance of their failure. GGP has been in the news again after Hovde and Ackman decided to wage a PR battle against each other. See my take on the exchanges and GGP's valuation:
...s who own opposing positions on the stock.
Ackman
/Pershing square, who are long the company's stock, and
Hovde
Capital Advisors, who are short the stock, and Reggie Middleton, the original player! ...
Saturday, 26 December 2009
Hovde
has issued a reply to
Ackman
's second GGP presentation. These hedge funds put out more analysis than the bank analysts that follow GGP, SERIOUSLY! For those that need a recap: My responses to
Tuesday, 29 December 2009
BoomBustBlogger NDbadger commented in the "It was bound to happen. Reggie Middleton vs
Ackman
vs
Hovde
on GGP!" thread: I didn't find
Hovde
's analysis compelling. Would have liked Ac
Tuesday, 29 December 2009
---
Additional CRE opinion...
Note to readers: due to a formatting error, a significant amount of this article was not published. If you read the article before 7 am 10/23/09, I suggest you peruse through it one more time.
Wednesday, 21 October 2009
I recently received this heads up via email: Reggie, I just got out of the Great Investors Best Ideas conference in Dallas and thought you'd like Bill
Ackman
's short. He actually said there'
Thursday, 08 October 2009
This is a corrected and extended update of my glance into the Macerich (NYSE:
MAC
) update. This post was delayed due to material data input errors which have been rectified. I've decided to offer a peek in to the...
Monday, 07 December 2009

Disclosure: Short MAC and TCO