(Editors' Note: This article covers a micro-cap stock. Please be aware of the risks associated with these stocks.)
It is my never-ending quest to find undervalued and relatively unknown companies to write about and present them as a opportunity for the value-minded investor who can wait patiently to be rewarded with a wonderful return. Typically, these are not stocks that are going to run up tremendously in a short period of time. They trade at low volumes and may not be covered by analysts. Therefore a lot of the future earnings and sales growth projections may be done by me using historical data and averages. My previous three finds can be found here, here, and here. I also like to write my articles with a focus on investing education in general, from a beginner's perspective. I have found the investing world to be one where many are eager to speak but few are willing to teach, and I believe that to be a detriment to the industry as a whole. As such, my articles may contain basic information about historical figures and how to do basic valuations and screens that are not pertinent to more advanced investors. Forgive me if some of the content is a repeat for you.
Introduction
Today I present for your consideration Chicago Rivet & Machine Company (NYSEMKT:CVR). CVR operates in the fastener industry in the United States producing and selling rivets, automatic rivet setting machines, parts/tools for such machines, and the leasing of automatic rivet setting machines. The principal market for the fastener industry operations is the automotive and appliance industries within the United States. You can find out more about the company and their products on their website.
Sounds lovely, right? This boring industrial company is just the type of stock that a young Warren Buffet loved to invest in. And Ben Graham would have loved it too, as I'll show in the valuations later on.
CVR stock basics as of market close on 12/6 (source: Yahoo! Finance)
| | |
| --- | --- |
| Share Price | $39.00 |
| Market Cap | $37.53 M |
| Shares Out. | 970,000 |
| Avg. Volume | 7000 shares |
| 52 week range | $18.84-$47.70 |
| Dividend (Qtr) | $0.18 |
| Yield | 1.85% |
Shares of CVR have actually done tremendously well this year, up 100% currently:
(Source: Google Finance)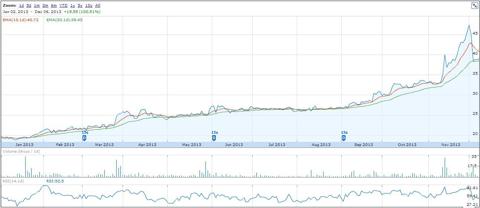 (Click to enlarge)
At first glance that chart does not seem to indicate a potential value stock that either Graham or an early Buffet would have invested in. Also take a look at a historical 10 year chart of CVR:
(Source: Google Finance)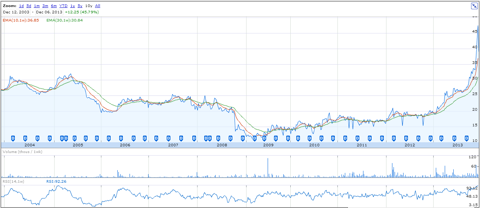 (Click to enlarge)
CVR is trading within 20% of it's yearly and all time highs. So how could it possibly be a good choice for a value stock? Answer - because of their historical growth, fantastic balance sheet, and cheap valuations.
Steady Growth Over The Long Term
The US recession in 2008 really took a toll on them, however, as it also did for most other companies around the world. The machining/tools industry was one of the hardest hit sectors in the US market. But CVR bounced right into recovery mode making 2009-2010 one of their fastest growing periods in company history. Revenue growth has been strong since then as well, hovering steady around 10% for quarterly YoY growth over 5 years, better than their 3 closest competitors:
CVR Revenue (Quarterly YoY Growth) data by YCharts
Earnings per share have also grown steadily, and especially quickly coming out of the recession, a big reason for this year's increase in share price. For the first 9 months of this year EPS reported is already $1.98, and adding last years Q4 total to this gives a 2013 total estimated EPS of $2.34, an increase of 29.3% YoY! That's increases of 106%, 38%, and 29% in EPS alone over the past three years, respectively. (source: Zacks) In 2003 annual EPS were reported at $0.85. That gives a compound annual growth rate of 10.66% over those 10 years, above the industry average of 8.6%.
CVR EPS Diluted (Annual) data by YCharts
Improving Fundamentals
Chicago Rivet & Machine's 3Q13 results were amazing, and the share price responded accordingly. Quarterly EPS was up 77.1% while revs were up 10.8%. For the first nine months of 2013, EPS was up 36.6% and revs were up 6.7%.
Looking back even longer, perhaps what is most amazing is that despite the troubles of the recession, CVR did not take on any debt. Nor have they issued any new stock - ever. In fact in the past 20 years they have bought back over 200,000 shares of stock from investors, roughly 20% of total shares. To date they are still debt free, earning them a healthy current ratio of 5.97 and quick ratio of 4.34, placing them in the top 20% of the industry. Management has been fantastic at rewarding shareholders with return on retained capital as well as paying a dividend that has already increased 80% since the end of the 2009 recession, back to the pre-recession levels. They were even able to maintain the dividend during the recession, cutting it only to $0.10/quarter for just over a year. Another testament to their strong balance sheet and commitment to shareholders.
Here's a look at some additional attractive fundamentals for shares of CVR, all of which improved over last quarters numbers (source: Zacks):
| | |
| --- | --- |
| Price/Earnings (TTM) | 16.95 |
| P/E (Forward) | 12.34 |
| P/Sales | 1.04 |
| P/Book | 1.53 |
| P/Cash flow | 10.36 |
| PEG Ratio | 1.01 |
| Gross Margin | 22.54% |
| Net Margin | 6.28% |
| ROE | 9.56 |
Also of note, CVR has always maintained an extremely low percentage of float short - under 1%. It's competitors have averaged much higher overall but have come down recently, indicating a sign that good things are expected for the industry overall.
CVR Percent of Float Short data by YCharts
Valuation - The Graham Intrinsic Value Method
Now the fun stuff. Benjamin Graham is considered by many as the father of value investing, and laid the groundwork for today's value stars such as Warren Buffet. He is famous for pioneering quite a few valuation methods - NCAV and intrinsic value being the two prominent ones. I prefer to use the intrinsic value method to value a stock as it takes more factors into account and therefore probably gives a more realistic valuation.
As stated by Buffett, intrinsic value is "the discounted value of the cash that can be taken out of a business during its remaining life." It's important to remember to not aim for calculating a specific value, but rather a range of values. Thus I'll do two calculations, one for intrinsic value "IV" and one for forward intrinsic value "FIV" to give a valuation range.
For the calculations I'll be using Graham's revised formula (found here), as well as the following values:
normalized EPS - $2.30
EPS (2014 projected) - $2.54
expected growth rate (based on historical avg) - 10.47%
U.S. AAA corporate bond yield avg - 5.05% (as of 12/6, Yahoo! Finance)
IV = 2.34 * [8.5 + (2*10.47)] * 4.4 / 5.05
FIV = 2.54 * [8.5 + (2*10.57)] * 4.4 / 5.05
IV = $58.99
FIV = $65.15
Upside to these values from current share price of CVR ($39) is 51.3% and 67.1%, indicating CVR shares could still be greatly undervalued.
It's important for the value investor to remember that investment decisions are not be based solely on a calculation such as Graham's intrinsic value, but should be combined with other fundamental and technical analysis to provide a measure of safety. They are simply a starting point to determining if a stock is possibly undervalued, and by how much. Intrinsic values have a tendency to be extremely higher than a stock's share price, especially in certain industries. Thus I'll use two of my favorite safety checks to see if CVR is a safe investment (which I already know it is based on fundamental improvement/balance sheet data above, but it's good practice anyway).
Two Safety Checks
First I like to check a potential value stock's Altman Z score. It is a measure of a company's financial health and likelihood of bankruptcy, a helpful tool for the value investor because sometimes unhealthy companies can be mistaken for a value stock due to a drop in share price. The Altman Z aims to help prevent a value investor from catching the dreaded "falling knife." CVR checks out okay here with a score of 11.23 which I got using the 3Q report data - well above the accepted safe cutoff score of 3.
Finally, I like to use the Piotroski score. This is another easy to do test needing only a company's financial statements. It also aims to eliminate the financially weaker stocks from a value investor's radar. Using Q3 data again, I came up with a score of 8 out of 9 for CVR - another great indication that it is a safe investment.
Take a look at the recent improvement in both scores for CVR over the past 5 years (this uses old data from the latest annual report, hence the slight difference in numbers):
CVR Altman Z-Score data by YCharts
Conclusion
While shares of CVR have been on quite a run this year - reaching all-time highs last month - I believe they are still undervalued when looking at the future growth of the company as well as Graham's intrinsic valuations. CVR also convincingly passed both safety checks, a testament to their solid financial position.
I still think they may pull back a bit as they correct from last month's rapid spike from their positive 3Q earnings report and dividend increase. Keep an eye on the RSI to drop into the 30s in the coming weeks, or a bullish cross of the 8 day EMA over the 24 day EMA (just a personal favorite). Investors should look for an entry point near the $35-$36 range before buying, then plan on holding for the next 2-4 years for a return of around 60%. CVR is also yielding a decent 1.85% and have shown they are looking to maximize returns to shareholders with the recent dividend increase. Looking at their dividend history and payout ratio of under 45%, I'd expect additional dividend increases at least every year.
Chicago Rivet & Machine Co. may be one of the most boring companies on the market today, operating in a blue collar industry whose factories would make a good setting for a certain Discovery Channel show hosted by Mike Rowe. No one seems to care about stocks like them anymore. Investors would rather search for the next breakout tech stock. But by so doing they are missing out on companies like CVR that trade at a discount to future value. CVR is a profitable, proven business that has weathered many economic storms. It has proven earnings capabilities and revenue growth that can be relied on through good times and bad. CVR is in a stable industry that's not going away and will continue to pickup as manufacturing improves with the economy. Shares of CVR will reward patient investors while also offering substantial safety.
Disclosure: I have no positions in any stocks mentioned, and no plans to initiate any positions within the next 72 hours. I wrote this article myself, and it expresses my own opinions. I am not receiving compensation for it (other than from Seeking Alpha). I have no business relationship with any company whose stock is mentioned in this article.