Albert Einstein said, "If you can't explain it simply you don't understand it well enough".
I will attempt adhere to Einstein's advice throughout the article, however, the rare earth industry is fairly complex and changing rapidly. If it were simple, misconceptions would not be so rampant and market expectations would not have diverged as far from reality.
There have been four main reasons for the significant decline in rare earth prices the past two years. These are inventory build-up, falling prices leading to conservative purchasing patterns, illegal production and smuggling in China, and uncertainties about future supply.
It appears all four of the preceding problems that have been plaguing the industry are abating.
High Inventories
In 2010, China restricted its rare earth exports to the rest of the world. This led to a sense of panic regarding future supply of these elements. As a result users built up huge stockpiles. Subsequently, demand has fallen as users subsisted off their inventories. These stockpiles have been depleted according to industry sources with visibility into the supply chain.
In an interview with InvestorIntel.com, industry expert, Dudley Kingsnorth stated the following:
Those stocks have been run down. But when you look at it people say, 'well maybe I look at Metal-Pages or Asian Metal and the prices are coming down and the volumes don't look that great.' In 2010 and 2011, companies bought a lot of the illegal material that came out of China. They are now getting towards the end of that material and so we are going to witness a big pick up in purchases toward the end of this year."
Source: Investorintel.com
In the Q2 2013 conference call when discussing the market for magnetic powders, former interim CEO of Molycorp, Constantine Karayannopoulos said:
"Volumes shipped for much of the first half of 2013 were function of our customers doing just enough to meet demand while reducing inventories in the first quarter and keeping inventories as low as possible in the second".
Source: Seekingalpha.com
Molycorp (MCP) has stated its two processing facilities in China have worked through slow moving inventory and will begin purchasing feedstock. This is significant because the midstream and downstream rare earth processing industries account for a significant portion of rare earth demand.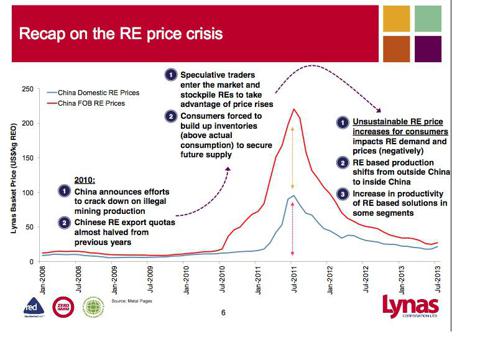 Source: Lynas Corp.
Falling Prices
Prices for rare earth elements have drastically been falling from their unsustainable price peak in 2011. This decline in prices has created very conservative purchasing of rare earths. Users have been buying only the amount needed to satisfy current manufacturing orders and have been reluctant to build inventories back up. Declining prices creates deferred purchasing leading to a self-reinforcing downward price cycle. Increasing prices creates demand now to take advantage of the low prices, but rising prices.
During the Q4 2012 conference call, Constantine Karayannopoulos alluded to this:
"I guess there are still a few folks out there that feel that there might be room for prices to continue to slide. Of course when prices stops sliding and they start going the other way they want to get the benefit of the even lower prices. So, it's a constant struggle. Some of our contracts have floors and ceilings, which allow for prices to come down within certain percentage of the Asian metal or the Metal Pages Index. So, I think the relative volatility in the prices is a fact of life for those contracts, they are long term."
Source: Seekingalpha.com
The price of neodymium has risen considerably since July. Lanthanum has stopped falling and risen slightly.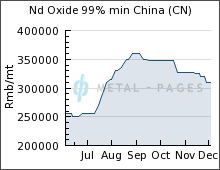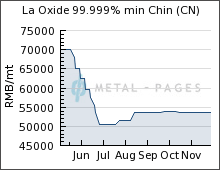 Source: Metal-Pages.com
The Chinese State Reserve Bureau has unofficially announced a plan to purchase massive amounts of rare earth. The purchase could amount to over $1 billion. To put this number in perspective the total global value of the rare earth market is no more than $10 billion annually. Much of this purchase will consist of neodymium, the highest value component of Molycorp's business. The purchase will undoubtedly have a positive impact on prices. Stockpile buying and market intervention essentially creates inflated demand and an artificial decrease in supply. As well as affecting actual supply and demand balance in the market, it will also lead to expectations of rising prices, which is a very important issue in the industry currently.
Illegal Production in China
After years of over-exploitation of its rare earth resources leading to environmental damage and resource depletion, China has been restricting production and output of rare earths. The goal is to consolidate the industry from many small scale, marginal producers into a few large state-owned corporations, while reducing illegal production and smuggling. This gives the State Council of China control over pricing and production.
In August 2012 the Ministry of Industry and Information Technology released a document titled "The Rare Earth Industry Access Conditions". This set minimum output quotas for rare earth mining and processing. Jia Yinsong, Director of the Rare Earth Office of the MIIT, said in an interview with China National Radio, "About a third of the existing rare earth miners and almost half of the 99 rare earth smelting and metallurgy processors will fail to meet the standards". The explicit purpose of these quotas is to eliminate insignificant or unnecessary capacity. Read more on this subject at investorintel.com.
Illegal production and smuggling directly counteracts the goals of the State Council. In addition to the supply increase brought about by illegal production, smugglers and illegal miners have a massive cost advantage due to lax or zero environmental standards and avoidance of taxes and export duties. This allows illegal rare earths to be sold cheaply, undercutting the price of legal producers.
The State Council has shown little tolerance for this practice. Various ministries including the Ministry of Land and Resources and the Ministry of Industry and Information Technology have launched enforcement operations. The General Administration of Customs, in charge of import and export services and taxation launched in August what has been called the "rare earth crackdown of the decade" (metal-pages.com). Local and provincial governments must also show the same commitment as Beijing to end illegal production. There is likely widespread corruption and bribery on this level. A recent Shanghai Metals Market news release stated all illegal rare earth mines in the city of Ganzou, Jianxi have been closed and a special team is set up to crack down on illegal rare earth operations.
The first official rare earth exchange called the Baotou Rare Earth Products Exchange was recently launched in November. The exchange will help to increase transparency relating to pricing and provide a central source of market information.
The efforts of the State Council have had a very profound effect on supply despite there still being much work to do. According to an article from Mineweb.com, the Chinese government shut down 30,000 tons of production in 2012 alone. That is equivalent to the phase one production levels of Molycorp and Lynas Corp. (OTCPK:LYSCF) combined.
Supply Uncertainty
Although rare earth elements may seem plentiful in the current environment, this is not always the case especially when speculation takes hold, as was exemplified in 2011. The rare earth industry is very volatile and these materials can become scarce during an up-cycle.
This is why the combination between Molycorp and Neo Materials Technologies made strategic sense. Neo needed access to secure, reliable feedstock and Molycorp needed sales outlets into China and proprietary processing knowledge and techniques. According to a Bloomberg article Constantine Karayannopoulos, former CEO of Neo Materials, said, "This deal addresses the fundamental weakness our company has; we are not in control of our raw materials". Analyst at Byron Capital Markets, John Hykawy, said, "Neo can do more business with Molycorp material than they can begging for Chinese feedstock".
Source: Bloomberg.com
The possibility of inadequate access to rare earths or extremely high prices has stunted demand growth in various applications. It has also led to hesitancy, especially from non-Chinese manufacturers, to commit to purchasing and using rare earths, despite being the materials of choice if reliable supply is in place.
The use of rare earths results in improved performance and efficiency for the industries and products which rely on these elements. However, there are often substitutes if secure supply is not available at reasonable prices, albeit with decreased efficiency.
A perfect example of this the petroleum refining and fluid catalytic cracking industry. W.R. Grace, a large U.S. based catalyst manufacturer, began using zero and low-rare earth based formulas in June 2011. The reason for this was rare earth prices were simply too high. Lanthanum prices of $100 per kilogram are not economical for end users. Likewise, prices of $10 per kilogram are not economical for producers. Prices must find a reasonable balance and at this point, that means upward.
With non-Chinese supply coming online, there will be a great shift regarding rare earths from substitution and researching alternative technologies back to finding new applications and expanded use in existing applications. Molycorp and Lynas Corp. have an important role to play in this process. As these companies ramp up production over the following year and prove to be a credible source of rare earths, I expect there to be a large resurgence of demand.
Who Stands to Benefit?
Molycorp and Lynas stand to be the main beneficiaries of any increase of demand and prices for rare earths. There is great demand for alternative, non-Chinese sources of rare earths. Byron Capital analyst, John Hykawy, who currently has a strong buy recommendation on Molycorp stated the following in a Bloomberg article:
I've heard from so many critical materials buyers at large corporations that they want security of supply. And security of supply to them means avoiding Chinese supply at all costs because they got fooled once. They don't want to get fooled again.
Source: Bloomberg.com
Molycorp and Lynas (OTCPK:LYSDY) are the two potential western suppliers and I personally believe the edge belongs to Molycorp. An investment in Lynas presents inherent political risks involving their advanced materials plant in Malaysia, along with unproven processing technologies and lack of downstream capabilities. Molycorp Canada and Molycorp Silmet have been long time producers of finished rare earth composites and have a strong, loyal customer base.
Lynas has only demonstrated production capacity of 1,000 tons per year, far less than the nameplate 11,000 ton per year capacity. Molycorp has demonstrated the ability to run Mountain Pass at 15,000 tons per year. Although this is below the 20,000 ton capacity it is a far more significant amount than the production of Lynas Corp. Molycorp is currently producing at a 10,000 ton per year run rate according to the latest SEC filing. As the chlor-alkali plant and last stage of the multi-stage crack facility are commissioned, costs at Mountain Pass should decrease and leaching bottlenecks should be resolved, respectively. Molycorp is making an economic decision based on market conditions and optimal output, while Lynas seems to be suffering more from operational issues.
Molycorp has also taken a bit of an accounting bath the past year and is highly leveraged to an increase in prices. Approximately $60 million of inventory has been written down over the course of 2013. The reason for this is most of Molycorp's production costs are fixed. Therefore, output at Mountain Pass has a significant impact on cost of production. Because Molycorp has not been producing at the full run rate, these fixed costs are amortized over smaller volumes resulting in a very high cost of production per unit. Instead of simply assigning this high cost material to inventory, which could later be very detrimental to cost of goods sold and net income, the company has been expensing these costs over time. The result of this is an inventory that can be sold at break even at current prices. However, if prices move back up, the previously high cost inventory can now be sold at a profit. In effect, it has made their poor performance to date worse, and is a gamble on higher selling prices. Also, and perhaps importantly, Molycorp now has an inventory to sell should demand return strongly, and sales will not be constrained by production volumes at Mountain Pass.
Disclosure: I am long MCP. I wrote this article myself, and it expresses my own opinions. I am not receiving compensation for it (other than from Seeking Alpha). I have no business relationship with any company whose stock is mentioned in this article.