Where GM Stands Today
General Motors (NYSE:GM), headquartered in Detroit, heads up a ton of brands that you see on the road every day. The GM umbrella encompasses Chevy, Buick, Cadillac, and GMC - the four most prominent brands you'd recognize on the road in the U.S.
Overseas, it encompasses brands like Opel and Vauxhall. It came out of its U.S. taxpayer backed chapter 11 reorganization in 2009, after closing Hummer, Saab, Pontiac and Saturn. The government has been reducing its holdings in the company - which were once 26% - and plans to exit in April 2014.
The auto industry here in the U.S. continues to boom. I've written several articles recently on Ford (NYSE:F), but it isn't just Ford that's seeing gains; the auto industry is experiencing sector wide growth. The U.S. auto economy continues to improve, as does the auto economy in Europe, which analysts have basically agreed has hit a bottom at this point.
GM, after having a rough re-IPO, is a company that has also had a great 2013 like Ford. While the company has been up about 40% over the past 12 months, its Series B warrants are up over 65%. The warrants, which are far in the money, offer better exposure to higher prices from a percentage basis - and they're priced at only around a 5% premium to the common.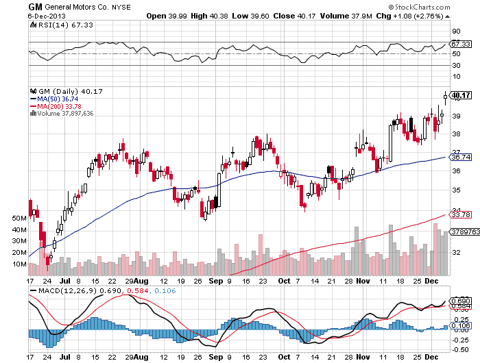 Here are two good reasons, aside from the fundamental growth of the company, you should consider GM for a long investment heading into 2014. Additionally, there's some color as to why the warrants provide just as good - if not better - of an investment than the common stock.
#1 The Government Will Exit
GM has been held back by the cloud still hanging over its head since the restructuring. The company, however, couldn't be in better shape. The warrants, which are moving buck for buck with the stock, will provide better returns, should the stock continue to head upward. I'd argue that the government exiting the company in early 2014 is going to prove to be a large upward catalyst for the stock price that you can bank on holding common or warrants. The larger the price movement, the better the warrants yield from a percentage basis.
Of course, you're fighting time with the warrants, but with the Series B not set to expire until 2019 and already well in the money, it's hardly a worry at this stage of the game.
#2 GM Will Unlock Cash
GM has spent the better part of the last couple of years stockpiling cash; they currently have a reserve of nearly $27 billion. In addition, investors are starting to get restless, claiming that the company should be returning some of this cash to shareholders. It's likely we're going to see GM's first dividend since 2008 in the coming year.
It will likely be after the government is out of the picture, but we can fully expect GM to reinstate its dividend or come forward with some other type of shareholder incentive program with the cash pile it has been sitting on.
Conclusion
There are many reasons to own GM. It's a company that's benefiting from both a domestic and sector-wide recovery and is still priced very cheaply from a valuation standpoint. Additionally, analysts have made the arguments that GM is going to benefit from cyclical buying and a recovery in the U.S. housing market to continue to push its stock forward in 2014. GM will be a stock that I want to own, if not immediately, then early on into 2014.
Disclosure: I have no positions in any stocks mentioned, but may initiate a long position in GM over the next 72 hours. I wrote this article myself, and it expresses my own opinions. I am not receiving compensation for it (other than from Seeking Alpha). I have no business relationship with any company whose stock is mentioned in this article.