Overview:
Kulicke & Soffa Industries (NASDAQ:KLIC), shortened to Kulicke for this article, is an interesting company in the semiconductor industry. The company is extremely undervalued and has impressive growth prospects in my personal opinion. This two-prong approach marks the company as an excellent growth play moving forward. Kulicke has a four layered investment opportunity that is sure to offer a positive return for investors moving forward at little to no downside risk.
Competitor/Industry Comparison: Spelling Out Undervalued
Before entering the discussion of why Kulicke is an excellent investment opportunity, first the undervalued nature of the company has to be discussed.
| | | |
| --- | --- | --- |
| | Kulicke & Soffa | Broadcom |
| P/E | 9.57x | 31.61x |
| P/S | 1.47x | 1.71x |
| P/B | 1.34x | 1.98x |
| P/Cash Flow | 9.76x | 8.55x |
| ROA | 12.33% | 4.56% |
| ROE | 15.46% | 6.60% |
| ROIC | 14.47% | 5.34% |
| Quick Ratio | 6.97x | 1.88x |
| Current Ratio | 7.46x | 2.18x |
| Debt/Equity | 0.00x | 0.21x |
| Debt/Assets | 0.00x | 0.15x |
| Gross Margin | 45.88% | 50.88% |
| Operating Margin | 16.11% | 6.60% |
| EBITDA Margin | 19.42% | 15.95% |
| Net Profit Margin | 15.40% | 6.09% |
| EPS Growth Rate (TTM) | 1.5 | -31.2 |
| Short Interest % of Float | 1.76% | 2.63% |
| Market Cap | $927.6 million | $14.3 billion |
Kulicke is undervalued in comparison to one of the industry behemoths - Broadcom. The former offers a lower P/E and P/B ratio while offering growth metrics (ROA, ROE, ROA) that are much higher than the latter. Moreover, Kulicke has no debt, higher margins and a positive TTM EPS growth in comparison to Broadcom. Moreover, Kulicke has a higher current ratio due to its large cash holdings that will be discussed later.
The semiconductor industry is a very diverse one, with many companies ranging from Intel (NASDAQ:INTC) to Broadcom (BRCM). Due to the diverse fundamentals of each company in the industry, I have compared Kulicke to Broadcom and to the industry itself. This provides a clearer picture of where the company stands on a fundamental basis to an individual company and to the industry as a whole. For all of my metrics, I have used information from E*TRADE Financial. Other key industry giants in the semiconductor space are Qualcomm (NASDAQ:QCOM) and Taiwan Semiconductor (NYSE:TSM).
| | | |
| --- | --- | --- |
| | Kulicke & Soffa | Semiconductor Industry |
| Market Cap | $927.6 million | $3.4 billion |
| P/E | 9.57x | 23.0x |
| P/B | 1.34x | 3.5x |
| P/S | 1.47x | 1.8x |
| P/Cash Flow | 9.76x | 9.8x |
| ROE | 15.46% | 11.86% |
| Total Debt/Equity | 0.00x | 0.3x |
Comparing Kulicke to the industry provides a clearer picture than just a one-company comparison. On the other hand, a comparison to Broadcom provides an excellent comparison to another company in the semiconductor industry.
On an industry note, Kulicke comes in cheaper than the industry itself. All of the company's main metrics are below the semiconductor industry. This comparison demonstrates that Kulicke is cheaper than the semiconductor industry itself - by quite a large margin. The company's P/E is a fraction of the industry average, its P/B is almost a third, Kulicke's P/S comes in below the industry and its P/Cash flow is on par with the industry. Moreover, the main company has a higher ROE and no debt in comparison to the semiconductor family.
An Improving Business
Kulicke has been improving its business over last year's reported financials. Interestingly, the company is becoming not only more profitable as time goes on - Kulicke is becoming more efficient as a company. Over 2011 to 2012 the company reported a decrease in net revenue by $39.38 million. But on the bottom line, EPS improved $0.40. This is due to the decrease in operating expenses and other income (expenses) that decreased substantially YOY. The company did not use debt to keep up growth either - as Capital expenditures decreased $786k, long term debt was taken out during the year and depreciation held constant.
Cyclical Upside Potential
The company's operations are extremely cyclical, reporting $801 million in revenue for fiscal year 2011 and $785 million in 2012 - while for this fiscal year revenues will be closer to $550 million. Playing the cyclical nature of the company is key - investing when the PPS is down ahead of the cycle. I believe the company's operations will pick up significantly in 2015, as a longer-term cycle. Past performance by the company (shown above) demonstrates the cyclical nature of Kulicke's performance, and forward estimates are in line with this cyclical concept as well.
The market prices in events ahead of time. Interestingly, the weak 2013 the company is having has not destroyed the PPS of the company. Trading currently at $12.21, Kulicke is almost dead in-between its 52 week range of $10.08 to $13.70. The stability of the share price is due to the market's ahead look at the company's future - if not the company would be trading lower than last year on its lower EPS, although the share price has only appreciated.
The company had a record 2012 that is hard to match, although currently 2013's EPS have rolled out. If investors were not happy with the company's performance in 2013, they could have jumped ship - although they are happy with the record 2012 and see it as an exceptional year instead of something to match.


(Click to enlarge)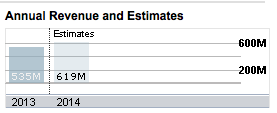 As can be see with the company's revenue performance, a weak 2013 has set the share price where it is today. This decrease in revenue has decreased the company's price per share making it an attractive investment at these levels. Revenue is set to improve in 2014 to 2015 and will lead to increased investment as stronger financials move the company higher.
Four Prong Attractive Investment:
One of the main reasons that Kulicke is an attractive investment is the four prong fundamental strength of the company. The following data is from E*TRADE. These four criteria include the following areas:
Management Effectiveness
Valuation
Profitability
Financial Strength

On a management effectiveness scale, Kulicke is in the top tier for the semiconductor industry in each return area. Moreover, KLIC is able to reinvest its capital more effectively than 89% of its peers in the semiconductor industry.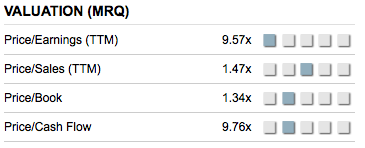 Kulicke is not overvalued, with a P/E ratio lower than 87% of its peers in the semiconductor industry. The above metrics coupled with a P/B and a P/Cash Flow below the mid range mark Kulicke as having a low valuation. In turn this marks Kulicke as an attractive investment in the semiconductor space.

On a profitability side, Kulicke's gross margin is higher than 64% of its peers, so it has more cash to spend on operations than its peers in general. With regard to the company's operating margin, Kulicke is able to control its expenses better than 86% of its peers. The company is in the top tier area for profitability with regard to the sector itself.

Kulicke is a financial rock, having no debt and a high current ratio marking the company as very liquid and financially secure. This puts investor angst at ease as the company will not have any liquidity problems in the near future.
No Debt:
Kulicke currently has no debt - a very attractive key point for any company that is near a billion dollars in market capitalization. Moreover, the company has nearly $525.04 million in cash. This equates to a cash per share of $6.91. Having no debt and an large cash hoard packs a two hit punch on why I see Kulicke as an attractive investment. First, the company has its own cash that it can use to finance extra future growth that is not included into future estimates.
This cash can be used to expand operations, buy back shares, initiate a dividend or acquire assets of another company or a company itself in the space. Second, the company is rock solid and does not have a massive debt overhang that could spell volatile and trouble later. Kulicke does not have to worry about raising money to pay back debt through dilutive or unattractive means whether it be diluting shareholders through an offering or loans with high interest rates.
Growth In Targeted Markets
Gartner is seeing 11% unit and 5% revenue growth over 2012-2017 in the semiconductor industry. The 6% gap is a value target for semiconductor companies - as closing this gap creates more revenue in the future. This is the overall industry that the company does business in.
Kulicke has a strong position in the wire & wedge bonder equipment market through the R&D investment that it has spent targeting this market. VLSI research is seeing the average size for this target market to be $950 million between 2014-2017. Moreover, this does not include the company's offering of LED Bonder solutions that would be additional to these estimates.
As technology is moving forward, Kulicke will profit from advances in wire bonding. The company will directly benefit from this shift in production as copper bonder unit growth continues to expand - expecting 75% of total field capacity to convert.
Each I/O (lead/pin) requires an interconnect to work, another target market for Kulicke. VLSI research concludes that 80% of semiconductor units will be wire bonded by 2017 - a market Kulicke directly serves.
One of the main reasons why I felt the $1.70 EPS for 2015 was conservative is the growth that is expected for Cu Bonders and Kits moving forward. Specifically, the $400 million dollar advanced packaging market that the company is targeting in 2016.
Kulicke is a leader in market innovation, with over 450 engineers focused on new product development for the future.
Kulicke has a multi-sourced supply chain all the way to an extensive sales, service & support network. The company's efficient and multi-layered operating model provides substantial advantages over competitors.
Technical Analysis:
Shares of Kulicke are attractive at these levels on a short-term basis. With a bullish "golden cross" initiating back in October, this signals an upward trend. Moreover, with an RSI of 40, shares are not overvalued.
Risks:
The main risk with investing in Kulicke is the cyclical nature of the business that is described above. One of the main ways to get around this risk is to use stop losses on your shares to avoid any downturns, and buy back later. Moreover, cut your possible investment by 50% and use this to pick up any cheap shares on any downturns. The stock price is not extremely volatile, although EPS estimates vary with the company as demonstrated above.
Conclusion
It is my personal opinion that investing in Kulicke & Soffa Industries is an excellent choice over the long term. The company is undervalued in comparison to its peers and the industry itself. With no debt, and a huge amount of cash, Kulicke is in no position to dilute shareholders and can use this money for other growth related activities that are not priced into future EPS growth estimates. Moreover, all of the main target markets for the company have been gaining ground, a positive for the company's future. Always be aware of the cyclical nature of the company's business, and as a result EPS, that could sway investors one way or the other. It is key to maintain Kulicke as a long term investment and add on dips while using stops to prevent any deep dives that are not generally seen with the company.
With a low valuation, high return on assets with regard to management effectiveness, strong financial strength and high margins, I am confidant that an investment in Kulicke & Soffa Industries will yield an investor a positive upside return with low downside potential.
Disclosure: I have no positions in any stocks mentioned, but may initiate a long position in KLIC over the next 72 hours. I wrote this article myself, and it expresses my own opinions. I am not receiving compensation for it (other than from Seeking Alpha). I have no business relationship with any company whose stock is mentioned in this article. Always do your own research and contact a financial professional before executing any trades. This article if informational and in my own personal opinion.