On Monday December 9, 2013, Seeking Alpha's "Market Current" reported this:
Report: Big sales drop for McDonald's in Japan
McDonald's (NYSE:MCD) saw same-store sales fall 10.4% in Japan during the month, according to Hedgeye.
The company is expected to release a full report on global sales in November later this morning.
Hearing this news I thought it would be timely to put McDonald's through my free cash flow analysis and determine how an investor should proceed. But before I do so, I would like to present some statistics in order to give a little background as to how many restaurants McDonald's has in Japan, relative to its total operations. McDonald's is the world's leading foodservice retailer, with more than 33,000 local restaurants serving over 64 million people in 119 countries every day. In Japan, McDonald's has 3,598 outlets.
This analysis will use the following six free cash flow ratios:
CapFlow
FROIC
Price to Mycroft Free Cash Flow
Mycroft/Michaelis Growth Rate
Free Cash Flow Payout Ratio
Free Cash Flow Reinvestment Rate
Those new to this analysis can find an introduction by going here that will explain in detail how each of these ratios is calculated. When used together, these unique ratios will generate a quantitative picture of a company's underlying fundamentals, including strengths and weaknesses.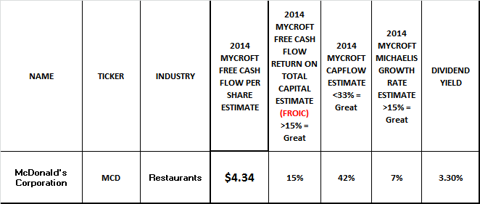 Click to enlarge
(Click to enlarge)
The "2014 Mycroft Free Cash Flow Per Share" estimate, shown in the table above, is generated by taking the trailing twelve months (NYSE:TTM) free cash flow result for McDonald's and then adding my Mycroft Michaelis Growth Rate into the equation in order to generate forward looking estimate for 2014. That growth rate is generated by using my FROIC ratio (Free Cash Flow Return on Invested Capital). Basically FROIC tells us how efficient operations are as it zeros in on how much free cash flow is generated for every $1 of total capital employed. McDonald's has a FROIC of 15%, which means that for every $100 of invested capital, the company generates $15 in free cash flow. Now my Mycroft/Michaelis Ratio takes that 15% and multiplies it by the firm's free cash flow reinvestment rate. The reinvestment rate that I use is a free cash flow reinvestment rate instead of the standard one used by analysts that simply uses net income:
Free Cash Flow Reinvestment Rate = 100% - (Free Cash Flow Payout Ratio).
Or;
Free Cash Flow Reinvestment Rate = 100% - (Total Dividend/Total Free Cash Flow).
By replacing net income in the payout and reinvestment ratios with free cash flow, I am thus able to make my analysis more precise by incorporating capital spending (Cap Ex) into the equation.
Therefore from this we can determine that McDonald's has a reinvestment rate of 24% and went on to use 76% of its free cash flow to pay out its dividend. Thus by taking 15% (FROIC) x 24% = 3.6%. From there we add the dividend yield of 3.3% and we have a Mycroft/Michaelis growth rate of 3.6% + 3.3% = 6.9% (rounded off at 7%).
McDonald's Mycroft Free Cash Flow per share of $4.34 was generated by taking its TTM free cash flow per share and multiplying it by (100% + 7% or 1.07). Once we have our result, we then take its current market price of $96.20 and divide it by $4.34 and get a Price to Mycroft Free Cash Flow result of 22.16. I consider a Price to Mycroft Free Cash Flow per share result of less than 15 to be good for purchase, and anything under 7.5 to be excellent.

Click to enlarge
(Click to enlarge)
The higher you go above 15, the more overvalued a company becomes. I use a Price to Mycroft Free Cash Flow per share result of 22.5 as my sell price, and 45 as my short price.
An appropriately priced stock should trade around a Price to Mycroft Free Cash Flow per share result of 15. This benchmark result was determined by backtesting.
Buy (opinion) = A Price to Mycroft Free Cash Flow per share result of less than 7.5 is considered excellent (50% below the initial Hold level), and anything under 15 is attractive.
The result I give as my Buy opinion in the table above uses a Price to Mycroft Free Cash Flow per share result of 7.5.
Hold (opinion) = 15 to 22.5 (I use 15 in the table).
Sell (opinion) = 22.5 or higher (50% above the initial Hold level). (I use 22.5 in the table).
Short (opinion) = 45 or greater. The Price to Mycroft Free Cash Flow per share result of 45 was determined by going back to the peak of the market (in the year 2000) and averaging the Price to Free Cash Flow per share results for the key players at that time. (I use 45 in the table).
The CapFlow ratio result that you see in the first table above is an original ratio I created in order to tell me how much Capital Spending is used as a percentage of Cash Flow. A result of less than 33% is considered ideal and with McDonald's coming in at 44%, means that 56% of the company's cash flow is actually free cash flow and can be used for such things as buying back stock.
McDonald's released its November 2013 Global Sales results today and here they are:
"8:00 am McDonald's global comparable sales increased 0.5% in November ((MCD)) : announced that global comparable sales increased 0.5% in November; -0.8% in US, +1.9% in Europe; APMEA -2.3%.

In November, U.S. comparable sales decreased 0.8%. November's performance was supported by breakfast, chicken menu choices and expanded value offerings. Ongoing competitive activity and relatively flat industry traffic trends negatively impacted performance. Looking ahead to 2014, the U.S. is intent on rebuilding its underlying business momentum by strengthening key elements of customer service and leveraging the breadth of menu choices across all dayparts and value tiers.

In Europe, November's comparable sales increased 1.9% as positive performance in the U.K., France and Russia was somewhat offset by negative results in Germany. Amid a tepid informal eating out market, Europe delivered positive results by elevating the customer experience with appealing premium, core and value menu options, compelling promotional food events and continued focus on key dayparts.

Comparable sales in APMEA declined 2.3% in November due primarily to negative results in Japan. To enhance future performance, APMEA is pursuing customer-focused initiatives that broaden accessibility and enhance value across all dayparts."
In conclusion, if one were to take out Europe's positive sale's gain of 1.9%, the rest of McDonald's global sales were down, which is not good news. With McDonald's having a Price to Mycroft Free Cash Flow per share of 22.16 and with my sell parameter being 22.5, this tells me that there may be limited upside in McDonald's stock price for some time to come and if the negative global sales trend were to continue, we could very easily see a percentage correction in its stock price, which could approach double digits.
Disclosure: I have no positions in any stocks mentioned, and no plans to initiate any positions within the next 72 hours. I wrote this article myself, and it expresses my own opinions. I am not receiving compensation for it (other than from Seeking Alpha). I have no business relationship with any company whose stock is mentioned in this article.