Apple (NASDAQ:AAPL) stock has had a great run up, as a series of good news reports has catapulted them forward. The news included a major buy-in by investor Carl Icahn, announcements of new operating systems (iOS 7 and Mavericks), announcements of new iPhones and iPads, and highly successful launches of these products. The last couple of days have seen some pullback from a new 52-week high, but it is still up 22% since mid-September.
Apple is, of course, locked in a long-term battle with other products, most of which run some variety of the Android mobile operating system by Google (NASDAQ:GOOG), and a few running Windows Phone 8 by Microsoft (NASDAQ:MSFT). The Kindle Fire by Amazon (NASDAQ:AMZN) is the leading tablet competitor. Microsoft's Surface did not do well last year, but the release of second generation models, and the lowering of prices on original models, has stirred up some interest. The Surface made it to the top spot on Best Buy, but apparently was very heavily discounted.
Most recently, the news from the great Thanksgiving Day weekend has been extremely positive. On Black Friday, Apple products took the top spot at Wal-Mart (NYSE:WMT), the number two spot at Best Buy (NYSE:BBY) and all top three spots at Target (NYSE:TGT), according to retail analytics firm Info Scout.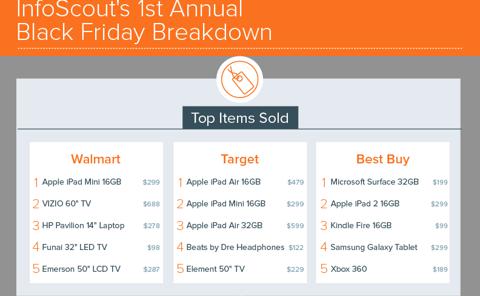 [Source: InfoScout]
For Target, they report:
iPads alone account for 18% of Target's sales, 10x the sales of all Android tablets combined.
Later they reported Roughly 40% of Black Friday iPads bought by Android users. This shows that the consumer perception of iPads is so high that it's strong enough to break Android OS loyalty.
(InfoScout notes that the results are based on "Data collected from first 3,000 Target Black Friday shopping receipts submitted by InfoScout panelists.")
Dell
Meanwhile, Dell is plugging along since shareholders approved a buyout and founder Michael Dell and his investment group took it private in September. The company had been doing so poorly that after the approval, Moody's rated Dell's $12.5 billion debt at a sub-prime level, though with a "stable" outlook.
In September Mr. Dell announced that they were committed "to reduce its reliance on personal computers and expand in hardware and software for corporate data centers." (Bloomberg) This may be a good thing because consumer analytics firm Parks Associates also came out with consumer research from a nationwide survey of 2,500 U.S. broadband households fielded in 4Q 2013. While the fact that Apple has the most popular smartphones and tablets is not a surprise, that they are leading in Dell's normal territory is.
In both laptops and desktops - more buyers are planning to buy Apple computers than any other brand. Consumers were asked: "What brand do you have in mind for your purchase of the following products?"
The numbers are here:

It has long been known that the MacBook laptops have been very popular, both the lightweight Airs and the more hefty, but more powerful Pro series, but it is only this year that Apple leads in desktops as well.

)Source: Parks Associates - 2013 Holiday CE Purchase Intentions)
The table shows that over the last three years, Apple has persistently stepped up its performance and has now taken the crown. What is astounding is that they are at 23% of the desktop market, and that the lead is so strong. In laptops, Apple leads by just two percentage points, but in desktops by five. It seems that Dell had better hope that Apple does not enter the server market.
Other areas
Apple is expected to show well in smartphones, tablets and PCs, those are its core businesses, but there were a couple of surprises in the Parks Associates data. But Apple also took first in the streaming media device category. The Apple TV, what Steve Jobs used to call "Apple's hobby," was in first place beating out Roku.
Of course, people do not always follow through on intentions. The report notes:
"Being the 'preferred' brand is certainly an advantage, but consumers can still change their minds," (director of Consumer Analytics John) Barrett said. "For example, with streaming media players, Apple is the preferred brand, but many shoppers ultimately end up getting a Roku. Last year, among younger (18-34) shoppers for this device, 34% planned to buy an Apple, and 15% planned to buy a Roku. In a later survey of actual purchases, we found 24% bought an Apple TV and 29% bought a Roku player."
But this is this year and the Apple TV has made progress in recognition by the public so there may not be so many defectors.
The other new kid on the block is the $35 Google Chromecast HDMI Streaming Media Player. It is currently listed in Amazon as the #1 Best Seller in television and video products. It's customer rating is 3.8 with some customers claiming it doesn't work for them. The Apple TV claims a 4.2 rating. So the jury is out on this, and it seems to have no presence in the Parks survey.
The real surprise
The real surprise is with a very sideline product for Apple. In the survey the category Home Network Router gave first place to Apple's Airport Extreme routers. It took the lead over such well known producers as Linksys (Cisco), Belkin, D-Link, and Netgear.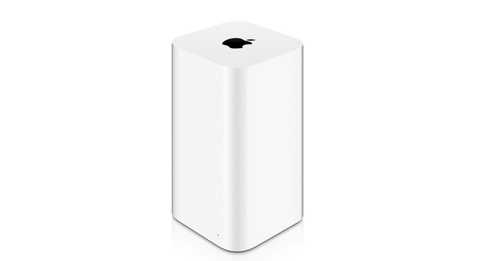 The reason may be what Tech Night Owl calls "The Apple advantage." He writes:
Now one problem with routers in general is that something that should be easy to configure ends up being more complex than it's worth. That's a key reason why routers may be among the products most often returned to consumer electronics stores. Customers just give up…

Regardless, the setup process was amazingly quick. I removed the cables from the [old] Linksys, and plugged them into the AirPort Extreme. … Within seconds, Apple's minimalist AirPort Utility app recognized the new router, and gave me the easiest setup screen of all. I merely had to enter network names for the router and the Wi-Fi network, along with passwords for each (defaults are already there for both). I clicked Next, waited a minute or two, and I was connected. End of setup.
This is the polished, clean ease of use for which Apple is so famous. They put a tremendous amount of energy into simplifying every process. Since the AirPort Utility app is available for Windows computers, the router works in almost all households or businesses. Still, it is a surprise to see it bypassing the long-time favorites.
Conclusion
Apple's new product releases have been spectacular, led by the iPhone 5s/5c 9 million unit launch. Currently Apple appears to be pretty much able to just keep up with demand across its line. The iPhone 5c and older models of all iOS devices are listed in Apple's online store as shipping within 24 hours, the 5s at 1 - 3 days. The new iPads are a little further behind, with the Air availability listed as 3 - 5 business days, and the Mini with Retina Display at 5 - 7 days. All Macs are immediately available.
This is where we like to be at this time, meeting demand but at the edge. Of course we have no ideas what Apple's production capabilities are, but given that they were able to sell 9 million units in the introductory weekend, we can be sure it was high. One report has it at 500,000 iPhone 5s units per day (WSJ). Adding for the 5c and 4s would give us around 70 million iPhones for the quarter. That would be exceptional, about 46% over last year's 47.8 million figure.
I am looking to a blow out quarter. In January all the analysts will up revenue and earnings targets, and Apple will blow past them. The will begin the round of price target adjustments.
What do you think?
Disclosure: I am long AAPL. I wrote this article myself, and it expresses my own opinions. I am not receiving compensation for it (other than from Seeking Alpha). I have no business relationship with any company whose stock is mentioned in this article.