On Monday, December 9, Sysco (NYSE:SYY) announced its plans to buy U.S. Foods in a deal that has a total enterprise value of close to $8.2B inclusive of the assumption of debt. In the wake of Monday's announced acquisition, I not only wanted to highlight the transaction but also point out a number of reasons why I'm staying bullish on shares of Sysco Corp.
Reviewing the Transaction
Sysco will pay approximately $3.5 billion for the equity of U.S. Foods, which comprises of $3 billion of Sysco common stock and $500 million of cash. As part of the transaction, Sysco will also assume or refinance US Foods' net debt, which is currently approximately $4.7 billion, bringing the total enterprise value to $8.2 billion. Sysco has secured fully committed bridge financing and expects to issue permanent financing prior to closing. The transaction is expected to be immediately accretive to earnings after adjusting for transaction-related costs and amortization of intangibles.
#1: Recent Performance & Trend Behavior
On Friday, December 6, shares of SYY, which currently possess a market cap of $20.16 billion, a forward P/E ratio of 16.58, and a dividend yield of 3.38% ($1.16), settled at a price of $34.31/share. Based on their closing price of $31.34/share, shares of SYY are trading 2.07% above their 20-day simple moving average, 4.47% above their 50-day simple moving average, and 3.06% above their 200-day simple moving average.
These numbers indicate a short-term, mid-term, and long-term uptrend for the stock which generally translates into a moderate buying mode for longer-term investors.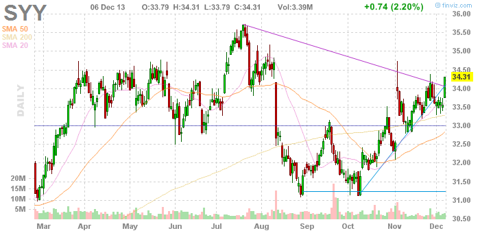 Click to enlarge
(Click to enlarge)
#2: 5-Year Dividend Behavior
Since December 30, 2008, the company has increased its quarterly distribution five times over the last five years (representing an average increase of $0.01/share or 5.20% each time), with the most recent increase having taken place in November of this year. The company's forward yield of 3.38% ($1.16) coupled with its ability to consistently increase its quarterly distribution over last five years, make this particular wholesale food play a highly considerable option, especially for those who may be in the market for a sustainable stream of quarterly income.
#3: Recapping FQ1 and Looking Ahead to FQ2
On Monday, November 4, Sysco reported EPS of $0.49/share and revenue of $11.7 billion for its fiscal first quarter. These results had surpassed analysts' EPS estimates by a margin of $0.02/share and analysts' revenue estimates by a margin of $80 million. Some of the more positive notes to come out of the company's earnings announcement included but were not limited to a 1.8% increase in gross profits and a 5.7% increase in sales.
Looking ahead to the company's FQ2 earnings, in which analysts are calling for SYY to earn $0.40/share in terms of EPS (which is $0.09/share less than the company had reported during FQ1) and $11.36 billion in terms of revenue (which is $340 million less than the company had reported during FQ1), I think that if the company can demonstrate increases in its cash flows (which fell $44 million during FQ1), gross profits (in a range of at least 0.8%-to-1.4%) and sales (in a range of 3.3%-to-4.4%), I see no reason why such estimates can't be met or even exceeded by a considerable amount.
It should also be noted that the acquisition of U.S. food will have an immediate impact on results and as a result, my estimates may be a bit on the conservative side.
Risk Factors (Most Recent 10-K)
According to the company's most recent 10-K there are a number of risk factors potential investors should consider before establishing a position in Sysco. These risk factors include but are not limited to the following:
#1 - Prolonged Periods of Inflation or Deflation May Affect the Company's Product and Product-related Costs
Volatile food costs have a direct impact on Sysco's industry. Periods of product cost inflation may have a negative impact on the company's profit margins and earnings to the extent that it may be unable to pass on all or a portion of such product cost increases to its customers, which may have a negative impact on the company's business and its long-term profitability. In addition, periods of rapidly increasing inflation may negatively impact Sysco's business due to the timing needed to pass on such increases, as well as the impact it may have on discretionary spending by its consumers
Conversely, its business may be adversely impacted by periods of product cost deflation because it makes a significant portion of sales at prices that are based on the cost of products it sells plus a percentage margin. As a result, its profit levels may be negatively impacted during periods of product cost deflation; even though the company's gross profit percentage may remain relatively constant.
#2 -Acquired Business Must Be Financed and Integrated Correctly
Historically, a portion of the company's growth has come through numerous acquisitions over the years. If the company is unable to integrate acquired businesses successfully or realize anticipated economic, operational and other benefits and synergies in a timely manner, its earnings per share may be materially adversely impacted.
Integration of an acquired business may be more difficult when the company acquires a business in a market in which it has limited expertise, or with a previously established culture that is different from Sysco's. A significant expansion of its business and operations, in terms of geography or magnitude, could strain its administrative and operational resources.
Conclusion
For those of you who may be considering a position in Sysco I'd keep a watchful eye on a number of things over the next 12-24 months as each could play a role in both the company's near-term and long-term growth.
For example, near-term investors should focus on the recent performance and trend behavior of the company while longer-term investors should focus on how well the company is able to maintain the growth-by-acquisition that has worked so well over the last several years and most notably today, as the company has announced its plan to acquire U.S. Foods.
Disclosure: I have no positions in any stocks mentioned, but may initiate a long position in SYY over the next 72 hours. I wrote this article myself, and it expresses my own opinions. I am not receiving compensation for it (other than from Seeking Alpha). I have no business relationship with any company whose stock is mentioned in this article.