Denbury Resources (NYSE:DNR), a pure play in CO2 injection-based oil production, has had a tough month. Investors who were expecting substantial income from this low-cost base operator have filed for the exits upon hearing of management's decision not to convert into a Master Limited Partnership, or MLP. Becoming an MLP would have allowed Denbury to distribute much more cash to shareholders, due largely to the fact that partnerships are not corporations and therefore pay no corporate tax. As an acquirer and developer of mature, oil-producing acreage, Denbury seemed an ideal MLP candidate.
But alas, management saw no long-term benefit to converting into an MLP, for reasons which we will discuss in this article. In an environment which was already marked by downward momentum in oil stocks, management's decision has sent Denbury stock reeling. Shares have declined from over $19 to $16.60, a drop of 12.6% in just over a month.
This article is not meant to criticize Denbury's decision. Not long ago I wrote an article claiming Denbury, as an MLP, could one day rival Linn Energy (LINE). Those hopes have been dashed. This article is a follow up. While I can certainly understand why yield-oriented investors are frustrated with Denbury's decision, Denbury is actually still a substantial dividend play for the future. Selling right now would be a mistake. In fact, I still like Denbury as a business and believe its reasonable valuation makes it a buy right now.
"No Long-Term Benefit"
Despite the disappointment from investors, management's rationale to not become an MLP was sound. Most importantly, management wanted to keep its balance sheet clean and simple. Were Denbury to convert, its balance sheet and cash flow statement would become, in management's words, "at least a little messy." For example, upstream MLPs today often do not show a profit because they are hedging greater volumes of future production than what they are producing today. To put it another way, upstream MLPs are hedging progressively larger volumes of oil and gas, all of which count as an expense today but are not realized for several years. As a result, very few of these names turn a profit according to GAAP. Management also probably did not want to have to face the complication of delineating growth capex from maintenance capex, as upstream MLPs often do.
Basically, Denbury will remain "simple and boring." And while that means no high yield, management is planning to boost its dividend over multiple years. This makes Denbury a dividend growth name for the future.
Dividend Growth Plan
Today Denbury does not yield much. Up until now, management has poured capital into the acquisition and development of mature oil fields which larger operators no longer want. After acquiring these depleted fields, Denbury then works to transport CO2, by pipeline, into the field, inject the CO2 into the reservoir, and begin to grow productivity again. This process is known as CO2 injection. Investment in CO2 injection has given Denbury nearly a decade of steady oil production growth which should continue for another ten years.
In this year's analyst meeting management has tweaked its plan. Instead of shooting for 5-10% production growth going forward, management will aim to grow production by 4-8%, and in exchange will grow the dividend substantially until 2015 at the very least. Next year, Denbury will raise its divided to $0.25, a yield of 1.5%. In 2015 Denbury expects to raise its dividend to $0.56, which gives us a yield of 3.3% based on today's price. If Denbury can continue this dividend growth trajectory, it will have an industry-leading dividend within four years.
Low Cost Base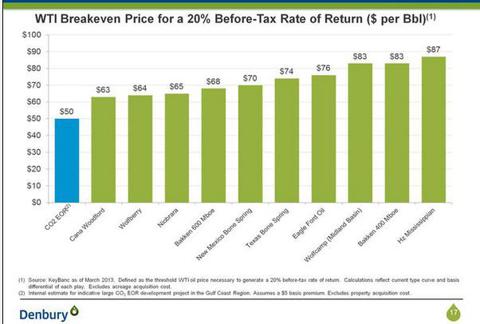 Click to enlarge
Slide from 2013 Johnson Rice Energy Conference
This slide shows the margin advantage Denbury and similar players have over other operators, especially those in the shale. Its operations are confined to conventional, mature oil basins. CO2 injection has among the lowest cost base in the industry today. As we can see, this form of oil recovery is much more economical than even the best core acreage of the Bakken.

Click to enlarge
This chart shows the real world manifestation of such a low-cost base. Denbury has the highest adjusted capital efficiency ratio by a good margin. Capital efficiency, as we can see, can be found by dividing EBITDA earnings by adjusted finding and development costs. While the adjusted capital efficiency ratio certainly isn't the only worthwhile metric for oil companies, it is a good measure of overall efficiency. Denbury's high single-digit production growth may not match some of the bigger shale plays, but the company's profitability is outstanding.
Valuation

Click to enlarge
YCharts
Shares of Denbury have not been this low since January of this year. Some of this is due to shareholder disappointment and some of it is due to a general pullback in oil brought about by a drop in oil prices. This has nothing to do with Denbury's performance as a company. The story is still intact. Denbury is also somewhat insulated from lower oil prices. As we have seen, Denbury will be able to operate profitably with oil prices as low as $50 per barrel, so a $10 or even $20 drop in West Texas Intermediate is no reason to sell.

Click to enlarge
The price to book ratio really shows us the value that Denbury shares represent right here. While high-growth shale names such as Continental (NYSE:CLR), EOG and Pioneer (NYSE:PES) trade at around 3 or 4 times book, the slower-growing but more profitable Denbury trades at only 1.1 times. If you are an income investor and your horizon is for the long term, say, ten years, then now is a good time to pick up shares.
Conclusion
Denbury Resources is steadily growing its oil production and has plans to continue doing so for the next decade. A CO2 injection pure play, Denbury's production growth is not as impressive as the shale players, but its margins per barrel and efficiency ratios are outstanding. As management said, Denbury is a simple and boring business. It isn't flashy, and an investment in this company will not likely result in a quick, steep gain. This is slow money. If, however, you are looking for steady, reliable income growth in a portion of the oil patch that will not see disruption from lower oil prices, few choices are better than Denbury Resources.
Disclosure: I have no positions in any stocks mentioned, and no plans to initiate any positions within the next 72 hours. I wrote this article myself, and it expresses my own opinions. I am not receiving compensation for it (other than from Seeking Alpha). I have no business relationship with any company whose stock is mentioned in this article.