Ciena (NASDAQ:CIEN) rocketed higher in September after reporting a much narrower quarterly loss than in the previous year. Operating profits were up 8%, while revenue grew 14%. After failing to break above nearly $28, shares settled recently at around $22. What should investors do after Ciena reports earnings on December 12, 2013 before market open?
Ciena focused its strategy on embracing new architectures. Customers need converged solutions that involve professional services, software, and packet networking. Ciena is also becoming less of a pure play in optical networks. Infrastructures are requiring open and automated package optical infrastructure to converge with in Optical Transport Network (or "OTN"). The wider reach helped Ciena achieve strong revenue growth and operating profits. When Ciena reported Q3 results for the quarter ended July 31, 2013 in September, shares soared: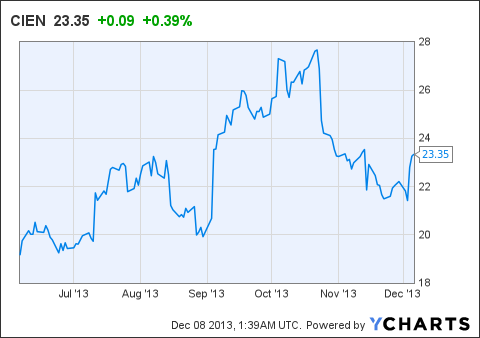 CIEN data by YCharts
Gross margin was 43.6% in Q3, while operating expenses were lower than expected, at $190M. When Ciena reports Q4 results, cash from operations could improve from the $42M earned last quarter. Many projects that were delayed will likely be included in the current quarter.
Q4 forecast
Ciena said in its conference call that revenue will be up to $580M, while gross margin will be in the low 40s. The decline will be due to larger builds from Tier 1 customers being counted in the quarter. Operating expenses are expected to be similar to Q3 in the $190M range.
A healthy geographical mix for revenue should confirm that revenue for Ciena is on a constant uptrend. Even if carriers take their time adopting Ciena's solutions, the firm is still in a good position to win contracts. Demand for faster, updated networks from carriers in North America will remain strong for many years. Backlog is growing, so if there is a revenue miss in Q4, investors should still expect sales to be regained in future quarters.
Margin pressure
Q4 will show a margin drop, but this should be expected. Ciena already warned that the large contracts will pressure profit margins in Q4. In addition, to win international projects, Ciena needs to provide discounts to customers. By sacrificing profit levels, Ciena wins in the longer term because its architectural solutions are being chosen.
Convergence
Ciena's convergence strategy should continue to help support growth. The converged packet optical architecture gives the company exposure to the positive momentum found in both packet networking and wireless networking markets.
Bottom line
Ciena is a focused player in packet and optical technology that investors are not appreciating. The selloff in Ciena shares over the last few quarters appear to be overdone. Investors are pricing higher costs as Ciena rolls out international projects. This will pressure profit margin in Q4. Still, momentum for 40G and 100G products from Ciena is growing. A ramp up in the volume of production will also help offset the impact of price declines, particularly for 100G. Nearly one-fifth of Ciena's market cap represents its cash balance, while expense increases are being outpaced by revenue growth. In particular, the rollout of 100G in North America should support many years of strong results from Ciena.
Disclosure: I have no positions in any stocks mentioned, but may initiate a long position in CIEN over the next 72 hours. I wrote this article myself, and it expresses my own opinions. I am not receiving compensation for it (other than from Seeking Alpha). I have no business relationship with any company whose stock is mentioned in this article.