iPath Short Term VIX Futures ETN (NYSEARCA:VXX) is one of the most curiously traded securities on the street, and it's one that I'm advocating shorting through the end of 2013 and into 2014. Shorting this instrument was one of my better calls in 2013.
What is VXX and how does it work?
The VXX is an exchange traded fund used to replicate, net of expenses, the S&P 500 VIX short-term futures total return index. It's an index that offers exposure to a daily rolling long position in the first and second month VIX futures. In addition, the VXX reflects the implied volatility of the (NYSEARCA:SPY) index at points along the volatility forward curve.
The index futures roll continuously throughout each month from the first month VIX futures contract into the second month VIX futures contract.
The VIX (Chicago Board Options Exchange Market Volatility Index), commonly referred to as the fear index, measures the implied volatility of index options traded. Basically, it represents the market's expectation of volatility in the coming thirty-day period.
In a bull market, like we're currently been in over the last three years, the VIX generally rides nice and low. In a bear market, or in the midst of global unease of some sort - like the government shutdown over the past week - the VIX is capable of spiking upwards.
The VXX is a good short-term tool - read it again, short-term tool - to make money off volatility that you may see coming. Today, I'm going to argue my case as to why I've decided to short the VXX.
You got all that? There's going to be a test on this later.
On October 25th of this year, iPath announced that they would be implementing a 1 for 4 reverse split for VXX effective in early November. It's the second time that VXX has reverse split in a year, a nod to the serious lack of volatility that we've seen through 2013.
The notes, at the time, had fallen to under $13, after spiking to near $20 during the days of the government shutdown.
This is what the chart looked like before the reverse split: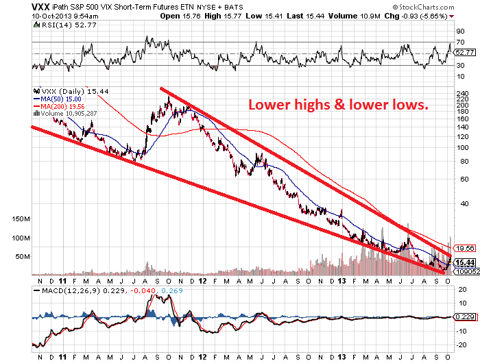 And this is what the "new" VXX chart looks like: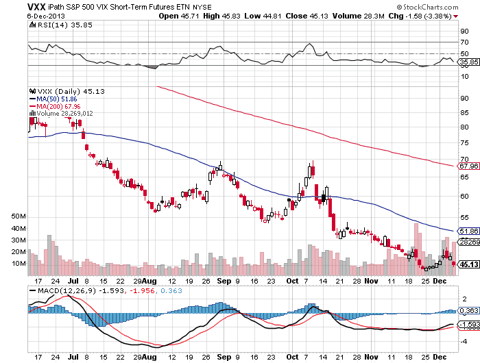 Click to enlarge
Can we spot the similarities between the two? It certainly looks like taking VXX as a long-term position could possibly be the worst investment in history. However, from these charts, you can see some of the short-term upswings that make VXX appealing as a quick hedge for some.
Bill Luby points out in his recent article that since the VIX usually hits its lows during December (what he calls the "holiday effect"), it usually takes the VXX with it. So, if you're bullish on the market in general and certain the prosperity will continue through 2013 and into 2014, you may want to consider shorting the VXX outright, or going long puts. It seems like a "sure thing" if you're counting on 2014 to be a good year for the markets, but there is some risk.
Despite not having any assets or showing any type of performance over the last year, billions of dollars continue to pour into VXX every year. In this day and age, volatility can come from anywhere, not just from economics - just look at what Miley Cyrus twerking at the VMA's has done to the world! It only takes a small catastrophic event for the VXX to spike wildly and rope in any shorts, so there's room to be cautious.
Other than that, VXX is not to be used as a long-term hedge, it should be used to play short-term spikes in volatility. Long term, the trade for VXX is short.
Best of luck to all investors.
Disclosure: I have no positions in any stocks mentioned, and no plans to initiate any positions within the next 72 hours. I wrote this article myself, and it expresses my own opinions. I am not receiving compensation for it (other than from Seeking Alpha). I have no business relationship with any company whose stock is mentioned in this article.