Last Friday's draw for the 2014 FIFA World Cup in Brazil starts a new chapter in the rivalry between Nike (NYSE:NKE) and Adidas (OTCQX:ADDYY), the number one and two sportswear manufactures in the world. Adidas is the official sponsor of the FIFA World Cup while Nike sponsors the home playing squad of Brazil. Adidas and Nike are well represented in the top 10 contenders for the FIFA World Cup, according to the bookmakers (see graph below). Both Adidas and Nike sponsor 4 teams out of the top 10 favorites for the World Cup title. Nike sponsors the number one favorite Brazil and several small favorites like the Netherlands, France and England. Adidas sponsors the number two to four favorites Argentina, Germany and Spain and number six favorite Colombia.
| | | |
| --- | --- | --- |
| Nation | Odds* | Sponsor |
| Brazil | 4:1 | Nike |
| Argentina | 6:1 | Adidas |
| Germany | 6:1 | Adidas |
| Spain | 7:1 | Adidas |
| Belgium | 15:1 | Burrda |
| Colombia | 20:1 | Adidas |
| Netherlands | 22:1 | Nike |
| France | 22:1 | Nike |
| Italy | 25:1 | Puma |
| England | 30:1 | Nike |
* Source: unibet.com
Marketing
The marketing battle is likely to heat up on Brazilian soil next summer, when Adidas is present at the FIFA World Cup with stars like Messi (Argentina), Ozil (Germany) and Xavi (Spain). However, it will be tough to compete with Nike's stars like Neymar (Brazil), Ronaldo (Portugal) and Van Persie (Netherlands). In addition, Nike has the home playing advantage because the company sponsors Brazil, the host nation. The Brazilian national soccer jersey is already the best selling jersey around the world and sales will probably peak in the weeks around to the start of the FIFA World Cup. On the other hand, Adidas has high expectations of sales from the official FIFA World Cup merchandise, like the official match ball "Brazuca."
Performance
Nike has Adidas currently under attack in its home market, western Europe. Adidas just managed to stay in front of Nike, according to data from Euromonitor. In 2012, Nike reported a 12.4% market share in western Europe compared to a 13.2% market share for Adidas. This trend continued during the latest quarter in 2013. Nike reported an 8% rise in western Europe sales during their fiscal first quarter, ended on August 31. Adidas reported a 6% decline in western Europe sales during its fiscal third quarter, ended on September 30. Nike outperformed Adidas not only in the western Europe market, but also on the stock market. Nike shares are up 54% year to date, outperforming Adidas shares by 20% (see graph below).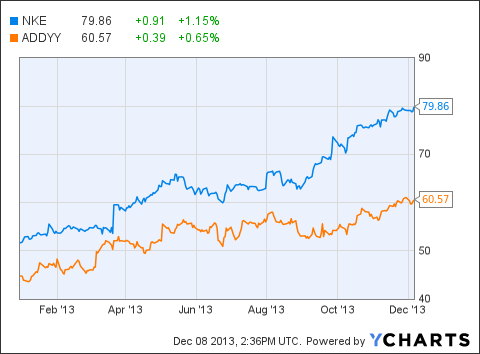 Nike is well positioned to deliver growth in the future. The company aims to reach $36 billion in sales during fiscal year 2017 through stable growth in mature markets and high growth in emerging markets. As part of its strategy, the company launched several new innovative products, for example the Nike+ SportsWatch GPS and Fuelband fitness monitor. Adidas recognizes this threat and now sees innovation as a key growth driver. This resulted in the introduction of an Adidas running watch this year. Also, Adidas expects that the upcoming FIFA World Cup will be a record setting event. The company expects additional sales of $2.7 billion in relation to the FIFA World Cup, which could make up for the current disappointing year.
Valuation
Adidas' earnings per share are more dependent on events like the FIFA World Cup than Nike's earnings per share. Therefore, analysts expect that Adidas will report a stronger growth in earnings per share next year compared to Nike. I compared the two companies trailing P/E ratio and forward P/E ratio (see table below). The data show that Adidas has a 20% lower trailing and forward P/E valuation than Nike. In my opinion, the difference in valuation between Nike and Adidas expresses Nike's innovative edge, its better diversified marketing strategy and its favorable long-term growth potential compared to Adidas. I consider Nike and Adidas equally valued at this point, despite the 20% difference in the trailing and forward P/E ratio.
| | | |
| --- | --- | --- |
| | Nike | Adidas |
| Share price | $79.86 | $60.57 |
| Earnings per share | $3.05 | $2.76 |
| Trailing P/E | 26.18 | 21.95 |
| Forward P/E | 22.56 | 17.76 |
| Dividend yield | 1.20% | 1.50% |
| Payout ratio | 31.50% | 33.50% |
Source: ft.com
Conclusion
Next year will be an interesting marketing year for both Nike and Adidas with the FIFA World Cup during the summer months. At this point I favor Nike over Adidas, despite the fact that Adidas is cheaper in terms of trailing and forward P/E ratios and provides a higher dividend yield. I have more confidence in Nike's well diversified marketing strategy. Adidas has a strong focus on soccer marketing and therefore earnings are more dependent on events like the FIFA World Cup compared to Nike. Nike has also the home team advantage next year, which should be a strong support for Nike's Brazilian jersey sales. Further, I have more confidence in Nike's ability to be innovative. Adidas seems to be one step behind Nike. For example, Adidas introduced its running watch quite late after Nike released its first running watch.
Disclosure: I have no positions in any stocks mentioned, and no plans to initiate any positions within the next 72 hours. I wrote this article myself, and it expresses my own opinions. I am not receiving compensation for it (other than from Seeking Alpha). I have no business relationship with any company whose stock is mentioned in this article.