In its operating update this morning, Cabot Oil And Gas (NYSE:COG) reported yet another set of impressive dry gas wells in the sweet spot of the Marcellus Shale. Takeaways from the report go beyond simply strong well results and highlight several important operating trends that have been prominent across the entire Marcellus play. The report illustrates that the full productive potential of the Marcellus is yet to be uncovered by the industry.
Key takeaways from the announcement:
The success of a downspacing test in the Lower Marcellus (from 1,000 feet between laterals to 500 feet) confirms that Cabot may ultimately be able to double its well density in Susquehanna, further expanding the company's two-decade-plus inventory of super-productive Marcellus locations and recoverable resource base.
In about a month from now, Cabot will likely report a significant increase in its average EUR per well from the company's current (already quite amazing) 14 Bcf per well. A further significant step up will likely be reported in a year, based on the results of the 2014 drilling program. Based on my estimate, Cabot's average EUR per well may come close to 20 Bcf in 2014.
Very strong results in the Upper Marcellus (12 Bcf EUR potential per well, in my estimate), even though less strong than the Lower Marcellus, are highly competitive in terms of economics and re-confirm that the Marcellus in its "core of the core" in Susquehanna and Bradford Counties is essentially a two-bench play.
The $5.8 million drill and complete cost per well indicated by Cabot is a major improvement from the prior mid-$6 million range and will give a strong boost to the company's already exceptional drilling returns.
As a dry gas producer, Cabot remains in a class of its own. Assuming a step up in EURs and using Cabot's updated well cost guidance, the company's drilling returns in Susquehanna will likely be in the 150%-200% range at the well level, assuming $4/MMBtu Nymex and barring a widening of Marcellus basis differentials. These returns would compete with leading-edge returns achieved by best operators in top oil plays. By comparison, EOG Resources (NYSE:EOG) has recently indicated drilling returns in the 100% range in the western Eagle Ford and the Bakken and returns as high as 200% in the eastern Eagle Ford, which are the best in EOG's portfolio.
Cabot's resource base is vast and production growth is only constrained by take-away limitations. Cabot owns 100% interest in its mostly contiguous ~200,000 acre block in Susquehanna County, with a low royalty burden of approximately 15%.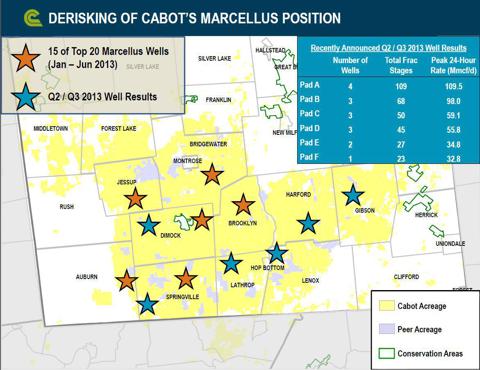 (Source: Cabot Oil And Gas' December 7, 2013 Investor Presentation)
Cabot's report has a strong read-across to Chesapeake Energy (NYSE:CHK) and Southwestern Energy (NYSE:SWN) who also have strong exposure to the play's sweet spot. The map below shows that Chesapeake shares the Northeast Marcellus sweet spot (the green ellips on the map below) with Cabot. Southwestern's acreage position encircle's Cabot and Chesapeake acreage from the south and east (the second map below).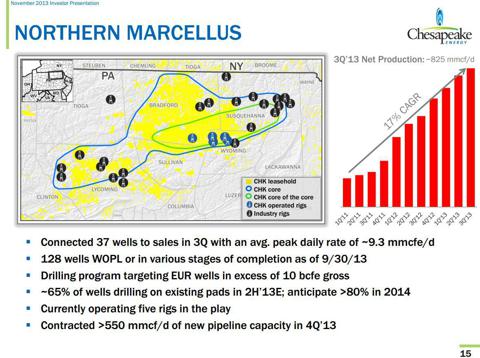 (Source: Chesapeake Energy's November 2013 Investor Presentation)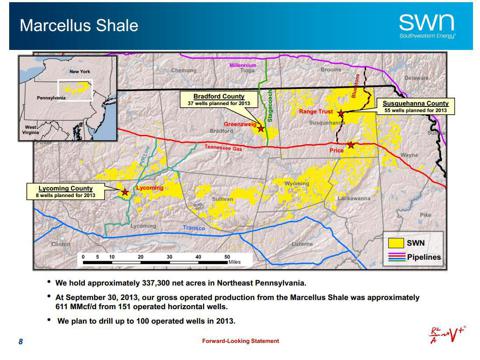 (Source: Southwestern Energy's November 2013 Investor Presentation)
Cabot's First 10-Well Marcellus Pad
Cabot's report discusses the company's first 10-well pad in the Marcellus. The pad included eight Lower Marcellus wells and two Upper Marcellus wells (picture below) and was completed with 170 frac stages in aggregate. Several wells had reduced lateral length due to fault and lease geometry limitations. Combined average 30-day production rate was 168 MMcf/d, which exceeded the Company's 14 Bcf type curve when adjusted for lateral length.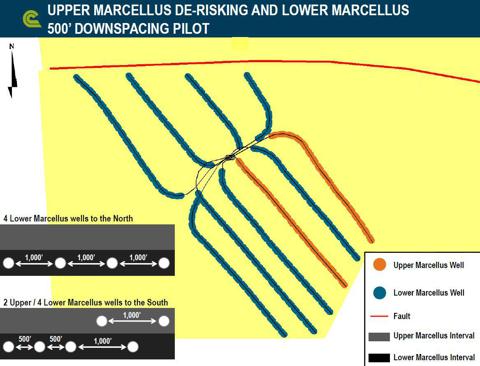 (Source: Cabot Oil And Gas' December 7, 2013 Investor Presentation)
Upper Marcellus Test Is Positive
Two Upper Marcellus wells were completed on the pad with a total of 37 frac stages and had combined 30-day production rate of 24 MMcf/d. These wells were spaced 1,000 feet apart in the Upper Marcellus and were offset 500 feet by a Lower Marcellus well. While it is too early to put specific numbers of the Upper Marcellus productivity, the early performance of the two wells is consistent with 12 Bcf EUR potential per well, based on my model. At $4/MMBtu Nymex natural gas price, these wells may generate drilling returns in the 100% range and are highly competitive in terms of drilling economics.
The slide below from one of Cabot's earlier presentations shows relative position of the Upper and Lower Marcellus zones.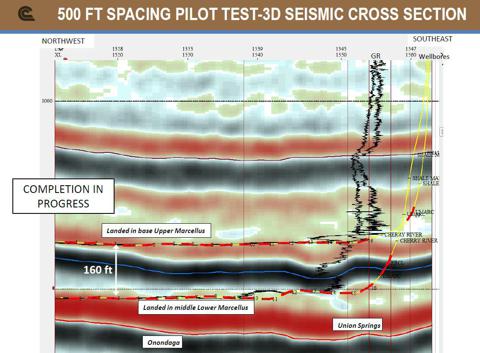 (Source: Cabot Oil And Gas' 2012 Investor Presentation)
500-Foot Downspacing Shows Positive Initial Results
The 10-well pad included a 3-well pilot that tested 500-foot downspacing in the Lower Marcellus. The three wells were completed with a total of 62 frac stages with an IP rate of 62 MMcf/d and a 30-day production rate of 56 MMcf/d, which appears in line with the company's 2012 14-Bcf type curve.
Based on my simple comparison of well productivity on this specific pad, it appears that there may be a moderate deterioration in individual well productivity due to downspacing. However, the three wells appear highly productive in absolute terms, indicating that 500-foot downspacing may ultimately prove economically viable and in fact may not represent a well density limit.
Cabot commented that the preliminary results from the pilot reinforce their belief that tighter downspacing will increase recoverable resource.
Downward Trend In well Costs
Cabot also reported a 12% average cost reduction for the pad compared to the first half of 2013. The lower cost is attributable to location cost savings, reduced move time between wells and additional drilling efficiencies captured by pad drilling.
Based on the drilling and completion efficiency gains demonstrated on its first 10-well pad, Cabot now anticipates well costs for a typical 14 Bcf well will decrease from $6.4 million on a two-well pad to $5.8 million or less on a 10-well pad. Cabot expects to capture further savings as it moves to larger, multi-well pads across its entire drilling program.
While the company still has acreage that needs to be held by production and will need to be drilled with smaller pads, Cabot is increasingly transitioning into full development mode. Approximately 60% of the Company's 2014 wells will be drilled on pads with five or more wells.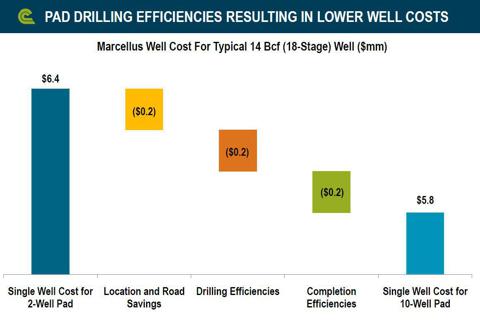 (Source: Cabot Oil And Gas' December 7, 2013 Investor Presentation)
Mid-Continent Asset Sale
In its report, Cabot also announced an agreement to sell its legacy conventional Mid-Continent assets for ~$123 million. Current production from these properties is ~15 MMcfe/d per day (94% natural gas). It is worth noting that total production and reserves from the assets being sold can be replaced with just a few Marcellus wells.
The Mid-Continent asset sale follows the recently announced Marmaton and West Texas divestitures. Cabot's decision to exit its miscellaneous assets is logical. Given the very high returns yielded by Cabot's Marcellus program, there is little justification to deploying new drilling capital outside of the company's core Marcellus operation. Even Cabot's highly attractive Eagle Ford asset, which provides valuable oil diversification to the company's portfolio, may come in question when compared against the Susquehanna opportunity on a return basis.
As a result, assets outside of the company's Marcellus and Eagle Ford operations become underutilized "orphans" and their value would be better maximized by other owners.
Cabot Is Moving Ahead With Share Repurchase Alternative
Due to the infrastructure-related limitations on production growth in the Marcellus, Cabot is facing a "luxury" problem of free cash flow surplus.
It appears that Cabot has decided to return part of the cash flow surplus to shareholders via share repurchases (which are an equivalent of special dividends). During the fourth quarter, the Company has repurchased approximately 4.8 million shares. Based on the tenor of management's commentary, share repurchases may continue in the future.
While one might argue that accelerating development in the Eagle Ford would be a higher-return capital use alternative for Cabot, the size of the repurchase program is a rounding error to the company's Firm Value, in the grand scheme of things, and should not be able to move the needle in terms of the stock price.
Conclusions
Cabot has firmly reached the status of a large-capitalization gas producer. The company's $15 billion market capitalization rivals that of Chesapeake ($17 billion).
While Cabot's trading multiples are high, the company's exceptional drilling returns and low leverage must be taken into consideration when valuing the stock.
Disclaimer: Opinions expressed herein by the author are not an investment recommendation and are not meant to be relied upon in investment decisions. The author is not acting in an investment advisor capacity. This is not an investment research report. The author's opinions expressed herein address only select aspects of potential investment in securities of the companies mentioned and cannot be a substitute for comprehensive investment analysis. Any analysis presented herein is illustrative in nature, limited in scope, based on an incomplete set of information, and has limitations to its accuracy. The author recommends that potential and existing investors conduct thorough investment research of their own, including detailed review of the companies' SEC filings, and consult a qualified investment advisor. The information upon which this material is based was obtained from sources believed to be reliable, but has not been independently verified. Therefore, the author cannot guarantee its accuracy. Any opinions or estimates constitute the author's best judgment as of the date of publication, and are subject to change without notice.
Disclosure: I have no positions in any stocks mentioned, and no plans to initiate any positions within the next 72 hours. I wrote this article myself, and it expresses my own opinions. I am not receiving compensation for it (other than from Seeking Alpha). I have no business relationship with any company whose stock is mentioned in this article.