By Sumit Roy
U.S. natural gas production has surged, but growth hasn't been across the board.
U.S. natural gas production ticked down from record highs in September, according to the latest data from the Energy Information Administration. Gross output fell from 74.49 bcf/d to 73.91 bcf/d, but that still leaves output 1.24 bcf/d higher than a year ago in September.
For all the talk of the ongoing U.S. oil boom, it's easy to forget natural gas production in the country has increased just as fast. Since 2005, natural gas production is up a whopping 19 bcf/d.
But growth has been far from even. Offshore natural gas production has actually fallen by 65 percent, from 10 bcf/d to 3.55 bcf/d in the period. In contrast, onshore production — which includes the prolific shale plays such as the Marcellus, Haynesville and Eagle Ford — has jumped 56 percent, from 45 bcf/d to more than 70 bcf/d.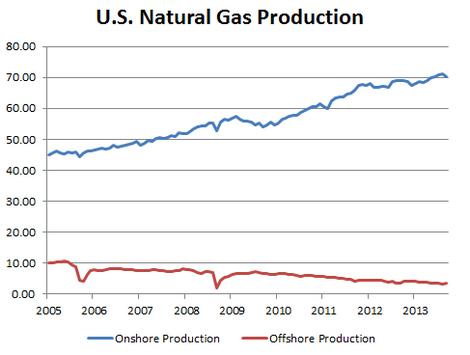 This divergence is a reflection of economics; drilling for high-cost offshore natural gas resources in the current low-priced environment simply isn't profitable. Thus, natural decline has led to steady erosion in offshore output.
In fact, offshore output is now lower than it was between August and October of 2005, when two of the most powerful hurricanes in history, Katrina and Rita, devastated the industry. The lowest monthly average during that time was 4.35 bcf/d in October 2005. That was considered an abysmally low level, and helped send prices skyrocketing to record highs above $15/mmbtu.
The shale revolution over the next several years changed the landscape for supply dramatically and the U.S. no longer relies on offshore production. The impact from any hurricane disruption would be minimal, and it will be some time — if ever — before offshore production increases again.