Jesse gives us this hilarious depiction of Goldman Sachs' (GS) role in the Greek debt crisis. According to Bloomberg, Goldman played a significant role in helping Greece hide its debt from the EU.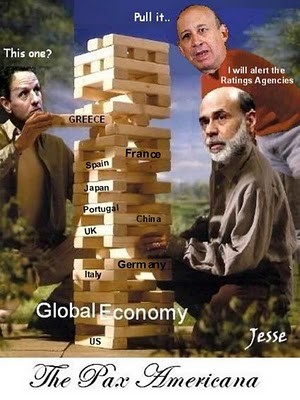 Here's an excerpt from Jesse's accompanying piece, Simon Johnson: Goldman Faces Special Audit and Possible Ban in Europe:
Regular readers will be aware of our thesis that the American Wall Street banks have become dominated by a culture of compulsive sociopaths who are incapable of reforming or restraining their greed. Like all addicts, they push the envelope looking for a new high, emboldened by each successful scam, the weakness of regulators, and the craven support of politicians, going further and further until at long last they go one step too far, with spectacularly destructive results.

Goldman Sachs may have reached that point. And as also suggested here, the rebuke may be coming from European and Asian nations who become weary of the extra-legal antics of the rogue American banks.

In the interests of harmony, the Europeans may once again bow to US pressure and continue to permit the Money Center privateers to roam through the interational financial system wreaking havoc, as they have been doing through the domestic US economy. It will be too bad if they do.

This is in no way an excuse for the Greek government. But what Simon Johnson is saying in this essay below is that Goldman is not only not blameless, but is enabling, complicit and perhaps even presenting the opportunity for market manipulation and fraud to other parties. Typically they like to 'package' these scams and take them from one customer to another, so that greed meets need, as a corrupting influence. It is no different than a bank engaging in money laundering in support of the criminal activity of another organization.
As always, Jesse's latest is well worth the read. As is the Simon Johnson piece he references.
It'll be interesting to see how Goldman stock reacts tomorrow when markets reopen after a long weekend. It should be an ugly day for GS, which in this bizarro stock-world means it will probably close up 5%. As Tyler of ZH says, good news is good, but bad news is better.
Sorry for the light posting lately, been on vacation and occupied with some other things. Should be back to normal soon.