Company Description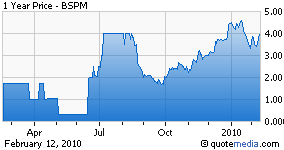 Xianyang-based Biostar Pharmaceuticals (NASDAQ:BSPM) develops, manufactures and markets medical products for a variety of diseases and conditions. The company's most popular product is its Xin Aoxing Oleanolic Acid Capsule, an over-the-counter medicine for Hepatitis B. This drug comprises almost 80% of BSPM's annual revenues, and, given the endemic nature of this disease in China, the company is squarely positioned to capitalize on the trend. According to reports, one-third of all Hepatitis B cases in the world reside in China.

The company has taken advantage of the Chinese stimulus plan to extend its distribution channels into rural areas. As of December 2009, BSPM reported a total of 5,010 sales outlets in its New Rural Cooperative Medical Drug Supply Network, exceeding its target to cover 5,000 sales outlets by the end of 2009. Also in December, the company announced its intent to start marketing Xin Aoxing in Beijing and Shanghai. This initiative is expected to add $9 million in revenue to the company's top line in 2010.

Further, the company recently entered into an agreement to acquire a Xi'an-based medical equipment and nutrients manufacturer for cash, which will likely add another $3 million in 2010 sales. This acquisition also broadens the company's product mix and distribution network. Given these developments, I'm expecting a very strong 2010 for BSPM.

Valuation

Current Price: $3.85
52-Week Range: $3.14-$4.75
EPS: (2009) $0.45* (2010) $0.70*
P/E: (2009) 8.5x (2010) 5.5x
PEG: 0.29*

* Based on C.O.P. estimates.

Evaluation

With the recent market retreat, BSPM is one of the cheapest stocks around based on 2010E earnings, with a great story and excellent growth potential. Unlike many nutraceuticals companies out there, the company has a very focused approach in terms of what it does and, additionally, management has executed well on its strategic plan. This year could see the company uplisted to a major stock exchange and that should translate into greater and better analysts' coverage. I have been steadily accumulating and this is definitely one for the medium to long term.

My Position: Long.