I moderate an open value/contrarian investment group with a few hundred members. Several respected members of the group are bullish on Genworth Financial (NYSE:GNW) and one in particular called the turnaround and first bought shares last year around $6. He has added to his position substantially since and continues to hold on, believing shares could be worth as much as $29 depending on the extent of further improvements, with very little downside if things work out less than optimally. His comments sparked my interest in the company and I had to take a closer look. Overall, I thoroughly agree with him, and believe Genworth to be a safe but potentially lucrative investment at this point.
Overview
Genworth Financial is a $9.5B global insurance company, with operations in over 25 countries. The company operates through 3 divisions inclusive of 5 reporting segments:
| | |
| --- | --- |
| Divisions | Segments |
| US Life Insurance | US Life Insurance |
| Global Mortgage Insurance | International Mortgage Insurance |
| | US Mortgage Insurance |
| Corporate and Other | International Protection |
| | Runoff |
Life insurance, fixed annuities, and long-term care insurance are sold through US Life Insurance. Mortgage insurance includes, of course, mortgage insurance, and through the Corporate and Runoff division, payment protection insurance and products that the company is no longer actively selling like variable annuities and institutional products are managed to maximize value.
The company recently sold off its Wealth Management business for $412.5mm with cash proceeds of $360mm.
US Life Insurance contributes 71.3% of the overall company's assets and 63.1% of equity. About 2/3 of the US Life Insurance division is long-term care insurance. The company has about 40% market share of the US long-term care insurance market, proclaiming itself the 'undisputed leader' in LTC, which is (along with this turnaround) the company's main claim to fame at this point.
I'm more impressed with the Global Mortgage Insurance division at this point though. With 2/3 the equity of the US Life Insurance division, it has contributed more operating income in 2013 thus far and trended better. US Life Insurance is more financially secure, though.

Click to enlarge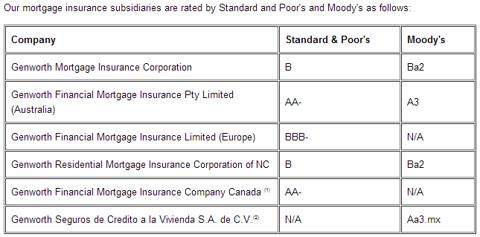 Click to enlarge
Source: Genworth Financial Company Ratings
The investment portfolio seems well managed. Looking at its composition, it seems to be somewhat more aggressive than other insurers I've looked at, but not to the point where I'd be concerned. In my opinion many insurance companies are too conservative in their investments and don't devote enough attention to it, so it's good to see Genworth being a little more aggressive.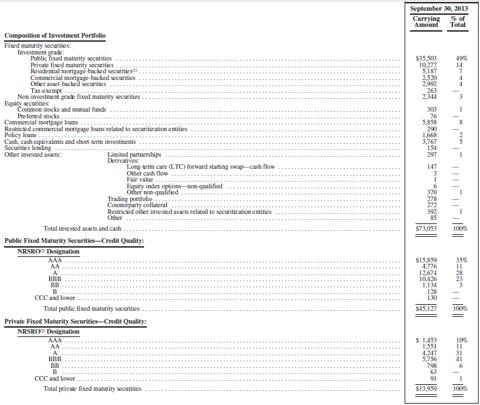 Click to enlarge
Source: Q3 2013 Financial Supplement (pdf)
64% of the portfolio is in fixed income, 3.97% of which is below investment grade. What is above investment grade is dispersed pretty evenly when you take public and private together. The company seems to be getting a good bang for its buck with a reported yield of 4.67% most recently, 4.46% with adjustments.
Management
On January 1st of this year, Thomas McInerney took over as president and CEO. I appreciate a passionate, candid, and competent CEO. I believe McInerney is just that, making him one of the most integral components of the Genworth story. He has degrees from Colgate and Dartmouth and a ton of experience. Most recently, he was a management consultant in insurance and financial services at the prestigious Boston Consulting Group for a year and a half. Before that, he was a leading executive at ING and Aetna for 30 years. At ING he led the massive firm's US unit.
He's been well received by analysts and investors and was recently recognized by Fortune on its "Top 50 Business People" list for the improvements he's spearheaded at Genworth in the last year. He's extremely thorough in his prepared remarks and demonstrates an advanced understanding of the business and a passion for what he does. A good example of his passion and transparency can be found in the company's recent LTC Presentation (transcript, audio with slides). He and his team did a comprehensive review of the LTC business and held a 91-minute special call to explain it all to investors.
The best way for me to describe him is as a 'competent doer.' He clearly understands insurance and what needs to be done to turn Genworth around, and has made a ton of moves in a short period of time, only really being limited by his short tenure thus far. Here are just a few of him and his team's important recent actions:
Comprehensive review of LTC business
Submission for increased premiums on in-force LTC policies to limit losses
Sale of Wealth Management unit
Addressed all debt maturities through December 2016
Attained $300mm contingency revolver
$400mm debt issuance
Preparing to divest 40% stake in Australian MI unit (only really waiting for more economic stability)
Establish regular dividend payments from divisions to holding company in preparation to reinstate dividend to common shareholders
Modify existing underwriting and create new products across business
Performance/Health of the Business
Genworth's historical performance epitomizes the roller coaster ride that any business tied to the housing market has gone through in the past 8 years. The company was spun out by General Electric in 2004, and performed well despite suffering from poorly underwritten legacy business, with ROE around 10%, from 2005-2008.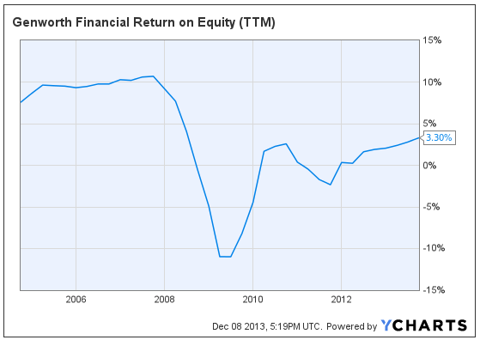 Click to enlarge A mortgage insurer, Genworth took major hits during the housing crisis and aftermath. The company has shown big improvements since McInerney stepped in though.
The company prefers ROE excluding AOCI, so they show ROE (TTM) at 4.9% versus GAAP ROE of about 3.3%, but no matter how you calculate it, ROE has improved dramatically in the past 12 months.

Click to enlarge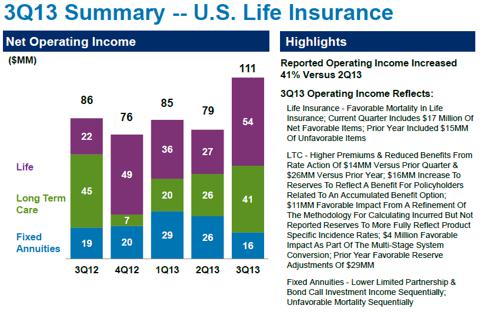 Click to enlarge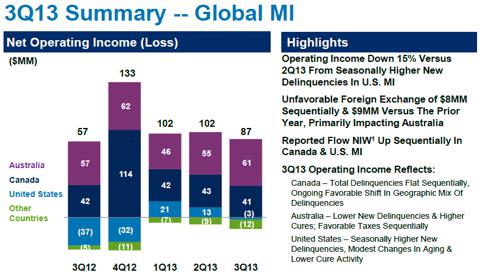 Click to enlarge
Source: Q3 Earnings Release (pdf)
Q3 brought mixed results and was weak compared to the improvements in Q1 and Q2. ROE ex. AOCI didn't improve sequentially. An artificial 41% increase in US Life operating income doesn't look impressive with adjustments for the $32mm in favorable items compared to Q3 2012. In contrast, Global MI was impressive. Operating income was down 15% sequentially as expected due to seasonality but up 53% YOY, 68% with adjustments for unfavorable foreign exchange.
Analysts think Q3 was a minor hiccup and while I'm a little concerned, I still believe in the long-term story as well. The company is clearly moving towards underwriting profitability.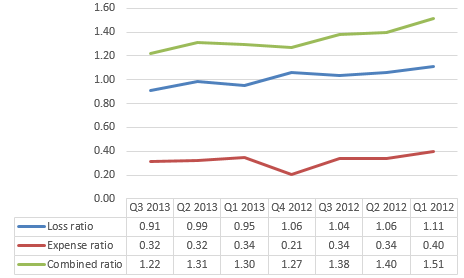 I (and Genworth's management) think underwriting profitability can be further improved as the newer, quality business crowds out more aggressive, mispriced legacy business in both MI and LTC. The company has evaluated and adjusted the underwriting criteria across the business to focus on higher prices and better long-term returns. For example in the LTC business, premiums on lifetime business are higher than on limited benefit pool business. This makes sense: the longer the payout period, the more cost to the company. Interestingly, in management's evaluation, they found that the extra costs associated with lifetime business outweigh the higher premiums, making lifetime business typically less profitable than limited benefit pool business. For that reason they chose to stop issuing lifetime policies in LTC. They're transitioning to a maximum pool of 10 years in 2013 and 5 years in 2014 and beyond. This trend runs across the business. Everything is being tightened up so that both profitability and risk align with the company's new conservative standard. So the stuff they're underwriting now will boost profitability as the mix shifts, but management is also displaying productive impatience by applying for in-force rate increases on the old policies to limit future losses on account of poor underwriting. The yield on the investment portfolio is already solid at 4.46% but that should also increase some as rates increase.
Looking at all this together- more profitable underwriting going forward, limited losses from already issued policies as a result of price increases, and increased investment yield, it looks like the direction of Genworth will continue to trend north. The company will also save some money on interest expense going forward due to lower leverage and lower rates. ROE including AOCI has consistently improved and is now at 3.3%.

Click to enlarge
Source: YCharts
Looking at the current industry average ROEs and considering the 10% GNW was at a few years ago, I think 7% is a realistic normalized ROE target and 10% is optimistic but worth considering. Who knows, in the long run ROE could reach levels even higher than that considering the returns the company is expecting on some of the products it is now introducing:
With respect to the new product review, our new Flex 2.5 long-term care insurance product is expected to be filed in November. Based on the conservative assumptions on lapses, interest rates and morbidity, we believe returns will be well north of 15% on the Flex 2.5 product line, with an improved risk profile.
But that's still just speculation at this point.
Valuation
I first valued the company using a dividend discount model with the following assumptions:
Normalized ROE: 7% maintained to perpetuity
Beta: 2.73
Terminal beta: 1.2
I included AOCI in book value (excluding it makes for more smoother BV over time but understates value)
Risk free rate: 2.88%
Equity risk premium: 5.5%
Terminal growth rate: 1.5%
Transition from current payout (0) to stable payout over 5 years
With that, I got a value of $17.10 per share, 12.5% above market. I then adjusted normalized ROE up to the 10% that the company could possibly return to, and got a value of $28.89 per share, 90% above market.
I followed that up by calculating effective yield. Based on a life insurance industry average beta of 1.44, investors in GNW should expect at least a 10.8% effective yield. The stock currently trades at .51x book value. Assuming normalized ROE of 7%, effective yield is currently 13.7%, suggesting 27% upside. With the 10% ROE, effective yield is 19.6%, suggesting 82% upside.
The discrepancy between the values derived from 7% vs. 10% ROE illustrate GNW's current predicament and the major point of my thesis- value will ultimately depend on how far the current turnaround can go. What's key and why I am bullish is that even the realistic 7% estimate isn't fully priced in at this point. ROE is at 3.3% right now and still improving but if I were to input that 3.3% as normal, value would be something like $5 per share. So clearly significant further improvements are already priced in, but 7% is below industry average and Genworth has an above average leader that has proven that he can improve profitability already, so I think 7% is realistic and conservative. Seeing the stock undervalued with that assumption, with the potential for a double if McInerney can get the business back to where it was from 2005-2008 makes me like shares here.
Conclusion
Genworth Financial is a resurrected firm on the wings of an incredibly talented executive. The difference between the business a year ago and the business today is night and day, but there are multiple reasons to believe further improvements are in store. Assuming further improvements, investors should focus on determining the extent of those improvements and a sustainable level of profitability. That is what value hinges on and, looking at multiple scenarios going forward, it looks like Genworth shares are somewhat undervalued assuming a return to average, and very attractive if the company can get back to where it was before the housing crisis.
Disclosure: I have no positions in any stocks mentioned, but may initiate a long position in GNW over the next 72 hours. I wrote this article myself, and it expresses my own opinions. I am not receiving compensation for it (other than from Seeking Alpha). I have no business relationship with any company whose stock is mentioned in this article.