"It's always about timing. If it's too soon, no one understands. If it's too late, everyone's forgotten." - Anna Wintour
Income investors who have purchased bond funds and real estate investment trusts (REITs) this year may have created a paper loss as these markets are down heavily for the year. As the market has witnessed rising rates, both bond funds and REITs, which are rate-sensitive income investments, have been under pressure.
In relation to the S&P 500, as measured by the SPDR S&P 500 Index ETF (NYSEARCA:SPY), bonds and REITs, as measured by the iShares U.S. Aggregate Bond Index ETF (NYSEARCA:AGG) and iShares U.S. Real Estate Index ETF (NYSEARCA:IYR), have diverged in price since May. While the S&P 500 continued to trend upward to year-end, aggregate U.S. bonds and REITs remained under pressure.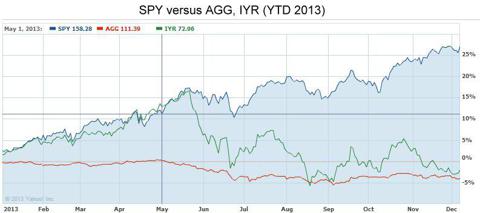 Investors who have realized (or plan to realize) capital gains on their books this year may opt to sell losing positions by year-end as a way to offset their capital gains tax liability.
Also to note, short-term capital gains are taxed at a higher rate than long-term capital gains. In this regard, stock purchases in 2013 that have a large positive return and have been sold for any reason, such as diversification or a change in the investment thesis, are taxed at the short-term capital gains tax rate. By selling shares in another company that has experienced an loss equal to that gain, the capital tax gain is eliminated.
For example, let's say that investor Wilbur Kudlow bought 20,000 shares of Rite Aid Corporation (NYSE:RAD) this January at $1.50 per share. With RAD sitting at $5.75 today, Kudlow realizes it has a much larger portion of his portfolio than he anticipated, as the value has risen from $30,000 to $115,000.
As Kudlow looks to sell for diversification purposes, he understands that by selling his profits only, which amounts to $85,000, that his cost basis is $21,250 and he will realize $63,750 in gains to be taxed at the short-term capital gains tax rate.
Kudlow looks at his income tax bracket and realizes that since he makes $500,000 per year, his short-term capital tax rate was raised by the government to 39.6% from the 2012 level of 35%. In this regard, his tax liability on the trade will be $25,245.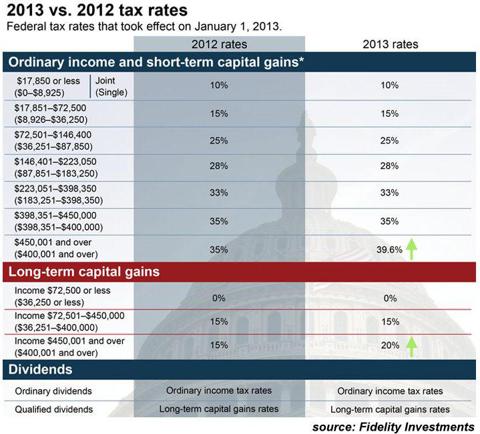 As Kudlow is a smart investor, he knows that if he can find $63,750 in losses in his portfolio to realize that he will be off the hook for over $25k in taxes.
Kudlow looks into his holdings and realizes that he has a few REITs that total about the same amount in losses since he bought them earlier in the year. If Kudlow realized these losses, he would offset the short-term capital gains tax on RAD as long as he avoids the wash-sale rule.
According to Investopedia,
"The rule defines a wash sale as one that occurs when an individual sells or trades a security at a loss, and within 30 days before or after this sale, buys a "substantially identical" stock or security, or acquires a contract or option to do so. A wash sale also results if an individual sells a security, and the spouse or a company controlled by the individual buys a substantially equivalent security."
Advanced Tax-Loss Strategies
In the case of Mr. Kudlow, he cannot sell a REIT that was purchased 30 days prior, or buy it back within 30 days of the sale, or he would be liable for those applicable short-term gains. The problem Kudlow has with this is simple: he believes REITs are undervalued and wants to increase his REIT exposure, not decrease it.
Kudlow cannot buy a "substantially identical" stock or security as the ones he sells. He also likes the diversification his REIT portfolio holds. So what is he to do?
The simple answer is to buy a stock or security that is similar, however not substantially identical to avoid any gray area in the wash-sale rule.
The Wash-Sale Grey Area
If an investor sold the SPY for a loss and then bought the SPY back within 30 days, it would clearly be seen as wash-sale. If an investor sold SPY for a loss and then immediately bought another S&P 500 Index fund however, the IRS will not likely challenge the deduction.
What remains true however is that another S&P 500 Index fund will likely be 99% or more similar to SPY. If the IRS ever wised-up and found this in an audit, it would seem that by law they would have a very strong case to coin this transaction a wash-sale, thus implicating the investor in a tax liability.
Legal Strategies
Legally, the investor selling a security as a tax-law harvest is able to do so by selling one stock and buying back a different stock. For Kudlow's REITs, he could sell one healthcare REIT and buy another healthcare REIT, and so forth.
When it comes to funds, as long as the funds are not identical index funds, the IRS would have no case in the wash-sale rule. As such, an investor in one multi-sector bond fund may sell for a loss and then immediately buy a very similar fund. This effort would keep allocations constant and avoid dividend disruption in the portfolio.
Examples of Similar Stocks And Funds
Here are a few examples of similar stocks and funds suitable for the income investor. Those investors who hold allocations to other companies or funds of a very similar, yet not identical strategy, may opt to realize losses this year to offset realized gains in other areas of the market.
For the REITs listed, mid-cap is defined as company market capitalizations between $10 and $20 billion and small-cap is defined as a capitalization between $2.5 and $10 billion. Yields are listed in the chart following this list.
1. Mid-Cap Health Care REITs
HCP, Inc. (NYSE:HCP)
Ventas, Inc. (NYSE:VTR)
Health Care REIT, Inc. (NYSE:HCN)
2. Small-Cap Net-Lease Retail REITs
Realty Income Corp. (NYSE:O)
American Realty Capital Properties (ARCP)
3. Small-Cap Multi-Family Residential REITs
Camden Property Trust (NYSE:CPT)
Mid-America Apartment Communities (NYSE:MAA)
4. Multi-Sector Bond Income Funds A
PIMCO Corporate Opportunity Fund (NYSE:PTY)
PIMCO Corporate Income Fund (NYSE:PCN)
5. Multi-Sector Bond Income Funds B
PIMCO Dynamic Income Fund (NYSE:PDI)
PIMCO Dynamic Credit Income Fund (NYSE:PCI)
6. Property Income Funds
Alpine Global Premier Properties (NYSE:AWP)
ING Clarion Global Real Estate Fund (NYSE:IGR)
7. Closed-End Utility Infrastructure Income Funds
Cohen & Steers Infrastructure Fund, Inc. (NYSE:UTF)
Reaves Utility Income Fund (NYSEMKT:UTG)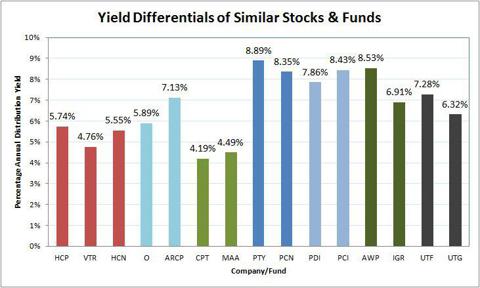 Conclusion
Tax-loss harvesting can be beneficial for all types of investors as a way to reduce tax liability. For investors looking to take advantage of tax-loss harvesting without losing the 30-day yield upside of low-priced securities, maintaining investment exposure through similar but not identical securities may be an excellent option.
For stocks to qualify for tax-loss harvesting in the 2013 calendar year, all stock sales must be settled by December 31, 2013, which would require a sale date on or before December 24, 2013.
Disclosure: I have no positions in any stocks mentioned, and no plans to initiate any positions within the next 72 hours. I wrote this article myself, and it expresses my own opinions. I am not receiving compensation for it (other than from Seeking Alpha). I have no business relationship with any company whose stock is mentioned in this article.