Last week, the FDA approved Gilead Sciences' (NASDAQ:GILD) Sovaldi for hepatitis C. The approval was very much anticipated, nevertheless, since we have developed a deep interest in tracking down "Ten Billion Dollar Molecules", this seems like a good time to take a closer look.
Sovaldi (Sofosbuvir)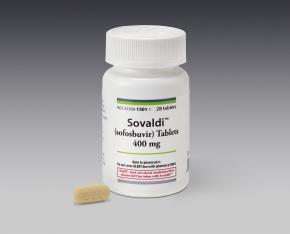 Sovaldi was acquired by Gilead, together with Pharmasset, its original developer, for a whopping $11 billion in November 2011.
It is an oral nucleotide polymerase inhibitor that interferes with the life cycle of the hepatitis C virus and suppresses its replication.
The FDA granted Sovaldi priority review and breakthrough therapy designation because it offers high cure rates on a shortened 12-week course of therapy for many patients.
Competition
Sovaldi is the first in a new class of drugs called nucleotide polymerase inhibitors that offer an interferon-free solution to the treatment of hepatitis C, which represents a major shift in the current treatment paradigm.
However, Sovaldi's approval is bound to pave the way for other clinical drug candidates, similar in profile, to be approved. Companies with such late stage candidates include Bristol-Myers Squibb (NYSE:BMY) and AbbVie (NYSE:ABBV).
BMS is developing a daclatasvir plus asunaprevir treatment regimen, and AbbVie is developing a three drug treatment regimen of ABT-333, ABT-450 and ABT-267. Both companies' drug regimens are in late phase 3 and are interferon-free.
Financial Impact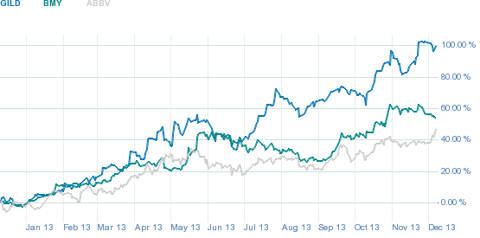 Click to enlargeChronic hepatitis C affects an estimated 3.2 million Americans with the majority of patients coming from the "baby boom" generation. The disease is the nation's leading cause of liver cancer and liver transplantation and, in recent years, has surpassed HIV/AIDS as a cause of death.
Gilead intends to price Sovaldi at $1,000 per daily pill, wholesale. That translates to $84,000 for the 12 weeks of treatment recommended for most patients, and $168,000 for the 24 weeks needed for a hard-to-treat strain of the virus. However, Sovaldi will come with a copay assistance program that will make the copay less than $5 for eligible patients.
Since many physicians were expecting the approval and have been lining up patients for the treatment, a quick adoption is expected and sales are expected to rise fast.
Gilead has predicted that it could generate $225 million in sales in the first quarter with potential peak sales of up to $8 billion. To put that in perspective, Gilead is expected to achieve total revenue of approximately $10.4 billion this year.
However, some analysts are even going further and predicting that Sovaldi's annual sales could surpass the record $13 billion achieved by Pfizer's (NYSE:PFE) Lipitor.
Despite the fact that Sovaldi was one of the most eagerly anticipated new drug approvals of the year and many investors have already factored its approval in Gilead share price, a rising tide lifts all boats.
Disclosure: I have no positions in any stocks mentioned, and no plans to initiate any positions within the next 72 hours. I wrote this article myself, and it expresses my own opinions. I am not receiving compensation for it (other than from Seeking Alpha). I have no business relationship with any company whose stock is mentioned in this article.