2013 is quickly coming to a close, and below we take a look at sector performance using two different measures. One looks at the average YTD change of Russell 3,000 stocks by sector, and the other looks at the YTD change of the cap-weighted S&P 500 sector indices.
The gains are much bigger using the first method, which doesn't take market cap into account, so small and midcaps have clearly outperformed this year. Health Care has had the best year across all market cap levels. As shown, the average Health Care stock in the Russell 3,000 is up 55.8% YTD, while the S&P 500 Health Care sector is up 38.24%. Consumer Discretionary is up the second most using both methods, and the same holds for Industrials in third place.
The first big divergence comes in the Consumer Staples sector. As shown, the average Consumer Staples stock in the Russell 3,000 is up 43.24% YTD, but the S&P 500 Consumer Staples sector is up just 22.83%. This spread of 20.41 percentage points is the second biggest of any sector behind Telecom.
The Financial sector is the only one where its cap-weighted S&P 500 index is up more in 2013 than the average Financial stock in the Russell 3,000. As shown, the average Russell 3,000 Financial stock is up 28.4% YTD, while the S&P 500 Financial sector is up 30.72%. We've noted the performance disparity between largecap and smallcap Financials multiple times this year in our posts on sector relative strength, and these numbers back up the case that the current regulatory environment favors largecap Financials.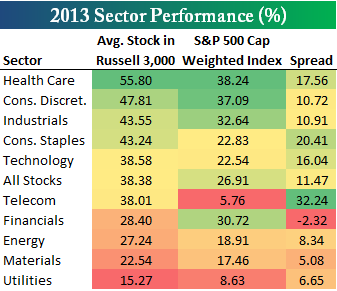 Below is a list of the 40 best performing Russell 3,000 stocks year-to-date. As shown, Lannett (NYSEMKT:LCI) currently ranks first with a gain of 537.34%, followed by Gray Television (NYSE:GTN), Inteliquent (NASDAQ:IQNT), SunPower (NASDAQ:SPWR) and ACADIA Pharma (NASDAQ:ACAD). Up until recently, Tesla (NASDAQ:TSLA) was at the top of this list, but now it ranks 18th with a YTD gain of 309.74%. Micron (NASDAQ:MU) and Netflix (NASDAQ:NFLX) are the two largest stocks on the list with market caps above $20 billion.