EDAP TMS (NASDAQ:EDAP) could provide investors attractive gains in 2014 as a FDA decision about HIFU Ablatherm treatment for prostate cancer approaches.
EDAP has been in a range between $1-$6 for the past five years with revenues being stagnant between $30 and $35 million during that time. The last company breakout was in 2006 which took EDAP as high as $21.64 when the company and its potential had greater attention from Wall Street. Those times may once again return and I believe 2014 could be the year.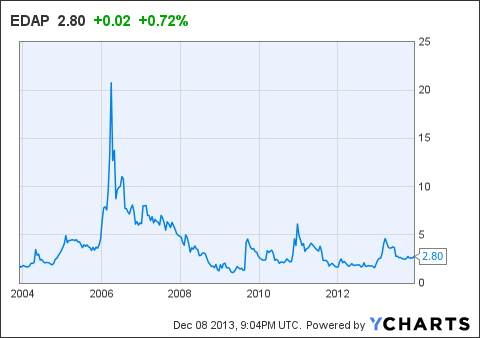 Prostate cancer is the second leading cause of death in American men. The American Cancer society predicts 238,590 new cases will be diagnosed and 29,720 men will die in the United States alone.
Current US treatment options includes surgical removal of the prostate, radiation therapy and cryotherapy. Soon those US treatment options may involve High Frequency Ultrasound (HIFU).
HIFU is a non-invasive treatment which uses ultrasound energy to destroy targeted tissue killing the cancerous tissue with heat. HIFU treatment has many advantages over current treatments which include reduced treatment time and fewer side effects including erectile dysfunction and incontinence.
On March 28, 2013, the FDA accepted the pre-market approval application and the company continues to work towards acceptance of the Ablatherm HIFU treatment option with a possible 2014 decision. Though the company does not give a precise timeline EDAP keeps in close contact with the FDA and the end of the FDA approval process and decision is approaching.
Ablatherm has been used extensively in Europe with quite positive results which leads me to believe it is only a matter of time before the procedure is common in the United States as well.
As US approval is awaited, patients have the option of traveling outside the country for treatment. Maple Leaf HIFU, a branch of the well renowned Cleveland Clinic, is located in a Toronto, Canada, and offers treatment using an EDAP TMS Ablatherm HIFU device.
EDAP continues to innovate, making it more attractive as FDA approval is awaited. The company's new Focal One device uses robot assisted non-invasive surgery along with continuous imaging to facilitate all aspects of treatment. A physician simply has to highlight the targeted cancerous region, begin treatment and monitor the progress with the ability to modify treatment in real time if necessary.
Keep an eye on EDAP going into 2014 which appears to have begun an uptrend nearing a 1 month high as interest in the company and HIFU Ablatherm as a new United States treatment option increases.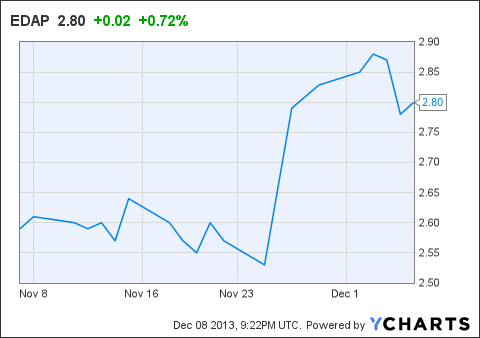 Disclosure: I am long EDAP. I wrote this article myself, and it expresses my own opinions. I am not receiving compensation for it (other than from Seeking Alpha). I have no business relationship with any company whose stock is mentioned in this article.