Shares of Coca-Cola (NYSE:KO) have rallied 11.6% this year, a solid return, though nowhere near the market's 26% run. Interestingly, KO had been keeping pace with the S&P 500 through June, but shares have fallen 2.3% over the past six months as stagnating demand for soda has limited upside. Investors are confronted with the question of whether the stock's poor performance is a harbinger of things to come or an opportunity to buy shares on the cheap.

Based on analysts' 2014 estimates for $2.23 in EPS, KO is trading at 18x next year's earnings. Analysts are also looking for 3.5% revenue growth. Simply put, soda is not a high growth business, particularly in developed markets where consumers are increasingly concerned about the health effects. Coca-Cola has benefited over the past five years from market share gains at the expense of PepsiCo (NYSE:PEP) with Diet Coke overtaking Pepsi as the second most popular soda. With an activist investor pressuring management, Pepsi has refocused on its soda unit, and I believe Coca-Cola will struggle to expand market share appreciably from here.
In the last quarter, Coca-Cola grew global volumes by 2% and prices by 2%. However, Coca-Cola is a major international company that is deeply exposed to fluctuations in the foreign currency market. As a consequence, revenues actually fell 3% year over year, mainly due to foreign currency fluctuations. With the Federal Reserve becoming less dovish while the European Central Bank is becoming increasingly dovish, I expect foreign exchange movements to continue to be a headwind for the company in 2014.
Looking out in the longer run, Coca-Cola has worked to diversify beyond soda, which faces secular decline, with PowerAde, Dasani, and Vitamin Water. For KO, the hope is that as customers turn away from soda, they will migrate towards the company's healthier brands. Of course, Coca-Cola faces stiff competition in these markets as well with Gatorade, Poland Springs, etc. We are already beginning to see consumers trade in their soda for healthier options in the United States: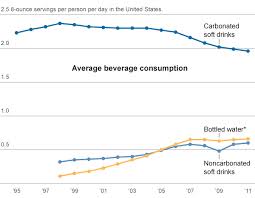 Going forward over the next 5-7 years, I expect Coca-Cola will be able to grow volumes in the 0-2% range with non-soda helping to make up for the weakness in soda. Assuming prices rise somewhat in line with inflation, Coca-Cola is a company that can grow by 2-4%. It simply operates in a market that has already seen its finest days. Investors have to ask themselves whether a company with a modest growth profile is really worth 18x earnings.
A major reason many investors own Coca-Cola is for its dividend, which the company has consistently grown for over 20 years. In 2013, the company will pay out about 53% of earnings. The company will almost certainly increase the dividend for next year, likely to $0.30, which gives KO a forward yield of 2.97%. As growth slows, dividend growth will invariably slow, especially as the payout ratio is already above 50% of earnings. Moreover as bond yields rise, a 3% dividend becomes relatively less attractive, especially as other blue chips like Verizon (NYSE:VZ) yield more than 4%.
Coca-Cola has been a favorite stock for "dividend growth investors," and I suspect many such investors will continue to love KO as the company has the capacity to continue increasing the dividend for the foreseeable future, although at a slower pace than dividend hikes were a decade ago. Still, price is a critical part of long-term returns. At 18x earnings, Coca-Cola is a very expensive stock, and while its 3% forward yield is attractive, it is far from fantastic. For investors seeking an 8% annual return, the dividend will need to grow at a long run rate of 5% to justify the current price, which I believe is overly optimistic with 3.5% a more reasonable long-term target.
Investors who are interested solely in dividends can do fine, though not great, in KO, but those who focus on total return are likely to be even less impressed. With muted growth prospects, Coca-Cola is a textbook case of a company that should 15-16x earnings or about $34-$35. Above $40, I would sell KO and rotate into a stock with a much less rich multiple.
Disclosure: I have no positions in any stocks mentioned, and no plans to initiate any positions within the next 72 hours. I wrote this article myself, and it expresses my own opinions. I am not receiving compensation for it (other than from Seeking Alpha). I have no business relationship with any company whose stock is mentioned in this article.