The European telecoms sector offers attractive dividend yields which may represent an opportunity for income investors, especially as Europe is showing some signs of economic recovery. Previously, I've suggested Vodafone (NASDAQ:VOD) and Telenor (OTCPK:TELNY) as good dividend plays within the European telecoms sector. Another European telecom company that offers a compelling investment is Telefonica (NYSE:TEF), a large global operator with a broad exposure to Latin America which has an attractive forward dividend yield of 6.5%. Telefonica has a market capitalization of about $72 billion, and is traded on the New York Stock Exchange as American Depositary Receipts (ADRs).

Company Overview
Telefonica is one of the world leading integrated operators in the telecommunication sector, providing communication, information and entertainment solutions, having two main business units: Europe and Latin America. Its global business is reported as Telefonica Digital. Telefonica is also one of the largest shareholders of Telecom Italia (NYSE:TI), and there is speculation the two companies may merge in the future.
Telefonica is present in 24 countries and had more than 320 million subscribers at the end of September 2013. Telefonica has an attractive geographical diversification, being present mainly in Europe and Latin America. Around 77% of its revenues come from international markets. In Europe, the company has more than 100 million subscribers through its operations in Spain, the U.K., Germany, Slovakia and Ireland. The company is going through a portfolio turnaround, selling assets in peripheral markets to fund the pursuit of scale on its core. Telefonica has recently entered into an agreement to sell Telefonica Czech Republic for about $3.4 billion, which also includes its Slovakia operations. In Germany, Telefonica has proposed a few months ago to buy KPN's (OTCPK:KKPNY) assets in the country, but the deal may face opposition from regulators.
In 2012, Latin America was for the first time the company's major source of revenues, with a weight of 51%. Telefonica has about 218 million subscribers in Latin America, being the market leader in Brazil, Argentina, Chile and Peru. Brazil is Telefonica's biggest market in Latin America, representing about half of its revenues and profitability of Latam operations. Its market share is about 28%, with the second-largest operator being TIM Brazil (NYSE:TSU) which is owned by Telecom Italia. The Brazilian mobile market has more than 265 million customers, which is above the country's population of 194 million people. This implies a high mobile penetration rate of 134%, which is leading to lower subscriber growth rates than in the past few years. Nevertheless, over the past few quarters, Telefonica's market share of mobile net adds has been very good, achieving a 64% share in the past quarter, which supports its growth over the next few years.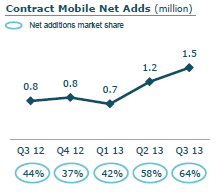 Despite its good geographical diversification, the company's domestic market still accounts for about 23% of its revenues. Telefonica is the market leader with a mobile market share of about 40%, in a market with a mobile penetration rate of 120%. Spain's economy has faced a tough period over the past couple of years, leading to a very high unemployment rate and weak consumer demand. Moreover, competition has increased, leading to lower prices and margins across the sector. Its main competitors in Spain include Vodafone and Orange (NYSE:ORAN). Telefonica has revamped its offering to protect its market share through its "Fusion" quad-play tariff, and has been able to maintain relatively stable its subscriber base during the past few quarters. Its revenues in Spain continue to decline year-on-year but have shown a positive trend, which should continue over the coming quarters as the Spanish economy shows good signs of an economic rebound.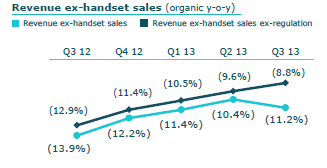 Regarding its overall financial performance, Telefonica has reported lower revenues and earnings over the past couple of years due to weak operating conditions in Europe. In 2012, its financial performance has stabilized given that revenues declined by only 0.8% to about $84 billion. In Latin America revenues increased by 5.5% but were offset by a decline of 6.5% in Europe. Its operating income before depreciation and amortization (OIBDA) increased slightly to $28.6 billion, or a margin of 34%. However, this margin is much lower than what was achieved in 2010, at 42.4%. This profitability drop is mainly justified by lower prices in Europe as Telefonica faced weak macroeconomic conditions across the majority of its markets and fierce competition. Telefonica's net income dropped by 27% to $5.3 billion in the past year, or $1.17 earnings-per-share (EPS). Compared to 2010 earnings, the company's profits have plunged by about 60% cumulative.
During the first nine months of 2013, revenues amounted to $57.5 billion, a decline of 8.7% compared to the same period of 2012. However, adjusted for divestitures and currencies, Telefonica's revenues increased slightly from the year-ago period. Europe was responsible for this performance, with revenues declining by more than 10% during this period. Its OIBDA declined by 10.7% to $19 billion, reaching a margin of 33.1%. Despite this negative performance, in the third quarter Telefonica has achieved good growth in Latin America and some stabilization in Europe, which should continue to improve over the next few quarters as the European economy rebounds.
Dividends
Regarding dividends, Telefonica has a good history until the last year when it decided to cancel the dividend for fiscal year 2012. This decision was based on the company's priority to protect is credit profile and reduce balance sheet leverage, putting shareholder remuneration in the background. In 2013, the company has resumed its shareholder remuneration by paying a dividend of €0.75 ($1.01) per share. The first payment has occurred in November, and the second tranche will be paid in the second quarter of 2014. At its current stock price, Telefonica offers a dividend yield of 6.5% which is very attractive. Its dividend payout ratio is about 74%, taking into account the 2013 estimated EPS of $1.36.
Telefonica has very good cash flow generation, like most of the large telecom companies. In 2012, its cash flow from operating activities was above $20 billion. Regarding its capital expenditures (capex), Telefonica spent roughly $12.5 billion in 2012, a similar level to the previous year. Its capex-to-sales ratio was 14%, in-line with its European competitors. Its free cash flow was close to $7 billion, which represents a free cash flow yield of about 7%. Therefore, its current dividend seems to be sustainable given Telefonica's good free cash flow generation capacity.
Telefonica's balance sheet is leveraged, given that its net debt amounted to $62.3 billion as of 30 September, 2013. Telefonica has been reducing its leverage over the past few years, and its leverage ratio was 2.3x at the end of the last quarter, compared to above 2.7x at the end of 2011. The company's goal is to maintain, in the medium-term, a leverage ratio of 2-2.5x net debt/OIBDA. Its debt reduction was achieved through asset sales, the dividend cancellation in 2012 and strong free cash flow generation, which led to a reduction of about $18 billion over the past couple of years. Despite its deleveraging efforts, Telefonica still has above-average balance sheet debt levels compared to European peers which does not support a growing dividend unless its operating performance improves considerably.
Conclusion
Although the company's operations in Spain still faces some headwinds, Telefonica's exposure to Latin America should offset to a large extent the domestic market weakness and deliver good growth over the coming years. Furthermore, Telefonica is deleveraging its balance sheet and optimizing its asset portfolio, which should provide a stable base for a sustainable dividend going forward.
Disclosure: I am long OTCPK:OTCPK:TELNY. I wrote this article myself, and it expresses my own opinions. I am not receiving compensation for it (other than from Seeking Alpha). I have no business relationship with any company whose stock is mentioned in this article.