Costco Wholesale Corporation (NASDAQ:COST) is the fourth largest retailer in the US and in the world. The company achieved sales of over $100 billion in 2013 and fetches a market capitalization in excess of $53 billion. Costco Wholesale has had a great 2013: Operating income came in at $3,053 million vs. $2,760 million in 2012 (an increase of 11%). Costco also presented a slight y-o-y improvement in gross margin which increased to 10.62% vs. 10.55% in the previous year. Net income jumped to $2,039 million compared to $1,709 million in 2012 (a plus of 19%). EPS also jumped to $4.63 vs. $3.89 in 2012 (an increase of 19%). Despite great results the retailer trades at very high multiples which limited meaningful valuation growth.
Share performance
Costco keeps running higher although the company is already richly valued based on both earnings and free cash flow to equity. Costco has produced share gains of 23% over the most recent twelve month period.
The graph below depicts Costco's five-year relative performance when compared to other variety and discount stores in the retail sector. Wal-Mart (NYSE:WMT) is the worst performer of the peer group with a return of 46% and now appears to be fairly valued. Target (NYSE:TGT) gained 76%, Dollar General (NYSE:DG) 169%, Family Dollar Stores (NYSE:FDO) 168% and Dollar Tree (NASDAQ:DLTR) 299%.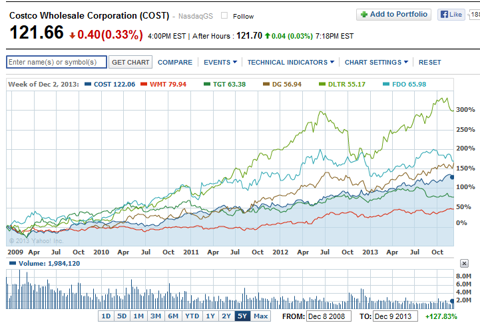 Free cash flow multiple indicates overvaluation
I have collected the cash flow data from Costco's most recent 10-K filing and calculated the free cash flow to equity measures from 2011 to 2013. The table below depicts those cash flows as well the free cash flow to equity valuation metrics.
Costco's operating cash flows have been above $3,000 million for all three years under review. Investing cash outflows have only spiked in 2013 and I estimate that cash flows return to a more stable level at around $1,400 million in 2014. Net borrowings in 2013 clearly have skewed the underlying free cash flow to equity and I estimate that Costco will exhibit a mean-reverting FCFE in 2014. OCF- and FCFE growth rates are depicted in the table below as well.
Consequently, I estimate that Costco can earn about $4.54 per share in free cash flow to equity in 2014. At a current share price of $121.66 this translates into a very rich forward P/FCFE ratio of 26.80. Put differently, investors purchasing Costco now get a 3.73% free cash flow yield indicating that Costco Wholesale is everything but a bargain.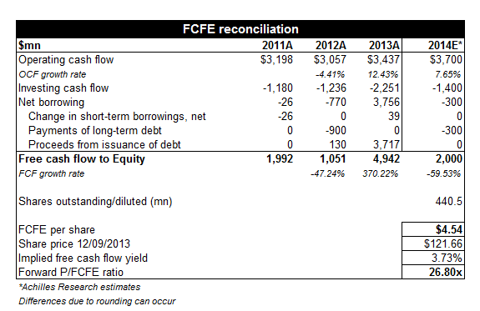 Market valuation
Costco presently trades at the largest P/E ratio of the discount stores which include large-cap retailers like Wal-Mart and Target but also Dollar General, Dollar Tree and Family Dollar Stores. Costco demands a P/E multiple of 22.02 which is significantly above the average peer group P/E ratio of 16.27. Investors pay a substantial growth premium upfront while Wal-Mart and Target seem to be a better deal from an earnings perspective.
Costco, Wal-Mart and Target are the cheapest companies based on P/S ratios. All three large-cap retailers fetch a multiple between 0.51-0.55x. Graphs depicting P/E and P/S metrics for discount retailers are produced below.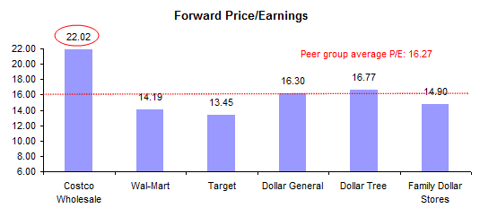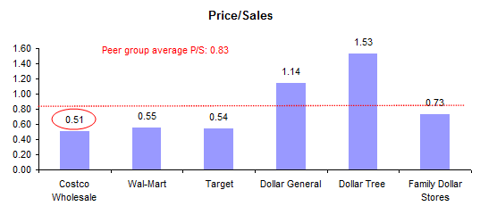 Clearly, discount stores aren't suitable investments for income-oriented investors. With the exception of Wal-Mart and Target, dividend yields are in irrelevant territory: Costco, as a result of its high earnings valuation, exhibits the lowest dividend yield of all discount retailers. A yield of 1.02% can hardly be a reason to add this company to a dividend portfolio.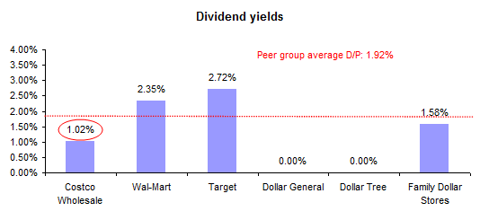 Costco presently trades at a 35.34% premium to the earnings valuation of comparable companies. A summary for all valuation metrics described above is provided below.

Conclusion
Costco trades at rich multiples based on earnings and free cash flow to equity. The company trades at an estimated forward P/FCFE ratio of almost 27 and at a forward P/E ratio of 22. Investors are required to pay a substantial upfront premium and such high multiples make it unlikely that investors get a bargain. In addition, discount retailers like Costco Wholesale are generally unsuitable investments for investors looking for a decent cash flow yield in form of dividends. The current high multiples and challenges on the consumer spending front do not make Costco an attractive investment candidate. I would suggest investors to avoid Costco as well as the entire discount retail sector for the time being and look for better priced bargains elsewhere in the stock market (e.g. decent bargains can be found in the basic materials- and financial sectors for both income and capital appreciation potential).
Disclosure: I have no positions in any stocks mentioned, and no plans to initiate any positions within the next 72 hours. I wrote this article myself, and it expresses my own opinions. I am not receiving compensation for it (other than from Seeking Alpha). I have no business relationship with any company whose stock is mentioned in this article.