After falling to a 52-week low in the low $4's, Arena Pharmaceuticals (NASDAQ:ARNA) staged a great comeback of sorts to just below $7 on the heels of its announcement that it had expanded its marketing deal with big Pharma partner Eisai. Over the past few sessions though, Arena has taken a few hits and currently trades in the high $5's. If there is so much potential here, why is the equity sliding?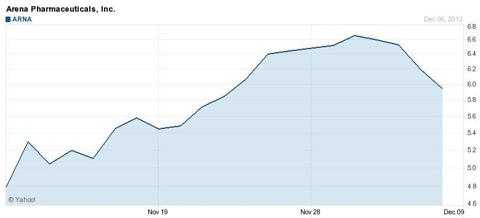 The simple answer is that is how the market works. If an equity runs too far too fast, it tends to settle down a bit and form a foundation from which the next moves will happen. With Arena, there is a lot of potential, but assigning a value to it has been a challenge that many investors face.
We could look at things like the size and scope of the obesity market and see a sizable (no pun intended) audience of potential patients. We could look at things like additional uses for Belviq in smoking cessation and diabetes. We could look at things like the cash position of the company and the lack of debt. All of these show promise and potential. On the other hand, we could look at sales that have not been taking off like it is the hottest product of the year, an insurance industry that is slow to cover these drugs, and the reality that anti-obesity drugs are expensive in the minds of many.
Unfortunately, in the near term, Arena stock will have the end of the year hurdles that come with pretty much any product centered on weight loss. The holidays are not typically a time when people are thinking about weight loss. We saw script sales take an anticipated dip last week with the Thanksgiving holiday. A few weeks from now, we will have Christmas week and New Year's week to contend with. Simply stated, the news flow over the next few weeks does not likely favor Arena. As an investor, what we want to watch for is the ability of the equity to hold a line in price until early 2014. From that point on, the weekly script story has some great chances to show compelling improvement. Consider these factors:
Weight loss companies typically perform better in the first half of the year. A quick look at the quarterly revenue of a company like Weight Watchers (NYSE:WTW) demonstrates this dynamic. By extension, Arena, with Belviq, should be able to have some natural growth due to seasonality. The low point we are currently facing will be followed by higher points in the weeks and months ahead.
Marketing Partner Eisai will start off the year with a more sizable sales force. The company launched Belviq with 200 reps. In December, that number grew to over 400. These reps should be ready to start the year off in full stride.
Marketing partner Eisai launched print advertising in September of 2013. Print ads, like any ad, take time to give impressions to consumers. By January, readers of many popular magazines will have had 3 or 4 impressions via print ads.
There are rumors that the ad campaign will begin to ramp up with possible television spots. These can be very effective in getting consumer as well as doctor awareness moving in the right direction.
Marketing partner Eisai is now a more motivated partner thanks to an expanded deal that essentially makes Eisai a global partner. It is no secret that initial sales have been slower than many anticipated. Last May, the Eisai CEO outlined a goal of $200 million in sales by March 31st, 2014. While that target now appears too lofty to most, a more realistic expectation by the street exists. If 2014 can start off with a bang, there could be a chance that Eisai beats the now lowered sales expectations. Arena investors should be confident in that Eisai is heralding Belviq as a big component of its business and that the company does not want to disappoint its own investors.
A big factor with a renewed energy from Eisai may be that an application in Europe could see a renewed focus. Prior to the new Eisai deal, Europe was not in the picture for Eisai. Arena now has a big pharma partner to help on that front. The importance here is that competitor Orexigen (NASDAQ:OREX) is already under application in Europe. From Arena's perspective, the company may not want to lag too far behind Orexigen there. A shortcut into Europe may be applying for Belviq approval for smoking cessation, an area where the risk vs. reward ratio might be easier for the EU authorities to approve.
The bottom line here is that while there is indeed potential, this equity is not absent risk either. That risk may or may not be substantial. One factor in risk assessment is how long it will take an equity to move. If we see sales traction ramping through January of 2014, then the focus on the Belviq sales story becomes much more clear. In simple terms, this may well be a wait and see play for investors. If you are in already that means patience. If you are more cautious and on the sidelines, that means tracking some key sales data as well as any company news on the pipeline. If Belviq is going to take off, then Arena is a 2014 story that will begin unfold during the first 6 months of the year. Right now there is enough gray area for active traders on either side of this bet to have a shot at being right. The key is when the active traders begin to form up on the same side. That is when the fast moves happen.
This week, look for week over week prescription sales to be up by about 30%. That news could be well received, but the reality is that it will simply get the sales pace back on track after the Thanksgiving holiday. That creates a short-term trader's dynamic. Understanding that gives holders and those watching an advantage. Pick your spots, but in my opinion you do not have to be in a rush to get in. Again, the sales will dip again as the year closes out. Stay tuned.
Disclosure: I am long ARNA. I wrote this article myself, and it expresses my own opinions. I am not receiving compensation for it (other than from Seeking Alpha). I have no business relationship with any company whose stock is mentioned in this article.
Additional disclosure: I have no position in Weight Watchers or Orexigen.