Perceptron (PRCP), at Friday's closing price of 3.70, offers a good combination of margin of security and increasing visibility. Tangible book is 6.19, while excess current assets amount to 3.61 per share.
An adequate recovery in the company's business (hammered during the downturn) would put the share price up around 7.50, a doubler from where it lies. It is small - market cap stands at 34 million - but it's sturdy and does business with major players.
Overview – From the company's Investor Fact Sheet:
Perceptron, Inc. (NASDAQ: PRCP) was founded in 1981 as a supplier of high technology, laser-based, non-contact measurement systems for industrial manufacturers to reduce process variation that occurs in the manufacturing process. Today Perceptron has two diverse lines of business – the Industrial Business Unit and the Commercial Products Business Unit.

The Industrial Business Unit includes several product offerings that are used by manufacturers of complex assembled parts to reduce variation that occurs in the manufacturing process, improving quality and reducing cost.

The Commercial Products Business Unit represents an exciting growth opportunity for the Company. Perceptron's first commercial product was initially launched in the spring of 2007. Perceptron sells visual inspection products and a line of accessories through strategic partners. Our visual inspection products are used by electricians, plumbers, heating & cooling contractors, mechanics, and numerous other trades people along with do-it-yourself homeowners. Our products are used to easily perform visual inspections in hard to reach and difficult to see areas without the need for time consuming and costly disassembly or tear out.
IBU (the Industrial Business Unit) sells capital goods primarily to the automotive industry, while the CBU (Commercial Products Business Unit) sells (through partners) to contractors, consumers, or others who need tools for visual inspection.
The automotive industry has experienced well-publicized difficulties over the past several years. Typically the company gets between 25 and 30% of its business from its top four customers, which vary from year to year but have included Ford (NYSE:F), General Motors (GM) and Chrysler. Perceptron, with a strong balance sheet and demonstrated ability and willingness to align operations with demand, has come through this period without undue cash burn.
Revenues expanded nicely, with good earnings, up until the 3rd quarter of fiscal 2009 (the fiscal year ends 6/30), when the automotive business hit the wall. After taking charges and losing money for a few quarters, the most recent earnings was (.05), with two quarters of sequential revenue growth.
Excess Current Assets – As a rule of thumb, I use current assets less 2X current liabilities, divided by shares outstanding. As of the end of fiscal 1Q 2010, that works out to 3.61. Cash and short term investments are 2.47, the rest is inventory and receivables.
Operations – From the 10K:
The Company's manufacturing operations consist primarily of final assembly, testing and integration of the Company's software with individual components such as printed circuit boards manufactured by third parties according to the Company's designs. The Company believes a low level of vertical integration gives it significant manufacturing flexibility and minimizes total product costs. The Company's commercial products are manufactured for the Company by several subcontractors located in China.
This configuration enables the company to deal with fluctuating revenues, since there is not a heavy burden of fixed manufacturing expense that needs to be allocated to a diminishing level of production. It also creates a situation where profits will increase predictably with increasing sales.
Expense Reductions – The company took expense reductions as needed during the downturn, primarily in the form of reduced R&D in North America, due to the problems in the automotive industry. R&D is a function of customer demand, and the reductions taken reflect the reality that North American automotive business will not fully recover to what it was before.
The expansion of the Shanghai office included additional engineers to respond to demand in China.
Outlook/Visibility – From the most recent press release:
Harry T. Rittenour, President and Chief Executive Officer, remarked, "We are encouraged by the recent trends we have seen in our IBU business. While still below our historical levels, we have now seen two quarters of IBU sales growth and IBU sales in the second quarter were the highest since the second quarter of fiscal year 2009. IBU's bookings and backlog were both at the highest levels they have been since the first quarter of fiscal year 2009. In the United States, our sales quoting activity is continuing at a higher level than at any time since the economic downturn began in calendar year 2008. In Europe, we received significant orders in the second quarter from a leading German automotive manufacturer to equip their facilities in Europe, China, and South America with our AutoGauge® system. We also recently announced that, due to increasing sales in China, we moved to a larger office in Shanghai and are in the process of hiring additional engineers to support automated systems projects."

Mr. Rittenour added, "We anticipate that our CBU business segment will begin growing again in the near future. With the recent signing of two new strategic partners, we are actively working to finalize their product plans, develop the first of the new products to be introduced, and begin production. We will discuss these activities further when our plans become finalized."
In the CBU segment the company had two key customers: Ridge Tool (a subsidiary of Emerson Electric (NYSE:EMR)) and Snap-On, the well know maker of automotive mechanics tools. In October last year, Ridge and PRCP agreed to disagree, although there will be some residual sales. At the same time there was a change in management of the division. The new vice president has good credentials in analogous businesses for major employers including Teradyne.
As mentioned in the press release, there are two new strategic partnerships in the works, so it appears that CBU is getting back on track.
Target, Risk and Reward – In this case it makes sense to value the business separately, based on normalized earnings or price to projected revenues, then add in the excess current assets. Developing estimated recovery earnings of .28, I get .28 X 14 = 3.92 + 3.61 = 7.53, round to 7.50. Shares traded over that target and well above it every year from 2003 to 2008. I am investing on the basis that PRCP will reach 7.50 within two years, given a global economic recovery and adequate participation. That would return 40% annualized, certainly an ample reward for the risk involved in paying 3.70 for a stock with a tangible book value of 6.19.
Tactics – This is a small-cap and daily volume runs about 50,000 shares, so patience is required. It could be difficult to buy or sell on demand without getting dinged a little bit on the bid/ask.
I recently took up a starter position and plan to buy on the dips, if any, and monitor press releases and earnings reports. The company provides bookings and backlog information with earnings, and has issued press releases as major sales or strategic partnership agreements are reached. It may be possible to complete the position at a reasonable cost and in possession of more clarity about the trajectory of future revenues: patient accumulation is probably the way to go.
A Digression on XIRR – PRCP is a reheat of a position from last year, and looking back on that I wound up going off on a tangent. Here are my trades from February and March last year: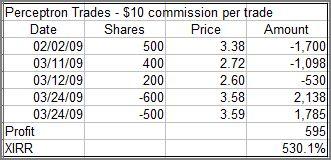 XIRR is the spreadsheet function that computes internal rate of return for an irregular stream of payments. It uses compound rather than simple interest. I advocate using this function to evaluate investment strategies, particularly those that are short-term in nature. The point is, when looking at the XIRR on PRCP, that although the sum of money developed from the trade was not large, the rate of return was excellent.
When I think about why at age 62 I am in stocks, the answer lies in the simple operation of dividing the profits from a trade of this type by the rate of return available on a CD. It just makes a lot more sense to take fewer dollars and run them harder. It's a good idea to keep something in reserve because there will be casualties, but the point remains: the XIRR is huge.
Holding the shares instead of selling them would have resulted in making slightly more money, but the rate of return is much less. In point of fact, whatever I did with the proceeds in March 2009 (I kept them in the market) was better than buy and hold by a long margin.
XIRR as a Decision-Making Tool - Looking at this instance today, not to mention other, less happy memories of round trips, where I let a profit slip between my fingers, I have come up with this idea: when I get a quick move in my favor, to compute the XIRR for the position to date, and then compare that with what I will make if I hold it for another year in an effort to have it reach my target.
The thought process in March last year was not that orderly: there were many value situations out there, more than I had resources to exploit, and my decision at the time was to focus more on small tech and not push my luck playing around with the automotive exposure.
Taking a look at a hypothetical situation, more orderly and controlled, consider the following: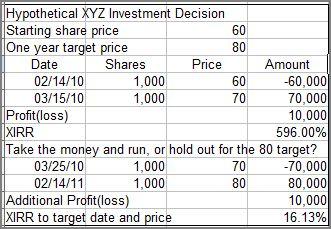 This is the kind of thing that happens: an investor buys XYZ at 60, expecting that it will go to 80 within a year, and is promptly rewarded with a good size move to 70, earning 10,000 profit at an internal rate of return of 596%. To get the remaining 10,000 profit, according to his original target date, he would need to wait 11 months, receiving an internal rate of return of 16.13%. Maybe it is better to take the quick profit: those 60,000 dollars in one month have just done work that would have required 300,000 dollars (or more) sitting in a CD a whole year.
This is about the famous debate: buy and hold versus trading. To me, XIRR is one way of quantifying a situation and trying to make rational decisions.
Summary - Getting back to the here and now: Perceptron might return 40% per year over the next two years; it is trading well under book value; the risk/reward looks favorable.
Disclosure: Author holds a long position in PRCP, no positions in other stocks mentioned