By Paul Goodwin
Every January, I track down the list of the top-performing stocks from the previous year. I like to figure out the stories that catapulted these stocks to such strong performances. And yes, I like to torture myself with the possibility that there was an opportunity there that I might have been able to grab a piece of.
The list for 2009 is a powerhouse; just to make the top 15 in performance terms took a price advance of more than 1,000%!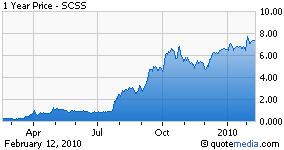 The number one stock of 2009 (the rules require that the stock currently sell for more than $2 and trade more than 50,000 shares a day) was Select Comfort (NASDAQ:SCSS), with a price appreciation of 2,508%! Now that's the kind of performance that gets an investor's attention.
But it's not a simple story.
Back in 2006, SCSS was a perfectly healthy stock, reaching a multi-year high of 29 in April of that year. By the beginning of 2008, the stock had fallen to 7 and by the beginning of 2009, it was all the way down to $0.25 a share. The stock ventured even lower in March, falling to as low as $0.20. The stock finally poked its nose above the magic dollar-a-share level in April, but promptly pulled back through June and July after the company got a $35 million cash infusion (and a $70 million line of credit) from a private equity firm in May.
In late July, after a vigorous round of closing underperforming stores and cutting other costs, Select Comfort scored a big coup with a Q2 earnings report that came within an eyelash of profitability. That was enough for investors, who pushed the stock from 1 to 2 in four days, then to 3 in August, 5 in September and 6.5 by the end of the year.
The other stocks that scored advances of more than 2,000% in 2009 had their own stories, but I can't talk about all of them here. You can look them up: China AgriTech (OTCPK:CAGC), Dollar Thrifty Automotive Group (NYSE:DTG) and Vanda Pharmaceuticals (NASDAQ:VNDA). (If you want a list of the entire top 15, comment below and I'll send it to you.)
While it's fascinating to torture myself with these stories, since I don't have access to a time machine, I can't make money with them. China AgriTech traded as low as 1.12 on January 2, 2009, and finished the year at 27.95 for a stunning gain, but that won't help me the next time I open my online trading account and try to figure out what to do.
I have two lessons to draw from these tantalizing returns.
The first lesson is that there is no substitute for buying well. The top stocks from any year often start from depressed price levels. And if you can pick a penny stock that makes a big run, it can make your year.
Cabot China & Emerging Markets Report, which I write, won't ordinarily look at a stock that trades under 10 (and prefers them to be trading over 13), because the volatility that can drive huge gains can also lead to enormous losses.
But if you can't luck into a low-priced diamond-in-the-rough or jump into the market right at the bottom, you can buy a good stock on a nice pullback of a few percentage points or move back into stocks soon after a recovery begins. Do this, and you can reap big benefits and boost the odds of long-term success.
The second lesson is that, by contrasting these outsized 2009 returns with the more subdued top performers of 2008 (the year's best return was the 415% bump booked by Emergent BioSolutions (NYSE:EBS), you can see that there is no substitute for a supportive market environment.
The deluge that produced the Big Bear Market of 2008 didn't sink every stock. But it turned the odds of success heavily against investors and put a serious brick on the head of even the stars for the year. The best performer from 2008 wasn't even close to making the top 15 for 2009.
Disclosure: No positions