Best Ideas portfolio holding Ford (NYSE:F) put up its best November US auto sales performance in almost a decade. US sales at the automaker advanced 7% in the month, exceeding the mid-5% consensus forecast, while retail sales were up 9% for the period. The F-Series topped 60,000 sales for the seventh consecutive month (it sold 65,501 F-Series trucks in the month, up 16% on a year-over-year basis), and passenger car strength was led by Fusion and Fiesta sales, which jumped 51% and 26%, respectively. Total passenger car sales achieved the best sales result since 2002. November was a month to remember for Ford!
The automaker announced that it would build 770,000 vehicles in the first quarter of 2014 in North America, which is slightly lower than the 784,000 vehicles it built in the first quarter of 2013. We're not reading too much into the slight production slowdown for the first quarter of next year, though we think the move is prudent in light of potential channel stuffing by General Motors (NYSE:GM).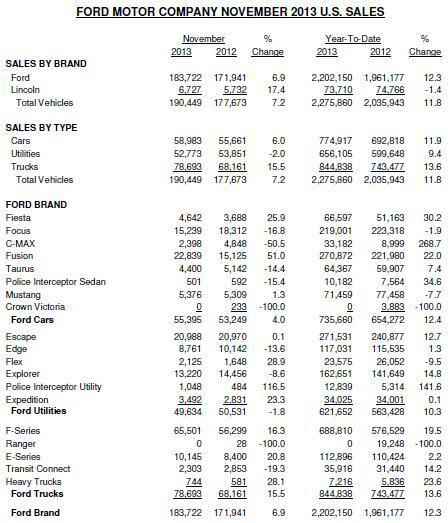 Image Source: Ford
General Motors announced that its US retail sales advanced 19% in November. The automaker's dealers delivered 212,060 vehicles in the US during the month, up 14% and the highest November sales in six years. The performance was roughly in line with our expectations, however. November sales highlights were as follows:
"Chevrolet sales were up 13 percent and retail deliveries were up 20 percent. Sales of Chevrolet cars increased 19 percent, with Malibu up 41 percent, Volt up 26 percent, Impala up 20 percent and Camaro up 14 percent. Retail deliveries of the Cruze were up 39 percent and Impala more than doubled. The Chevrolet Cruze, Equinox and Volt had their best November sales ever. Sales of the Chevrolet Tahoe were up 23 percent, the Traverse was up 21 percent and the Silverado was up 12 percent. GMC sales were up 20 percent, with the Sierra up 22 percent and the Acadia crossover up 108 percent, which keeps it on track for its best year ever. Small business sales were up 38 percent, including a 76-percent increase in pickup deliveries. Commercial fleet deliveries increased 18 percent. Buick deliveries increased 13 percent and the brand is on track for its best year since 2005. November was Buick's 19th consecutive month of year-over-year retail sales growth. Cadillac sales increased 11 percent and retail sales have grown in each of the past 18 months, driven by the success of the new XTS and ATS."
Though we had no qualms with GM's November performance, we're keeping a close eye on inventory levels. At the end of November, 'Days Supply (selling day adjusted)' was 96, with 779,517 units at month end. This compares to 87 'Days Supply (selling day adjusted)' and 727,812 in the previous month end. The higher levels of inventory can potentially be explained away due to seasonal factors (given the holiday season), but the implications on incentive activity cannot be ignored. This may partially explain why Ford is scaling back production a bit early next year. Still, GM believes the industry is moving at a solid 16+ million light vehicle SAAR pace, and it's very difficult not to like the automaker's November numbers.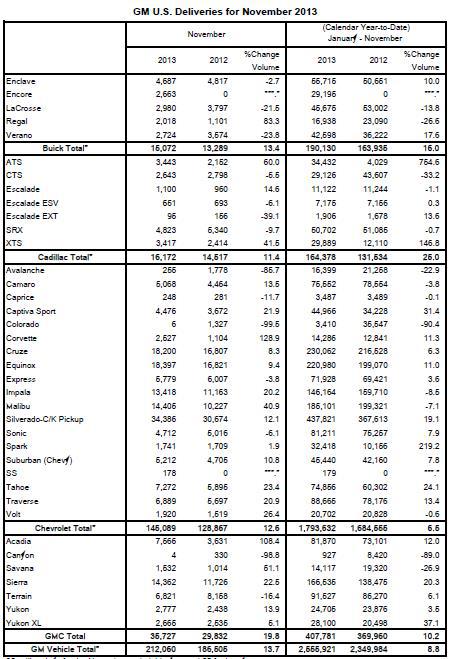 Image Source: GM
Toyota's (NYSE:TM) November US auto sales also came in better than expected. On a raw-volume basis, unadjusted for 26 selling days in November 2013 versus 25 selling days in November 2012, sales advanced 10.1% from the year-ago month versus consensus expectations calling for a 6.5% gain. Total Toyota sales advanced 9.7% during the month while total Lexus sales jumped 12.7%. Camry sales jumped 5.6%, Corolla sales were flat, RAV4 sales leapt 56.5% and Tundra sales advanced 20.5%. The 'Lexus IS' model also performed well.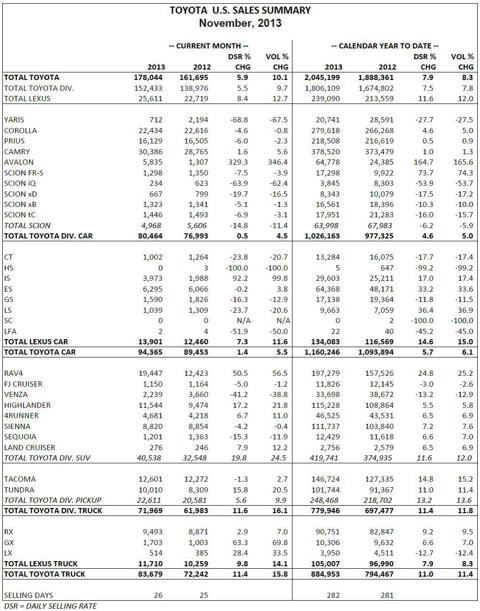 Image Source: Toyota
We found Toyota's commentary about the pace of auto sales particularly encouraging. The automaker noted that November SAAR of 16.4 million was the best month of 2013 and the industry's best sales pace since February 2007. Toyota also noted that it had a great close to the month, which coincided with the holiday weekend. More than 25% of its monthly sales came during that final weekend. At Lexus, sales were up 35% over Thanksgiving weekend compared to last year.
Nissan's (OTCPK:NSANY) November US auto sales flew by expectations. The automaker established a November US sales record, with an increase of 10.7% versus consensus expectations calling for a 3.5% gain. The firm's Nissan division and its Infiniti division set records, with deliveries up more than 10% at both. The monthly highlights were impressive:
"Nissan division posted a November record with sales of 93,376 units, a gain of 10.8 percent from 84,300 deliveries the prior year. Sales of the midsize Nissan Altima set a November record at 24,604, up 21.2 percent over the prior year. Nissan LEAF sales set a November monthly record at 2,003, an increase of 30.1 percent over last year's strong performance. LEAF deliveries are up 141.1 percent in 2013, establishing monthly records each month since the March debut of the 2013 model. Nissan Sentra deliveries were up 62.5 percent to 11,664 units on rising consumer demand and better vehicle availability. Frontier sales increased 54.6 percent in November to 6,003 units. Infiniti today reported record November sales of 13,152, up 10.5 percent from 11,897 units a year earlier. The all-new Infiniti Q50 saw deliveries of 5,891 units in November, one of the strongest ever monthly sales of a single Infiniti model. The Infiniti QX60 7-passenger luxury crossover also had its best November ever, with sales of 3,015, an increase of 19.2 percent."
The rare disappointment during November was Honda (NYSE:HMC), which witnessed declining sales for the month versus consensus expectations calling for a modest advance. Still, the month was Honda's second-best ever November sales, so by no means was the quarter terrible. The CR-V and Acura RDX set monthly records, while sales of the Accord, the firm's best-selling model in November, nudged 3.2% higher during the month. The significantly updated 2014 Civic, which will go on sale in a few days, may push the needle to the positive for Honda. Still, the firm's pace of sales expansion during the month trailed its peers.
Valuentum's Take
November was certainly an impressive month for US auto sales, perhaps the best since the onset of the Great Recession. We liked the performance of Best Ideas portfolio holding Ford the best, but even Honda's disappointment wasn't all that bad. Our biggest concern heading into 2014 is promotional activity and inventory levels at behemoth GM. Honda mentioned how aggressive the market actions were by competitors in key high-volume markets, and we don't think this will subside. However, the pace of auto sales continues to be excellent, and it is much easier for participants to position themselves in a market with strong demand than one with sluggish orders. We continue to hold Ford in the portfolio of our Best Ideas Newsletter.
Disclosure: I have no positions in any stocks mentioned, and no plans to initiate any positions within the next 72 hours. I wrote this article myself, and it expresses my own opinions. I am not receiving compensation for it (other than from Seeking Alpha). I have no business relationship with any company whose stock is mentioned in this article.
Additional disclosure: F is included in the portfolio of our Best Ideas Newsletter.