The end of the year is a great time to buy beaten down stocks that investors are selling merely for tax-loss purposes. In 2013, the markets have enjoyed a significant rally and the indexes and many stocks are trading at or near 52-week highs. This means that many investors and portfolio managers who have large gains could be looking to offset those profits by selling stocks that they have losses on. This creates a huge seasonal opportunity as many beaten down stocks are experiencing extra selling pressure at this time of year which either takes the share price down or keeps it from rebounding to a more reasonable level. Since the price of a stock is dependent on supply and demand, investors who buy these types of stocks while there is an extra supply of cheap shares being created by tax-loss selling, can often see big gains into January. In fact, the pressure of tax-loss selling often starts to end in the last few days of December as most investors and portfolio managers have already made portfolio "adjustments" before the holiday season is underway.
One other reason why beaten-down stocks see an extra supply of stock being sold is because portfolio managers often like to sell stocks that might make their stock picking talents not look so good. For example, at the end of 2012, shares of Hewlett-Packard (NYSE:HPQ) were trading near a 52-week low of about $12, and that stock appeared to have plenty of selling for tax-loss reasons and also because portfolio managers did not want to look "stupid" enough to have bought one of the worst-performing tech stocks of 2012. Therefore, some managers sold it before the end of the year. (This is known as "window dressing" in the industry.) However, this selling pressure was only temporary and Hewlett-Packard shares surged into January and more than doubled by the early part of 2013. Stocks can surge into the New Year because the tax-loss selling pressure ends, the selling pressure for "window dressing" purposes ends, and often times the portfolio managers who did not want a stock to show up in the end of the year portfolio reports, end up buying the stock back in January. All of these forces combined together can create sudden strength in a stock, and that can also fuel further gains thanks to short-covering. When shorts who have often become complacent with stocks that have underperformed, suddenly see strength in a stock, that can make them want to cover before gains are eroded. This is another factor which often contributes to big gains in many stocks in the New Year. Each year, I carefully research stocks that have the right characteristics for a potentially significant rally into January and these are some top picks to consider buying for this strategy now:
Cisco Systems (NASDAQ:CSCO) announced fiscal first quarter earnings and forward guidance just recently and that caused the stock to decline sharply. This leading provider of routers, switches, software and services reported that revenues rose 2%, from $11.88 billion to $12.09 billion. It earned $2 billion, or 37 cents per share, in the quarter which is down 5% from $2.09 billion, or 39 cents per share, a year earlier. Adjusted earnings for the quarter, which exclude acquisition-related costs, stock-based compensation expense and other charges, came in at $2.9 billion, or 53 cents per share. This was actually 2 cents above consensus estimates but comments about softening demand and the potential for a drop in profits this year by the CEO, John Chambers, seemed to cause investor concern.
The recent NSA "spying scandal" appears to be taking a toll on U.S. tech firms like Cisco. The revelations that the Obama Administration allowed the NSA to allegedly spy on allies and many other governments has created a lot of mistrust which might persist for awhile. A Reuters article details how the spying scandal and a U.S. Government decision to not buy goods from China's Huawei Technologies Co., (due to a belief that this telecommunications equipment maker could threaten national security because it has links to the Chinese military), has impacted certain tech companies, it states:
"The U.S. government isn't doing any favors for Cisco," said Evercore Partners analyst Mark McKechnie.

Cisco Chief Executive John Chambers said on a conference call that Cisco and its peers face "challenging political dynamics" in China.

IBM last month reported a 22 percent drop in China revenue, leading to a 4 percent decline in its third-quarter profit. Chief Financial Officer Mark Loughridge attributed the company's problems to the "process surrounding China's development of a broad-based economic reform plan," which caused delays in purchases.

Microsoft executives singled out China as the company's weakest performing area in the world during the September quarter in an October 24 earnings call.
The fact that Microsoft (NASDAQ:MSFT) was also experiencing weakness in China gives the appearance that the soft demand seen by Cisco was not a company-specific issue. Furthermore, it seems like the market might have taken an overly bearish view on statements made by the CEO during the conference call because at a recently held annual meeting, he seemed to put on a more positive tone for the future prospects of this tech giant. This was detailed in a San Jose Mercury News article which stated:
Chief Executive Officer John Chambers told shareholders at an annual meeting that the network-equipment maker will "emerge stronger than ever" from a sales slump by investing in developing markets. "We get the transitions right at Cisco," Chambers said at the meeting, held Tuesday at the company's headquarters in San Jose. "We get knocked down sometimes, but we get up in a way that no other company does."
Potential downside risks for Cisco include the possibility of decreased government spending for IT due to the budget sequester. Cisco also faces stiff competition from a number of companies in the sector such as Juniper Networks (NYSE:JNPR) and others. Some analysts are concerned that Cisco could be impacted by new technologies such as software-defined networking or "SDN" which enables companies to buy cheaper, generic routers. However, Cisco has successfully faced these types of challenges in the past along with significant competitive pressures.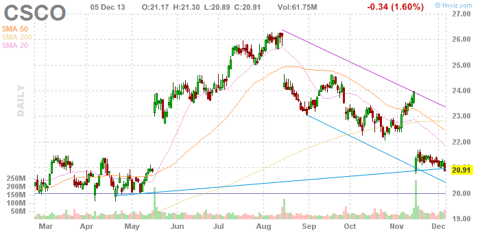 While Cisco is now facing a number of challenges, the stock now looks cheap again and worth buying. As the chart above shows, the stock is still up a bit from the May lows and it is trading right around the light blue uptrend line (which could be a level of strong support). With the shares trading well below the 52-week high of $26.49, it is probably seeing a fair amount of tax loss selling. This could be setting the stock up for a bit of a rebound into January. I don't expect the same type of gains from Cisco shares as I do from other stocks, (especially since it does not have a very significant short interest), but with a cash-rich balance sheet and a solid dividend yield, the downside risks appear limited. Even though the market seems to have viewed the recent earnings report in a very negative light, some top analysts see a buying opportunity. On November 14, Standpoint Research upgraded Cisco shares from hold to buy and set a $25 price target. A well known value investor and hedge fund manager named Joel Greenblatt has been buying Cisco shares. Mr. Greenblatt has written books on investing and he founded the Value Investors Club. He also runs Gotham Asset Management which according to SEC filings, has about 775,000 shares. When top value investors see the opportunity in Cisco, others should take notice.
Cisco's strong balance sheet which carries about $47.39 billion in cash and around $16.25 billion in debt gives it the resources to continue with innovation, and R&D spending. It can also make key acquisitions of any promising new technologies when needed. This huge cash horde also puts the company in a position to raise the dividend and buy back more stock. Along with the recent earnings report, Cisco said it would boost its stock buyback program by $15 billion. While this is not the growth company it used to be, the stock buyback, solid dividend and strong balance sheet are signs it still has upside potential.
It appears that even though Cisco is not a "revenue growth" play, it is becoming a great stock for dividend growth. In March 2011, Cisco initiated a dividend payment of 6 cents per quarter. However, it has raised the dividend three times since then and the quarterly dividend is now 17 cents. That means the dividend has nearly tripled in just the past couple of years. With the rock solid balance sheet and consistent profitability, Cisco appears poised to continue raising the dividend which currently yields 3.2%. The payout ratio is just around 30%, and since the company has significant financial strength, it could keep increasing the dividend. All these factors make Cisco a solid choice for value investors to consider now.
Here are some key points for CSCO
Current share price: $21.28
The 52 week range is $19.16 to $26.49
Earnings estimates for 2014 (fiscal year): $1.98 per share
Earnings estimates for 2015 (fiscal year): $2.10 per share
Dividend: 68 cents per share, which yields about 3.2%
Iridium Communications, Inc. (NASDAQ:IRDM) is a leader in the satellite communications industry. Through a network of approximately 66 satellites, it provides its customer with phone and data services throughout the world. The U.S. Government, military, aviation, maritime and other industries are just some examples of where satellite based communications are required.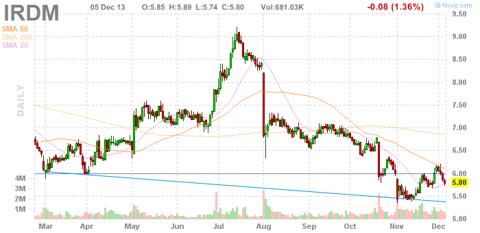 As the chart above shows, Iridium shares spent most of the year trading around $6 to $7 per share, although it surged to more than $9 in July in what appears to have been a short squeeze. In November, the shares went below $6 due to an earnings miss, but more recently the stock has begun to rebound and even went back above $6. The recent multi-day decline in the stock market has pushed the stock back below $6 in what appears to be another buying opportunity. Just a couple days ago, Iridium was trading at $6.21 per share and there is good reason to believe that if it can trade at that level in the midst of tax loss selling pressure, it could be poised to trade for much more than that in January. The current 50-day moving average is $6.12 and the 200-day average is $6.87. Based on this, it would not be surprising to see the stock rebound to nearly $7 per share in January which would give investors gains of about 20%, in just about 3 weeks or so. It is important to consider that shorts will not have the benefit of tax loss selling pressure that this stock is probably experiencing now and that is why we will go into the short interest more fully below. Another interesting point is that time is running out before the year ends because volumes tend to dry up and many traders and other investors are on holidays between Christmas and New Year's. With Christmas Eve falling on Tuesday, the last full trading day (before the holiday vacation season), could be Friday, December 20 for many investors and portfolio managers. That means there may only be about 10 "pre-holiday" trading days left for shorts to benefit from normal levels of market volume and tax-loss selling pressure.
A recent earnings miss whereby Iridium reported profits of 19 cents per share for the third quarter (instead of analyst expectations of 21 cents per share), is what caused the stock to decline. This stock is very undervalued when compared to other telecommunication companies. Earnings estimates are nearly $1 per share in 2014 and a number of analysts are bullish. It's very hard to find a stock that is trading for about 6 times earnings in this market, especially one that is a leader in its industry. If this company were well-known and used by the masses, it would likely trade for a much higher multiple. For example, Sprint (NYSE:S) shares trade for $7, and that company has been posting substantial losses for many quarters. I would much rather own shares of a highly profitable company like Iridium even if it does not have the analyst coverage or name recognition of a company like Sprint. The fact that Iridium flies "under the radar" for many analysts and investors could be a real long-term positive, especially if it becomes a takeover target by a larger firm in this industry.
The other reason why this stock is undervalued is because shorts have put pressure on it. About 18% of the float in this stock, or about 10.6 million shares, is short and that is creating a large potential opportunity for investors who buy now. With average trading volume of about 800,000 shares per day, the short interest is equivalent to about 12 days worth of trading volume. It is easier for shorts to push around a smaller capitalization stock, especially if it is not as well known. However, shorts have made very costly mistakes in many stocks this year. For example, Sprint shares more than doubled off the lows hit in 2012 and shorts were caught in a move that surprised many investors. Earlier in 2013, Iridium shares appeared to have a short-covering rally that took the shares to around $9. Downside risks appear limited at these levels because the stock is trading at a cheap valuation and also because the company has a solid balance sheet with around $270 million in cash and about $936 million in debt. This company has a steady stream of recurring revenues which provides strong cash flow, and further reduces risks. In addition, Iridium recently announced a $400 million contract from the U.S. Department of Defense which guarantees a substantial amount of revenues for the next five years. Iridium's patented technology and satellite network create a "wide moat" (or significant barriers to entry) for other would-be competitors which also reduces risks for investors.
Analysts at Midtown Partners recently initiated coverage on Iridium with a "strong buy" rating and set a price target of $8.50. A recent article details why Midtown Partners believes that Iridium has strong long-term growth prospects, it states:
"Iridium provides global telephony and M2M service via its satellite network. Its service appeals to, and is often required, for those who need communications service in remote areas where land line or traditional wireless service is not available. End users include the military /department of defense, maritime, aviation, oil and gas industries etc. Industry watchers believe this is a $2-3 billion industry, growing at a compounded annual rate of about 10% out to 2017. Importantly, data services, including M2M (Machine to Machine, for remote monitoring and control) markets are likely to be significant growth drivers going forward, as the cost of devices and service has fallen to levels that make widespread adoption more attractive, and applications are more plentiful."
This view outlines why Iridium shares could go much higher in the coming months, however, there is also the seasonal buying opportunity in Iridium now (from tax-loss selling) which could reward investors with solid gains in the short-term. As mentioned above, this means Iridium shares could be positioned for a significant rally into late December and the early part of January as tax-loss selling ends. A move higher could be even more powerful than many investors expect since shorts could start to cover once they see this stock showing more strength, which the end of tax loss selling pressure can provide. For all these reasons, Iridium is a solid candidate for both a short-term rally and for longer-term growth prospects.
Here are some key points for IRDM
Current share price: $5.80
The 52 week range is $5.37 to $9.22
Earnings estimates for 2013: 74 cents per share
Earnings estimates for 2014: 90 cents per share
Dividend: n/a
Data is sourced from Yahoo Finance. No guarantees or representations are made. Hawkinvest is not a registered investment advisor and does not provide specific investment advice. The information is for informational purposes only. You should always consult a financial advisor.
Disclosure: I am long IRDM, CSCO. I wrote this article myself, and it expresses my own opinions. I am not receiving compensation for it (other than from Seeking Alpha). I have no business relationship with any company whose stock is mentioned in this article.