Introduction
Investors have an opportunity to own a wonderful snack company by holding stock in PepsiCo (NYSE:PEP). In the Americas, PepsiCo makes more than half their operating profits from snack divisions like Frito-Lay and Quaker Oats. Frito-Lay brands dominate some of the key snack spaces like potato chips and tortilla chips. However, much of PepsiCo's assets are related to the bottling of carbonated beverages. Judging the entire company based on ROA causes confusion because of the different economics of the various divisions.
These are the takeaways we'll cover:
1. Frito-Lay has a much higher ROA than PepsiCo as a whole.
2. Frito-Lay brands dominate the Americas.
Abbreviations
FLNA: Frito-Lay North America
QFNA: Quaker Foods North America
LAF: Latin America Foods
PAB: PepsiCo Americas Beverages
AMEA: Asia, Middle East and Africa
Asset and income/profit numbers are in millions.
ROA
It is no secret that the ROA for PepsiCo has been down recently.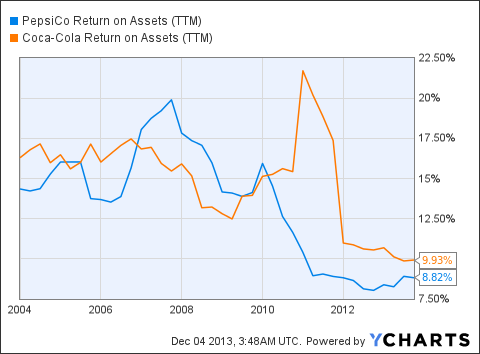 PEP Return on Assets (TTM) data by YCharts
ROA measures management's efficiency using assets to generate profit. However, in 2009 the company made a decision to acquire bottlers despite the fact that this would put a drag on ROA. The company's Frito-Lay North America division has a high return on assets but this is hidden because of all the assets for carbonated beverages. The company is not cheap right now but it is one to watch because of its appealing snack business.
Morningstar shows a 2012 ROA of 8.38% and this is based on the 2012 net income numerator of 6,178 and a weighted denominator of 73,760. This weighted denominator is the average of the 74,638 assets from 2012 and the 72,882 assets from 2011.
In 2009, the company reached a 7.8 billion dollar deal to buy its two largest bottlers. Bottlers are capital-intensive business, so this move put downward pressure on the ROA. The bottling acquisitions were finalized on February 26, 2010 and we're still seeing the results today.
The Wall Street Journal talks about this decision:
Having control of the majority of its manufacturing and distribution system would enable Pepsi to move products more easily from one distribution system to another, giving it a cost and competitive advantage, Nooyi, a veteran deal maker who is now PepsiCo's chairman and chief executive, said in an interview Sunday evening. "This will allow us to really strategically transform the supply chain," she said.
In February of 2010, Coca-Cola (NYSE:KO) made a similar decision agreeing to acquire CCE. Coca-Cola's ROA has gone down as well.
Looking at PepsiCo's operating profits and assets by division, we see that the snacks like Frito-Lay have a much higher ROA than beverages.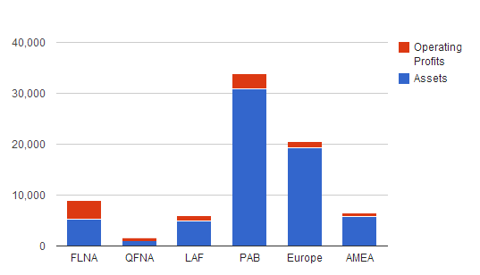 Note that Corporate has 7,492 in assets that are not shown above. The source numbers from the 2012 annual report are below.
2012 Operating Profits:
FLNA: 3,646
QFNA: 695
LAF: 1,059
PAB: 2,937
Europe: 1,330
AMEA: 747
-------------------------
Total division: 10,414
2012 Assets (from the Annual Report):
FLNA: 5,332
QFNA: 966
LAF: 4,993
PAB: 30,899
Europe: 19,218
AMEA: 5,738
Corporate: 7,492
------------------------
Total: 74,638
In addition to having a higher ROA than PAB, FLNA also has better profit margins. In 2012, the division had 3,646m in operating profits compared to 13,574m in net revenue.
Some key investors recognize the magnitude of the non-beverage divisions. The NY Times talks about the fact that Pepsi could be renamed to Frito-Lay:
One major investor, Donald Yacktman of Yacktman Funds, has suggested that PepsiCo rename itself Frito-Lay to reflect the growing importance of that business, and others like Nelson Peltz and Relational Investors have agitated for it to uncouple the snacks business from the drag of its beverage operations.
Dominant Brands
PepsiCo has 22 brands that generated 1 billion or more each in 2012 estimated retail sales.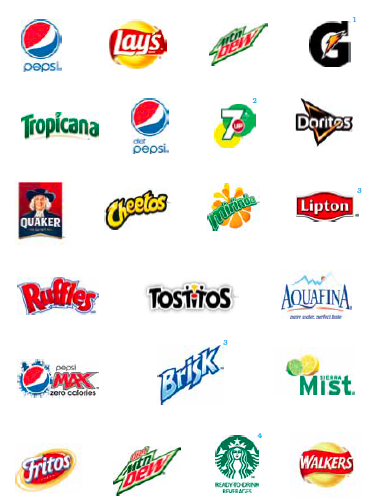 There are some key footnotes to the brands in this image:
1 G Series, G2, Propel
2 Outside the U.S.
3 PepsiCo/Unilever partnership
4 PepsiCo/Starbucks partnership
It is noteworthy that many of the dominant brands above are not tied to the heavy bottling assets.
Frito-Lay is a wonderful division that consistently has the #1 brand in potato chip, tortilla chip, corn snack and cheese snack sales.
Having bought the Pringles brand from Procter & Gamble (NYSE:PG), Kellogg's (NYSE:K) is a competitor but they are better known for cereals than potato chips. Also, the market share of Pringles is far below that of Lay's.
Closing Thoughts
Having a P/E ratio just under 20, PepsiCo is not exactly cheap right now. As such, I have not been adding to my position. However, I haven't been selling it either. Potato chips are not going away anytime soon and the company's dominance in this space makes them an interesting investment. It can be difficult to find sandwich shops like Subway and Quiznos that do not sell Frito-Lay and I've never been to a superbowl party that didn't have Frito-Lay snacks. At some point the market should fully recognize the value of PepsiCo's snack business.
80% of PepsiCo's operating profits come from the Americas, so these divisions should be the focus of evaluations. The company's PAB division can be evaluated against Coca-Cola's operations in the Americas while the FLNA, QFNA and LAF divisions can be evaluated against Kellogg's.
Disclosure: I am long PEP, KO, PG. I wrote this article myself, and it expresses my own opinions. I am not receiving compensation for it (other than from Seeking Alpha). I have no business relationship with any company whose stock is mentioned in this article.
Additional disclosure: Any material in this article should not be relied on as a formal investment recommendation.