Recently, Brazilian miner Vale (NYSE:VALE) rolled out its capital spending budget for 2014. The board approved a $14.8 billion capital spending plan, with the lion's share allocated to project execution. The expected level will be the lowest since 2010, near the depths of spending levels in the Great Recession:
After peaking in 2011 at $18.0 billion, capital and R&D expenditures in 2014 will show a decline for the third year in a row. This reflects the greater focus on capital efficiency, which entails among other things pursuing shareholder value maximization through a smaller portfolio comprised of projects with a high risk-adjusted expected rate of return. This is evidenced by the fact that more than 80% of the 2014 budget for project execution is dedicated to the financing of the expansion of the iron ore production and distribution network, the development of the integrated mine-plant-railway-port coal operations in Mozambique and the Salobo copper and gold project.
Rio Tinto (NYSE:RIO) is also looking to scale back capital spending to bolster economic returns. Through 2015, the mining giant expects to cut spending by $3 billion each year (as revealed by this December 3 slide deck).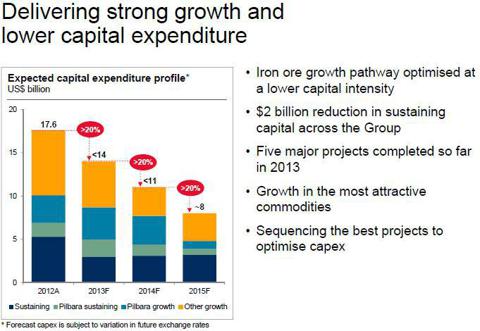 Image Source: Rio Tinto
Valuentum's Take
Though the capital spending cuts isn't new "news" given Caterpillar's meager outlook for mining spending, Vale's and Rio Tinto's budgets reveal caution with investment dollars as the commodity price environment has become increasingly more uncertain. We don't think the worst is over for Caterpillar (especially if the outlook for mining spending from Rio comes to fruition), but we like the prudence we're witnessing across the mining space. Best Ideas portfolio holding Rio Tinto is on favorite mining idea on the basis of valuation. We think shares are worth more than $60 each at the time of this writing.
Disclosure: I have no positions in any stocks mentioned, and no plans to initiate any positions within the next 72 hours. I wrote this article myself, and it expresses my own opinions. I am not receiving compensation for it (other than from Seeking Alpha). I have no business relationship with any company whose stock is mentioned in this article.
Additional disclosure: RIO is included in the portfolio of our Best Ideas Newsletter.