The Russell 3,000 is down about 2.5% year to date, and the average stock in the index is down 1.81%. While the index is only down slightly, just 35% of stocks in the index are up year to date. Even though the ratio of down stocks to up stocks is about 2 to 1, 76 stocks in the index are up more than 25% year to date while 58 are down more than 25%.
Below we highlight the best and worst performing stocks in the Russell 3,000 year to date. As shown, McMoRan Exploration (NYSE:MMR) is up the most at 105%, followed by CITP, HDIX, TUES and RUTH. The most notable name on the list of winners so far in 2010 is probably Eastman Kodak (EK) with a gain of 39.57%.
click to enlarge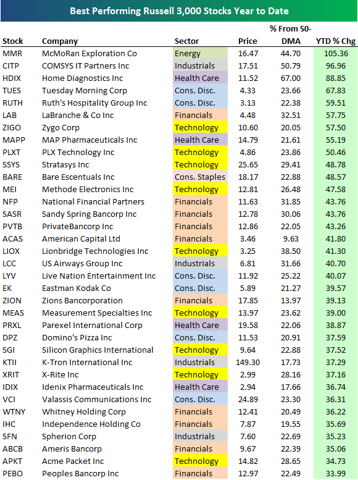 Premierwest Bancorp (NASDAQ:PRWT) is the only stock in the Russell 3,000 that is down more than 50% so far in 2010.