I have written a string of articles ranging from faintly hopeful to negative on the housing market outlook for 2010 based on analysis of data as it unfolded over the past six months. The articles are far too numerous to list, but the two most recent are Housing Market Has a Way to Go at The Street.com and Housing Double Dip: Zillow Says Yes, NAR Can't See It here at Seeking Alpha.

Today James Haggerty has an article in The Wall Street Journal that covers two reports of the pressure on the housing market from distressed property sales. The reports, by John Burns Real Estate Consulting Inc. and Standard & Poor's Financial Services LLC (S&P), both conclude that most efforts to modify loans with easier terms merely delay foreclosures.

Burns estimates that 7.7 million homeowners are delinquent on mortgage payments and that 5 million will eventually go through foreclosure or similar distressed disposition of the mortgage. This is consistent with my estimate of 2.4 million foreclosures to be completed in 2010 with the other half to come mostly in 2011 and 2012. Of course, a strong recovery and significant improvement in employment could reduce these projections.

Burns projects a prolonged bottom in home prices over several years with little further decline. Burns says this projection assumes that mortgage rates will remain relatively low. Sharply higher interest rates would drive down home prices, according to Burns.

The S&P analysis concludes that the "overhang" of cheap foreclosed homes and others being sold at distressed prices will drive home prices lower in 2010. S&P projects that 70% of modified mortgages will eventually default anyway. Mortgage modifications are made by lenders in order to lower the monthly payments for qualified mortgagors who are having trouble with cash flow.

S&P says their study finds many delinquent mortgages are "unredeemable". They say there are indications that increasing use of "short sales" in lieu of foreclosure will occur. A short sale is one where a sale is consummated for less than the outstanding loan value. These can involve shared loss between the lender and the mortgagor or complete write off of the loss by the lender. Complete recognition of the loss by the seller (the homeowner absorbs all of the loss) is much less common, but does occur. In such a sale, the term short sale is sometimes not used. The seller may not even inform his lender, but simply show up at closing with a check.

The housing problem is not a national problem. Burns says the foreclosure inventory overhang is predominantly in four markets: Arizona, California, Florida and Nevada. There are other regions in the country where prices have probably bottomed and where home builders may find a market for new construction.

The national figures are an average of all the good and the bad. Looking at those numbers there is just a hint but not a clear picture of a bottom in the national averages, as seen in the following graph from the article at TheStreet.com three weeks ago.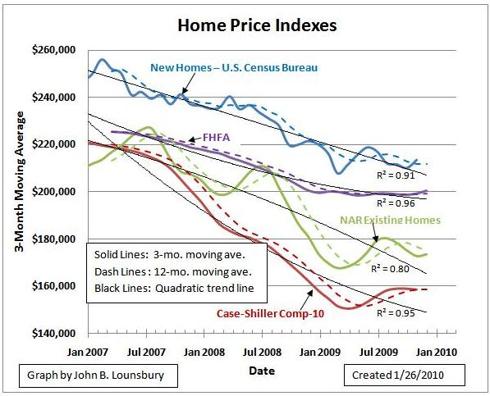 (Click to enlarge)

Based on the data, my projections for the housing market would be compatible with either the Burns or the S&P studies, or somewhere in between. I just can't get more optimistic than that. If you are looking to make money in residential real estate, be prepared to be patient or chose your markets carefully. Better still, do both.

Disclosure: No positions.