Editors' Note: This article covers a micro-cap stock. Please be aware of the risks associated with these stocks.
In mid-September, I wrote an article explaining why Rick's Cabaret (NASDAQ:RICK) wasn't a buy. Since then, the stock has significantly underperformed the S&P 500 by nearly 25 percentage points. Because of the recent sell-off, I am revisiting RICK. Why? The answer is because I really want to own a piece of sin-USA - RICK is the only U.S-based, publicly listed strip club company. I would love going around telling people that I'm a fractional owner of a strip-club chain. When I close my eyes, I think of all the perks associated with being an owner - you know, beautiful women on a private jet. I suppose RICK's CEO, Eric Langan, shares the same vision since he is leveraging up the Company to buy private aircrafts, despite the fact that the Company is already dangerously leveraged.
Before we get into aircrafts, lets take a look at RICK's capital structure:

Click to enlarge
To avoid repeating what I wrote in my previous article, essentially what RICK did was binge on debt to acquire new locations, which explains the company's high revenue growth. From 2007 to the latest quarterly report ending June 2013, the company's debt to equity ratio nearly doubled. As a result, the company is currently in a very precarious financial position: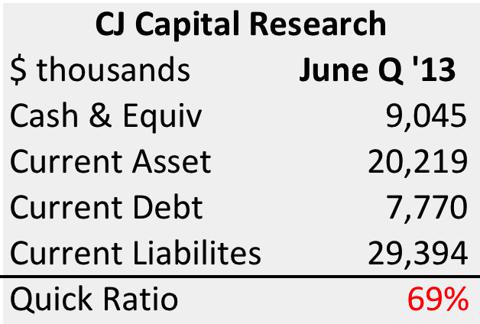 Click to enlarge
RICK's survival is now highly dependent on its free-cash flow and issuance of new debt, leaving the Company highly vulnerable to a spike in interest rates. Since reporting its latest June quarter, the company has issued over $7 million in new 10% Convertible Debenture - that is really expensive, potentially dilutive debt!
Given RICK's financial position, you would think any rational CEO would try to keep costs low and carefully allocate the Company's scarce capital. Not Eric Langan!
In 2008, as reported in RICK's 2010 10-K, "…the Company purchased an aircraft through the issuance of a note payable of $1.6 million."As reported in RICK's 2012 10-K, the aircraft purchasing spree continues:
"In June 2010, the Company borrowed $518,192 from a lender. The funds were used to purchase an aircraft… In February 2012, the Company borrowed $2.7 million from a lender. The funds were used to purchase an aircraft. The debt bears interest at 8.15% with monthly principal and interest payments of $26,386 beginning March 2012. The note matures in February 2017."
And finally, as reported in RICK's June 2013 quarterly report:
"The 2012 period… Without the lawsuit settlement and the loss on sale of aircraft, net income would have been $7.7 million and diluted earnings per share would have been $0.79 in 2012…"

Click to enlarge
RICK's aircraft expenditure is particularly ridiculous considering the company's market cap is currently less than $100 million, the company's current ratio is significantly lower than 1, and that the company's debt to equity ratio has nearly doubled in five years.
In the F1Q13 Earnings Call, Richard Keim of Kensington Management confronted Langan regarding the planes, asking if it is true that he took the plane down to watch the Super Bowl, how he separates personal and business expenses, and if it is rational for a company of RICK's size to own even a single plane. Eric Lagan, RICK's CEO, admitted that he did indeed use to corporate jet to go see the Super Bowl, but it was justified because he took some lawyers and director of operations with him. In response to the implicit accusation that he is inappropriately using corporate resources, Langan gave a non-denial denial worthy of Nixon Attorney General John Mitchell (credit for line goes to David Einhorn): "There are the company guidelines that we have to follow under the federal IRS guidelines". And yes, explains Langan, owning the planes is rational because apparently he was "flying about 200,000 miles on the United", so owning private jets is actually cheaper than flying all those miles first-class. Unbelievable.
I was about to head to a strip club so I could be robbed blind by greedy strippers - but who needs to do that when I could have a business partner like Eric Langan?
Disclosure: I have no positions in any stocks mentioned, and no plans to initiate any positions within the next 72 hours. I wrote this article myself, and it expresses my own opinions. I am not receiving compensation for it (other than from Seeking Alpha). I have no business relationship with any company whose stock is mentioned in this article.