Editors' Note: This article covers a micro-cap stock. Please be aware of the risks associated with these stocks.
The supply of rare earths has been dominated by China for the last several decades. It was not until the recent boom of the hi-tech equipment that are highly dependent on rare earths that this became a potential critical issue for all countries. Use of rare earths fall into multiple electronics categories ranging from your cell phone to the ever-growing popular electric cars. Almost every electronic device that people use daily and much of the essential military equipment that over the last 10 years has become smaller, cheaper and more powerful relies on these materials. With the dominance of supply coming from China this has been an increasing worry for all countries and until recently not addressed by the US government in any way.
That may be changing with the recent bill being introduced by Missouri Republican Sen, Roy Blunt, who is floating a measure to promote the domestic production of rare earth elements as part of the ongoing Defense Department funding. There is no guarantee that this bill will ever become part of the final defense budget but it is a good indication that the potential problem of China restricting supplies is finally getting the attention it deserves as a potential risk to national security.
This article will focus on two domestic rare earth suppliers. The first is Molycorp (MCP), which has been in production for several years and seems to finally be on the cusp of achieving long-term profitable production. The second is U.S. Rare Earths (OTCQB:UREE) who is a start-up company with plans to be in production within 2 years that also holds the world's largest supply of Thorium, which as part of Senator Blunt's bill is critical to future generation nuclear reactors.
US based Molycorp that was founded in 2010 owns and operates the Mountain Pass rare earth facility in San Bernardino County, California. Over that time the company's stock has traded as high as $70 during the rare earth hey days to a low of around $4.5, which it is not far above at this time. While outright speculation in rare earths in early 2011 was the main driver for record highs, the fundamental demand for the rare earth materials has only grown over that time and yet the company valuation is at a record low. A recent article written in November by Jason Bond, Molycorp Multi-Bagger Potential In 18 Months, did an excellent job of explaining exactly why Molycorp is finally on the edge of living up to its potential. Its facilities are close to becoming profitable in the production of rare earths and margins should only improve as rare earth prices increase as demand grows and supply is further restricted by China.
Chart courtesy of stockcharts.com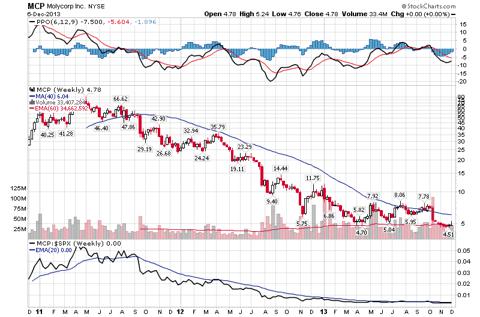 The second domestic rare earth company to be discussed is a developmental stage mining company called U.S. Rare Earths. I first discussed this company in an article back in October entitled In Search Of U.S. Rare Earths' Independence. Since that time the company has been very busy not only proving up resources, U.S. Rare Earths Locates One of the World's Highest Critical Rare Earth Concentrations in its North Fork Properties, but raising money and adding to its already very distinguished board of directors with the addition of General Tommy Franks and former US senator and governor Bob Kerrey. What was not highlighted previously but is certainly worth noting with the recent Blunt bill is its deposit of Thorium. Thorium, which has long been discussed as early as 2009 by industry expert Jack Lifton as a possible alternative for future nuclear plants, was first identified as a resource on these properties years ago when the company was originally named Thorium Energy. Much of this history can be found in an interview done back in 2009 entitled U.S. Rare Earths, Inc.: A discussion with Ed Cowle and Jack Lifton. As pointed out in the interview the company did not change its name because of the lack of Thorium but only because the market was being slow to develop. It seems like that may be changing with many recent articles on the future use of Thorium. A quote from Jack Lifton during that interview is below:
"Now, in the original deposits that I looked at for U.S. Rare Earths, there was very high thorium content, so high that the USGS refigured its chart of where the thorium is in the world, and putting that deposit in there caused the United States Geological Service to declare the Lemhi Pass region as the world's principle resource of thorium, the largest deposit there is."
While rare earths have certainly fallen on hard times in the investor community there are strong fundamentals with these resources to indicate that better times may be ahead. Certainly in the future the devices requiring them will only continue to grow in usage and therefore increase rare earths' demand. The risk associated with relying on a foreign supplier has been known for years and at some point may become a much bigger issue. Whether the Blunt bill will ever become a part of the Defense budget is not known. If not that bill then another bill titled Critical Minerals Policy Act of 2013, was put forth by Senate Energy and Natural Resources Committee Chairman Ron Wyden (D-Oregon) and the Ranking Member of the committee, Lisa Murkowski (R-Alaska). This proposal also indicates a new focus in this area and might especially help U.S. Rare Earths. One of the key provisions in the bill is the following:
Avoid duplication, prevent unnecessary delays in the administration of applicable laws and issuance of permits and authorizations necessary to explore for, develop and produce critical minerals, and to construct critical mineral manufacturing facilities in accordance with environmental and land management laws;
Both of these stocks offer investors an avenue into investing in the rare earth space. Molycorp is finally ready to profitably produce rare earths and U.S. Rare Earths has both the assets and political connections to make it into production in the next several years. While the upside may not be the same as a few years ago with the speculation driving huge valuations there is a real good chance these stocks could easily double in 2014 based on increased materials demand and reduced supplies out of China.
Disclosure: I am long OTCQB:UREE. I wrote this article myself, and it expresses my own opinions. I am not receiving compensation for it. I have no business relationship with any company whose stock is mentioned in this article.