Progenics Pharmaceuticals (NASDAQ:PGNX) is an interesting biotech speculative play moving forward into the New Year. I have a target price of $6-7 in advance of ASCO 2014 at the end of January. This would represent the potential for over 50% upside from the close as of December 6th 2013. I would consider the following factors as reason to be expecting a strong run-up move in the coming months.
1. Multiple Near Term Clinical and Regulatory Catalysts:
1. Relistor (Partnered with Salix Pharmaceuticals (NASDAQ:SLXP)) - The FDA has scheduled a tentative advisory panel meeting in March (10th - 11th) to review an sNDA for Relistor expanded usage in OIC (opioid induced constipation) chronic pain. The FDA has indicated it will take action within 30 days of this panel. Rejection will mean Salix and Progenics will have to conduct additional trials the FDA requested in the last CRL received in June 2012. In my experience trading biotech stocks there is not a stronger pre-event catalyst than an FDA advisory panel. Progenics could receive up to $290 million in regulatory and commercial milestone payments from partner Salix pharmaceuticals. $290 million is higher than Progenics' current market capitalization. Relistor alone represents the most significant catalyst for Progenics moving into 2013.
2. PSMA ADC - "an antibody-drug conjugate that targets prostate specific membrane antigen, a protein expressed on the surface of almost all prostate cancer tumor cells and in the neo-vasculature that supplies many other tumors." On December 6th Progenics confirmed that Phase 2 results of PSMA ADC would be presented in January 2014 ASCO (Jan 30th - Feb 1st).
3. MIP 1404 - As of December 6th Progenics announced that prostate cancer was correctly identified in 8/8 patients tested in a recent Phase 1 study. Investors will be watching closely for the efficacy of the Phase 2 study being presented in ASCO. MIP 1404 is "a targeted radioactive substance that visualizes prostate cancer. The expression of PSMA by tumor cells offers the opportunity to "visualize cancer" by imaging 1404's radioactive payload. This is designed to allow for improved detection and staging, more precise biopsies, and a targeted treatment plan that utilizes active surveillance as a disease management tool." It has been estimated that close to 240,000 new cases will/have been diagnosed in 2013 (cancer.org).
4. Azedra - This is "a late-stage, ultra-orphan drug candidate to treat malignant pheochromocytoma, a rare adrenal gland tumor." Progenics recently confirmed the path forward with a Phase 2b trial under SPA (with FDA fast track designation). Although clinical results here are longer down the road in late 2015 I expect to see increased interest from the market as clinical development progresses.
Progenics full pipeline is shown below (Progenics.com):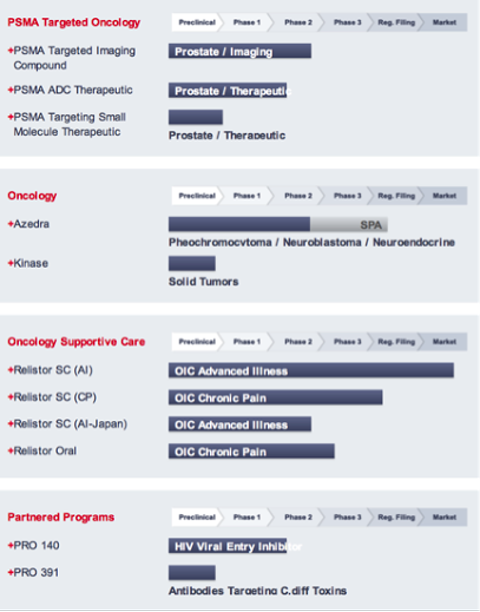 More details of clinical trials can be found on clinicaltrial.gov. Simply search under the term "Progenics" to see status of all trials ongoing.
2. High Institutional Ownership
Below shows the top 10 institutional owners as of the end of the September quarter 2013 (Source: cnnmoney.com):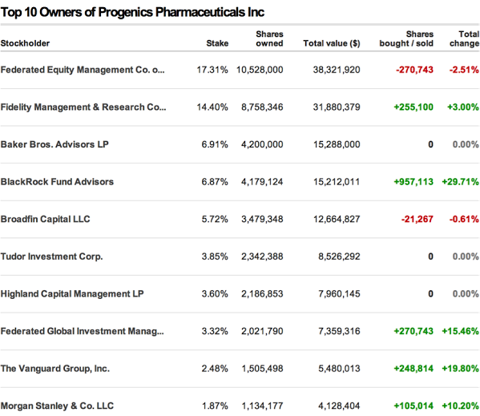 Institutional ownership stands at 82.10%. As shown above, five of the top ten institutional owners increased their holdings. Four institutions increased holdings by over 10% as of the end September 2013. Two of the ten reduced their holdings although this reduction was fractional to the relative increases of the other institutions as shown.
3. Sufficient Cash Position
A diminishing factor to the run-up of speculative biotech stocks in the past has been a poor cash position prior to an upcoming catalyst. Investors for obvious reasons often avoid opening positions if the cash position is considered low and an offering is imminent. Intelgenx Technologies Corp (OTCQX:IGXT) is a good example of this - the company has indicated that it will conduct an offering and the stock price movement has been stagnant in recent months despite a near term PDUFA catalyst in Q1 2014. Progenics recently reported, "We ended the quarter with cash, cash equivalents and securities of $77.8 million." This minimizes the risk of any cash raises prior to the upcoming catalysts indicated.
4. Historical Precedence
Progenics traded up to $11 in advance of the last FDA PDUFA sNDA Relistor decision. It did reach a new 52 week high in advance of the date. Given the incremental catalysts as indicated there is good historic precedence to consider here. See below where PGNX traded prior to the CRL received in 2012: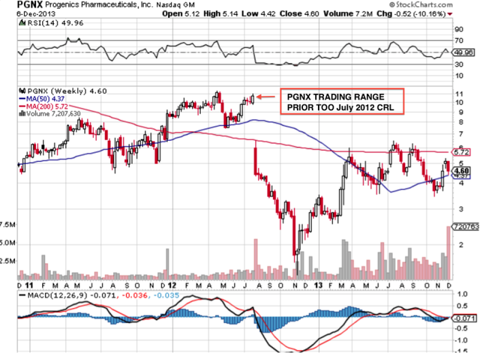 (Source: stockcharts.com)
5. Increase in Chatter
As with all speculative biotech, expect an increase in 'chatter' across digital forums in coming months. The increased interest should be a further driving force for stock price appreciation especially given the low float available to trade. It is worth keeping an eye on StockTwits and Twitter social feeds to monitor the ongoing state of investor sentiment here.
6. Analyst Upgrades
Brean Capital recently issued an upgraded price target from $9 to $11 a share. With confirmation of AZEDRA clinical progression, Phase 1 success in MIP -1404 and the upcoming catalyst dates discussed, further analyst upgrades could follow very soon. This should boost upwards momentum in Progenics' stock price.
Overall these are 6 important factors that I believe will contribute to near term price appreciation prior to the ASCO data presentations and the FDA Panel for Relistor.
Technical Viewpoint
From a technical perspective PGNX is set up well here. The positive data for MIP - 1404 reported on December 6th should initiate a near term breakout. More recently shares have been on a downtrend but I expect movement upwards to resume this week. The latest share price movement is shown on the below daily chart: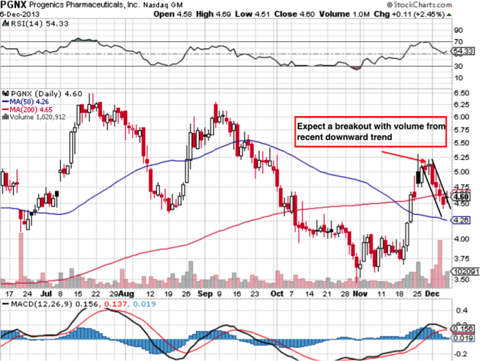 (Source: stockcharts.com)
I do not advocate holding through events and would suggest selling any position before ASCO in January. I would not be surprised to see $PGNX featured soon on Roberto Pedone's (thestreet.com) "5 stocks poised for breakouts." This is a frequent occurrence for biotech stocks under $10 with upcoming catalysts showing increases in underlying volumes traded.
Progenics is a highly speculative investment with significant risks ahead - the most important of these the potential rejection of the Relistor sNDA in March. However this is why I advocate buying now and selling pre-ASCO to minimize risk.
Disclosure: I am long PGNX. I wrote this article myself, and it expresses my own opinions. I am not receiving compensation for it (other than from Seeking Alpha). I have no business relationship with any company whose stock is mentioned in this article.