With the unprecedented level of intervention of central banks within the global economy, how Janet Yellen handles her promotion to becoming the Chairwoman of the Federal Open Market Committee will greatly alter the duration of the current global asset bubble. However, historical transitions in the changing of Fed chairmen altered market performance in a less central bank conscious trading environment. Since the appointment of Paul Volcker in 1979, stock market reactions to Fed promotions have formed an interesting pattern that may provide insight into future stock performance (NYSEARCA:SPY).
When Volcker was appointed on August 6, 1979, the S&P 500 was at 106. Inflation was high and stock market struggled net of the high inflation that plagued the 1970′s. The market initially rallied to as high as 140 by October 1979 (not as impressive as it sounds in context of double digit annual inflation). Shortly after, the market begin to sell off gradually until bottoming out in 1982 at 102 despite an improving economy. This sell off can be attributed to rising real interest rates choking economic growth and increase required rates of return on equity in the face of a high rate investment climate. After the bottom, the market consistently rose until he was replaced by Allen Greenspan in 1987. Political pressure from the Reagan administration and Congress to ease monetary policy was partly responsible for the subsequent rally as stock markets rose with the decline of real interest rates during this period.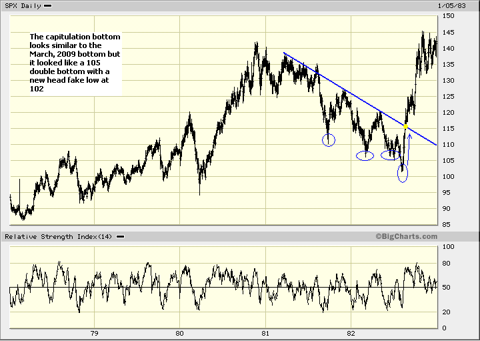 Source: BigCharts.com
The market's reaction to Greenspan's tenure resembles the performance of stock's upon the appointment of his predecessor. The S&P 500 rallied from 323 to 335 from Greenspan's August appointment to October. Shortly after, the market fell by over 25%, but at a much swifter pace due to the 1987 crash. After that, markets would go on to rally upward as Greenspan cut rates harshly after major market corrections. However as seen in the chart below, he failed to being rates back up to previous levels upon economic recovery. The result was steadily increasing ease of borrowing for speculators and banks which lead to declining lending standards, asset bubbles, increased income inequality, and market instability that are the consequences of artificially suppressed interest rates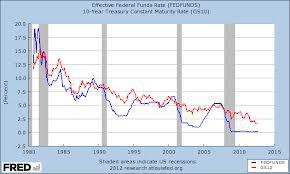 Bernanke's appointment also started with a hot start for stock markets. However the bull run lasted for twenty months instead of just two months after his appointment. Starting in October 2007, the markets unravelled with the subprime financial crisis until quantitative easing was launched. Ever since, the Bernanke put has keeping markets surging since March 2009. Similar to his predecessors, Bernanke faced severe political pressure to ease monetary policy to reflate asset prices after making steps early in his tenure to slow down a prior asset bubble and inflationary pressure.
All three of the previous Fed chairman transitions share commonalities that point to some insights related how markets will react to Janet Yellen's ascent to the head of the FOMC. First, it shows how Fed officials lag the market in terms of setting the right price for capital and lending which results in disruptions and mispricing of assets during economic booms and busts. However, more importantly it shows a tradeable behavioral pattern of Fed Chairmen. First, initial excitement caused the new appointee's more dovish stance on monetary policy than his predecessor, causes markets to rise. Then the new Fed Chair is likely to use the beginning of his or her tenure to correct the excess in inflation or exuberance of asset prices caused by easy policies of the Fed predecessor. The market reacts poorly to tightening and sells off to a degree far greater than the Federal Reserve or any market participants (apart from a few extreme bears) can anticipate. Politicians and large banks with influence complain about the Fed's policies and instigate pressure to fire the current Fed Chairman. Examples of this include Reagan's complaints to Volcker, the reaction towards Greenspan after the 1987 crash, and Cramer's famous anti-Bernanke rant in 2008 about keeping policy too tight. Acting out of job preservation disguised in need to stimulate employment, the Fed caters to political pressure and eases policy. The policy remains easy until the Chairman retires in order to avoid the risk of another crash tarnishing his legacy.
This viewpoint may sound cynical towards the independence of the Federal Reserve bank, but this pattern nearly perfectly matches the actions of the past three Federal Reserve Chairman's during their time in office. With the exception of Volcker, the President has consistently appointed Fed chairman that were perceived to more dovish This irresponsible behavior has resulted in several negative long run economic consequences which I will cover in future weekly letter, but also provides us Janet Yellen's playbook. First excitement about her reputation as a dove will give markets a blow off top. Then Yellen will realize the excesses of her policies and tightening through tapering QE (or even possibly raising rates) to correct the Bernanke bubble. The market will predictably plummet and politicians will pressure her to "stimulate the economy" or get fired. Finally, she caves in and will increased easing even beyond the $85 billion per month at the peak of Bernanke's tenure which this announcement will be an excellent buying point for both stocks and hard assets. She will then keep the ultra loose monetary policy until the Federal Reserve system collapses due to a loss of confidence and/or currency crisis, unless if there is enough time for her to punt the problem to the next guy four to eight years from now. I have my doubts on how much longer the Fed will be able to control the bond market and inflation expectations under these conditions, but this game plan for Yellen can help our readers make money. The bottom line is to short stocks and bonds beginning no later than March of 2014, and ride the momentum down until Yellen caves into political pressure and then buy on the way back up. Since this "recovery" and QE fueled rally has lasted already over four years, I expect the Yellen's honeymoon period from investors to be closer to the length of Greenspan and Volcker, than the one for Bernanke.
Disclosure: I have no positions in any stocks mentioned, and no plans to initiate any positions within the next 72 hours. I wrote this article myself, and it expresses my own opinions. I am not receiving compensation for it (other than from Seeking Alpha). I have no business relationship with any company whose stock is mentioned in this article.