ISIS Pharmaceuticals (ISIS) and Alnylam (NASDAQ:ALNY) are the two largest of the antisense therapeutics companies by market cap at $4.5B and $4.0B respectively. After a review of their pipelines and technology platforms, I wondered why the small difference in market cap. I read SA author Pearson's February 25, 2013 article on ALNY which provided a very good case for impending collapse ALNY's stock price, but it has nearly tripled again since that article appeared. I wrote this brief article after reviewing annual reports of both companies in the hope of understanding the apparent mis-pricing of ALNY stock, particularly when compared to that of its ally ISIS.
ISIS. ISIS is at the forefront of an antisense renaissance. After three antisense failures a decade ago (fomivirsen,aprinocarsen and alicaforsen which is now an orphan drug licensed to Atlantic Pharmaceuticals LTD), ISIS now has a wide lead in antisense therapeutics with a pipeline of 28 drugs and 40 trials listed on the ClinicalTrials.gov website, 10 of them actively recruiting. In January 2013, the FDA approved antisense drug KYNAMRO (mipomersen) for homozygous inheritance of hypercholesterolemia which affects about 6,000 people globally. ISIS is also working on another antisense drug for patients with dangerously high triglyceride blood levels, others for inflammatory diseases, others for diseases associated with excessive or deficient blood clotting, and for multiple other conditions including 5 antisense drugs for cancer.
One of the major barriers of antisense has been the systemic delivery of antisense oligonucleotide to target organs and into cells where it antagonizes one of several forms of RNA: messenger or mRNA, long non-coding or lncRNA, and most recently micro- or miRNA. ISIS's design of antisense drugs is less complex, more rapid and more efficient than traditional drug discovery. ISIS designed its generation 2 and 2.5 drugs to overcome barriers of drug delivery to the target. In contrast to classical RNAi with double-stranded small interfering siRNA, which required complex lipid formulations for systematic delivery, ISIS single-stranded synthetic polymers are simple and interoperable, i.e. same platform which works well for one will work for the next discovered RNA target sequence for which they design an antisense drug.
Although currently generating only about $100M in yearly revenue, ISIS estimates it has the potential to earn $5B in future milestone payments for current partnered programs; it has nearly doubled assets on its balance sheet over the past 12 months.
ALNY. Alnylam has a proud pedigree - one if its founders, Thomas Tuschl, was first to publish the use of synthetic small interfering siRNA for effectively silencing a gene by suppressing its mRNA.
According to its 2005 annual report, ALNY strategy was a 5x15 program (5 drugs by 2015) consisting of collaborative RNAi programs for 1) Parkinson's disease, 2) spinal cord injury, and 3) cystic fibrosis added to the programs for 4) respiratory syncytial virus RSV and 5) age-related macular degeneration AMD, with particular focus on the latter. Only the RSV program advanced a drug into clinical trials; that drug did not gain FDA approval and has been partnered to an Asian pharmaceutical for further development; Cubist had the rights but opted out. In its 2012 annual report, the 5 core clinical and preclinical programs were for 1) amyloid, 2) hemophilia, 3) acute intermittent porphyria, 4) hypercholesterolemia, and 5) alpha-1-antitrypsin deficiency, all different diseases than those targeted in 2005.
ALNY currently has 13 trials listed on the ClinicalTrials.gov website, but only one RNAi drug in active trials (Phases I, II and III): its TTR formulations for familial amyloid. ALN-TTR02 employs a 2nd generation lipid nanoparticle LNP delivery technology. The results of its Phase I trial were published in the August 29, 2013 issue of New England Journal of Medicine, and demonstrated the safety and sustained (28-day) efficacy of the drug in knocking down transthyretin production in the liver of patients with familial amyloid polyneuropathy.
Total assets on ANLY balance sheet have declined from $555M in 2008 to $288M in 2012. PP&E listed on the balance sheet valued at $21M compared to $91M for ISIS. 2013Q3 balance sheet shows net current asset value down to $50M from $91M prior year; 3-mo./9-mo. revenues down to $9M/$36M from $17M/$58M prior year, and profits further in the red: "We have incurred significant losses since we commenced operations in 2002 and expect such losses to continue for the foreseeable future. At September 30, 2013, we had an accumulated deficit of $563.9 million."
ALNY claims intellectual property including over 150 patents licensed from ISIS granting ALNY co-exclusivity for double-stranded dsRNA the weapon of RNAi now considered classic.
ALNY IPO of 7.75M shares was in 2004. Share count grew from 42M in 2009 and 2010 to 43M in 2011, to 52M in December 2012. Since January 2012, ALNY share count has increased to 63,236,000.
The figure below compares enterprise value, TTM Gross profit, and year over year EPS growth for 2013.

About $4B could buy either one of these two companies, but for ISIS you would be paying for almost triple the revenue, smaller gross losses, and vastly greater growth in earnings, and based on pipeline already discussed, vastly greater future earnings.
Conclusions. Compared to its ally ISIS:
ALNY generates about 1/3 the revenues and those are declining yearly since 2009: $101M compared to $100M in 2010, $83M in 2011, and $67M in 2012.
ALNY has less than 1/5th the drug pipeline and 1/4th the PP&E, hence less potential to generate revenues in the future
ALNY is minting more shares because it is further in the red with negative gross margins and EPS, and the trend is in the wrong direction
For nearly the same enterprise value ($3.9 vs. $3.7 million) which would you buy?
How many profitable companies sport an enterprise value:revenue ratio of 83, and how many fewer unprofitable ones? I found on a stock screen only 11 of 124 biotech companies with higher valuations. I believe that in the near future, ALNY will take a place among the companies listed in the 2nd figure whose stock prices have fallen more than 50% from their 52-week highs.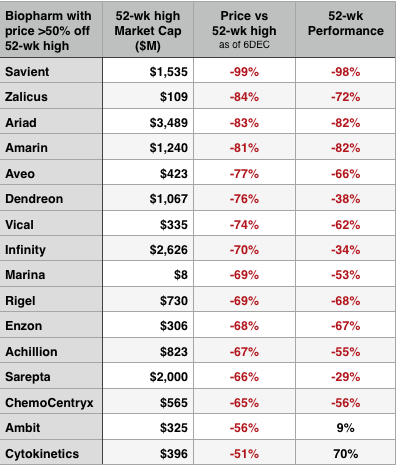 Biotech sector valuation is extreme: P/E = 358 based on this year's aggregate earnings. I hope the micro-bubbles that comprise the big one deflate over a long period of time and not a short period in crisis fashion.
Disclosure: I have no positions in any stocks mentioned, and no plans to initiate any positions within the next 72 hours. I wrote this article myself, and it expresses my own opinions. I am not receiving compensation for it (other than from Seeking Alpha). I have no business relationship with any company whose stock is mentioned in this article. I do not intend to ever have a financial interest in either ISIS or ALNY.