As a long-time follower of Warren Buffett and Charlie Munger, I can't say that the auto industry is the best place to invest your money over the long-term. Automakers are highly susceptible to the booms and busts of the economy, as well as their own inability to control production and hold the line on incentive spending. In other words, I don't want to own an automaker for 10 years and forget about it
However, I think Ford (NYSE:F) presents a very unique valuation opportunity. While it doesn't have the enviable revenue growth of Tesla (NASDAQ:TSLA) or quite as strong of a balance sheet, I think Ford can conservatively reach $24 next year while increasing dividends and potentially repurchasing shares.
Driver #1 - The US
The most bullish news for Ford shareholders, as well as the rest of the domestic auto industry, is the return of the US auto market. In spite of a small dip in both September and October, US auto sales rebounded struggling in November, posting a SAAR (seasonally adjusted annual rate) of 16.1-16.3 million units. Even before the robust November, Edmunds called for 2014 sales of 16.4 million units-up from the 15.5 million projected in 2013. That's an incremental addition of nearly 1,000,000 units, and it would be the best sales figure in the US since 2007.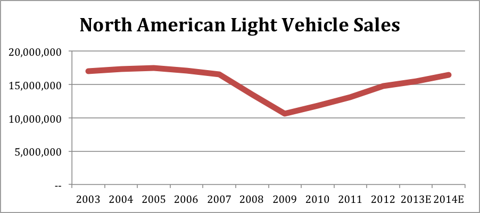 If we compare the 16.4 million-unit projection to historical data (shown above), it is easy to see that 16.4 million units is a very realistic, if not conservative, estimate. This means that without increasing market share in the slightest, Ford could see unit volume growth in excess of 5%. Because of the lackluster sales from 2008-2012, I think the US can sustain sales in excess of 16 million units for at least the next two years.
However, I think there's more to Ford's US business than simply favorable secular trends. Retail sales jumped 9% year-over-year at Ford, with the increasingly popular Fusion's sales soaring 51%. This model in particular is really clicking with consumers.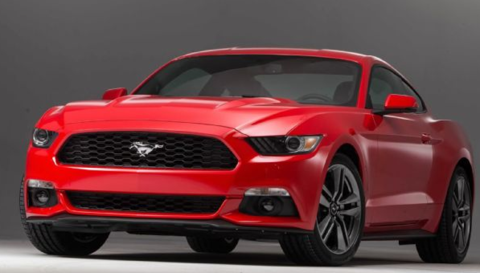 The new Ford Mustang clearly takes some design cues from the Fusion (shown above), and its 50th anniversary redesign includes some improvements that should make it a relatively more attractive vehicle. Sales of the Mustang have been lackluster in 2013, down 7.7% year-to-date, and I expect Ford will experience a rise in Mustang sales in 2014. This could help the company pick up some market share.
Another wonderful development for Ford: rational behavior. While GM (NYSE:GM) continues to have above-industry incentive spending, Ford seems to have held the line with regards to incentives, which helps explain the company's superior operating margin.
More importantly, Ford announced a 2% production cut for the first quarter of 2014. The company classified it as a better way to match supply with demand-a rare display of rational behavior in the auto industry. Of course, Ford has the capacity to boost production if need be, but it does not want to stuff its dealer channel with inventory that can't be sold in a timely fashion. I think this move will be positive for profitability.
Driver #2 - Clarity on Mulally
One of the most frustrating overhangs on Ford's stock as of late has been the future of Alan Mulally. It seems pretty clear that Mulally is at least flirting with the idea of leaving for Microsoft. Mulally has cemented a legacy, as a legendary CEO at Ford, and his presence at Ford will be missed. He successfully saved the company from the brink of extinction while creating a positive company-wide ethos.
However, I think Mulally's done such a fantastic job transforming Ford that his improvements will last beyond his departure. For the record, he's expected to retire within the next year, so it shouldn't matter if he leaves to sit on the beach or oversee a tech giant in Washington.
The market needs to see that Ford can function without Mulally. Luckily, COO Mark Fields seems poised to run the company in the event of Mulally's departure. Fields was the man tapped to develop the One Ford plan, and he ran Ford Americas while it experienced its successful restructuring. In my eyes, it is reminiscent of the Green Bay Packers having Aaron Rodgers to replace Brett Favre.
Once Mulally stays, goes to Microsoft, or retires, the cloud of uncertainty regarding Ford's management team will be removed.
Driver #3 - Improving International Business
The underrated driver of cash flow going forward at Ford is the global opportunity. With Europe mired in recession, European auto sales have struggled mightily. Ford's lost over $1 billion in Europe year-to-date, but sales actually improved during the third quarter. Like in North America, Ford's European business has undergone a significant restructuring effort. When sales recover, Ford Europe will be leaner and far more profitable.
Ford has consistently noted that Europe will be profitable by mid-decade-which is only two years away. Just as US growth starts to slow, Europe will likely drive further increases in profitability at Ford.
China presents another compelling opportunity for Ford. Sales volumes are up 51% year-to-date in the burgeoning region, and Ford will easily sell more than 1,000,000 units in the region next year. By 2015, Ford will expand its reach to 15 different vehicles in China. With heavy investment in production to continue over the next decade, Ford's sales contribution from China will grow briskly. Mulally noted earlier this year that 40% of Ford's sales will come from China in 4-5 years. Ford's going to be a huge profit driver that is in a secular bull market for automotive which will help make Ford a larger, more profitable entity.
Driver #4 - Buybacks and Dividends
Charlie Munger famously loves cannibals, also known as companies that eat themselves by buying back stock. Primed with increasing net cash, I think Ford is well positioned to become a cannibal.
Why? At this point, Ford pays a quarterly dividend of 10 cents per share. In order to maintain optimal financial flexibility in a cyclical industry, it would be beneficial for Ford to not commit itself to continually raising dividends. Instead of boosting the quarterly cash commitment, I'd like to see the company buy back stock. This way the company only spends cash when it is deemed appropriate. More importantly, I think the stock looks quite cheap at this time, so a buyback would create lots of value for shareholders.
If the company opts against repurchases, I would prefer the company pay special dividends with excess cash. The company avoids creating a quarterly cash commitment. Shares of a company generally take a hit when the dividend is cut, so a special dividend eliminates this risk.
Regardless, it is abundantly clear to me that free cash flow is going to increase at Ford and shareholders will be rewarded.
Downside Risks
With recent macroeconomic indicators improving, I think the near-term risks at Ford are mostly industry related. Though I mentioned recent rationality in business practices, the auto industry remains highly competitive and prone to market share grabs from competitors. GM, for instance, continues to provide strong buying incentives that can hamper profitability.
Another potential hit to profitability could be pickup truck sales. The Ford F-Series is not only the highest selling vehicle in America, but it is also Ford's most profitable vehicle. With upward pressure on interest rates likely, housing construction growth could be lackluster. This in turn would hurt demand for the highly profitable Ford F-Series.
Ultimately, I think pent-up demand from years of underinvestment from contractors will be enough to compensate in the event of weak construction growth.
I'm looking for $24
My $24 price target is based on a conservative multiple of 12 on $2 of earnings in 2014. My earnings estimate is slightly above the Street's, but I think the Street is too negative on Europe and not bullish enough on the US. I prefer to value a cyclical company like Ford conservatively, but I could see shares touching $26-$28 if the European recovery accelerates at a better pace.
Mulally or not, Ford is one of the best large cap investment opportunities heading into 2014.
Disclosure: I am long F. I wrote this article myself, and it expresses my own opinions. I am not receiving compensation for it (other than from Seeking Alpha). I have no business relationship with any company whose stock is mentioned in this article.
Additional disclosure: This article is for information purposes only, and it does not constitute any sort of investment recommendation.