Although in pre-markets and early morning trading we are seeing red, it seems that we may see green based on the Volcker rule vote and guidelines and the news coming out of the tech stocks. First the financials are all up nicely in the current market and showing signs of strengthening in some cases which could be enough to spark a rally in the overall market. Also of interest is the continued bullish sentiment we see in the tech names, and the analyst comments that continue to be bullish on names that have already risen dramatically.
There are a few sectors we like a lot right now and want to be overweight in heading into 2014. Financials are one, but so too are technology and biotechnology. We have laid out the case for financial stocks and biotechs before, so today we want to take a look at what has been going on lately in techs.
Chart of the Day:
We continue to believe that the Nasdaq is going to head higher next year with outperformance taking place in both technology and biotechnology stocks. The moves heading into the end of the year by certain big name tech stocks seems to reinforce our thinking and as both of these sectors are showing strength we wonder whether we need to reposition portfolios to have ever larger exposure to the Nasdaq as a benchmark as opposed to the Dow Jones Industrial Average or S&P 500.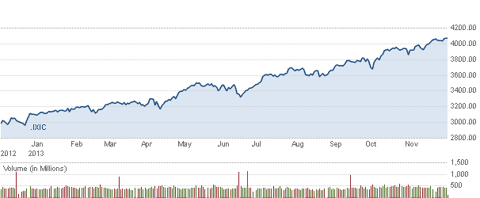 Click to enlarge
(Click to enlarge)
Source: CNBC
We have economic news today and it is as follows:
Wholesale Inventories (10:00 a.m. EST): Est: 0.3% Actual: 1.4%
JOLTS-Job Openings (10:00 a.m. EST): Est: N/A Actual: 3.925 M
Asian markets finished lower today:
All Ordinaries -- down 0.02%
Shanghai Composite -- down 0.03%
Nikkei 225 -- down 0.25%
NZSE 50 -- UNCH
Seoul Composite -- down 0.35%
In Europe, markets are trading lower this morning:
CAC 40 -- down 0.50%
DAX -- down 0.43%
FTSE 100 -- down 0.34%
OSE -- down 0.86%
Internet & Social Media Catching Bids
We have been impressed with the performance of Twitter (NYSE:TWTR) since its IPO. The stock was very strong on its initial day of trading and the consensus was that weakness would prevail later as fast money left the trade. Long story short, Twitter bulls were able to defend the shares until the window that kept underwriters quiet closed and as is typical there were new bullish recommendations that came out. Now we do believe that the IPO was probably overbought and pushed the stock too high too fast, but the market for hot tech companies is a seller's market and that has been confirmed since the Twitter IPO. Since coming public investors have discovered that Facebook (NASDAQ:FB) had tried unsuccessfully to purchase Snapchat for $3 billion. That, coupled with reports that Twitter has been actively looking for better ways to monetize their content and lining up deals to help advertisers reach their targeted audience have given investors reason to believe that Twitter will ultimately figure out the ad space, just like Facebook did.
The sell-off after the IPO was less brutal than anticipated and Twitter shares are already on the rebound as the narrative regarding their ad platform has turned positive.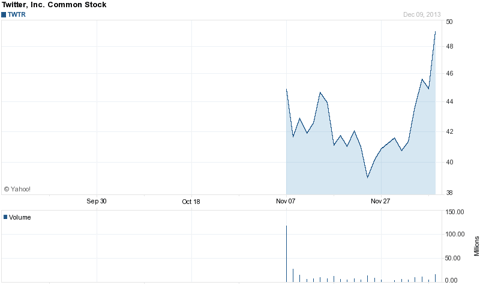 Click to enlarge
(Click to enlarge)
Source: Yahoo Finance
The chatter in the space is no longer about when and how far Twitter will fall in a correction post-IPO, but rather which company (Twitter or Facebook) will see their shares cross $50/share first, which is an interesting question indeed and one which Twitter has answered this morning.
Alibaba, the Ultimate Appreciating Asset
Investors in Yahoo (NASDAQ:YHOO) continue to benefit from the company's stake in China's Alibaba. With an IPO looming much attention has been focused upon the name, the industry and where the company will pick to list their shares. As with any upcoming IPO, especially one which makes up such a large portion of the market capitalization of another listed company, the analysts have been trying to essentially guess the value of Alibaba now for the last few months. RBC Capital Markets came out with revised figures and stated that they now believe that Alibaba is worth around $150 billion based off of their latest sales figures which would put the value of Yahoo's stake at around $36 billion. This new valuation of Alibaba replaces the old $110 billion valuation the firm had previously placed on the company which had valued Yahoo's stake at around $26.5 billion. The adjustment in value by RBC caused the analyst to raise his price target on Yahoo to $44/share from $38/share.
With asset prices skyrocketing in the tech space one has to wonder whether we will see a push by investors for companies to monetize these assets which are appreciating at rates not seen since the tech boom of the late 1990s. For some companies it certainly makes sense to hold multiple assets that can drive traffic between sites and apps, but for others it would seem best to see a focus on one core business. As far as Yahoo, Facebook and Twitter are concerned we would expect to see these three names along with Google (NASDAQ:GOOG) and even Apple (NASDAQ:AAPL) become the consolidators simply because they have platforms which are conducive to that type of business model and even more importantly they have the platforms to monetize many different types of content.
Disclosure: I have no positions in any stocks mentioned, and no plans to initiate any positions within the next 72 hours. I wrote this article myself, and it expresses my own opinions. I am not receiving compensation for it (other than from Seeking Alpha). I have no business relationship with any company whose stock is mentioned in this article.