By Chris McKhann

The calls are active in International Paper (NYSE:IP), but it may not be bullish action.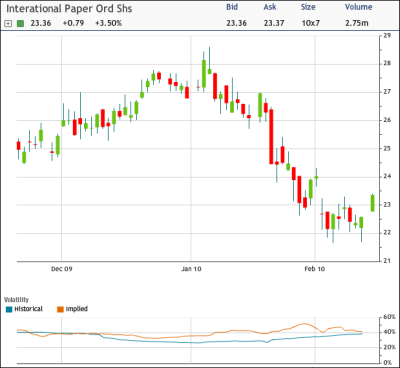 IP has jumped higher this morning to $23.36, which is 3.5 percent higher than Friday's close. The price has found support at $22 over the last two weeks after falling from the 52-week high of $28.61 set a month ago.

OptionMONSTER's systems show that 10,000 of the March 25 calls traded for $0.45 against open interest of 1,801 contracts. This call trading appears bullish at first blush, but looking deeper. we do find considerable trading in IP stock at the same time. More than 100,000 shares traded in that same minute as the options, much of it at the same second.

This could all be bullish, if the shares and calls were all bought. But it is often the case when we see this type of activity that it is so-called delta-neutral trading that is focused more on volatility than the direction of the underlying shares.
Author's Disclosure: None